West Coast Wednesdays: West Coast Avengers Annual #3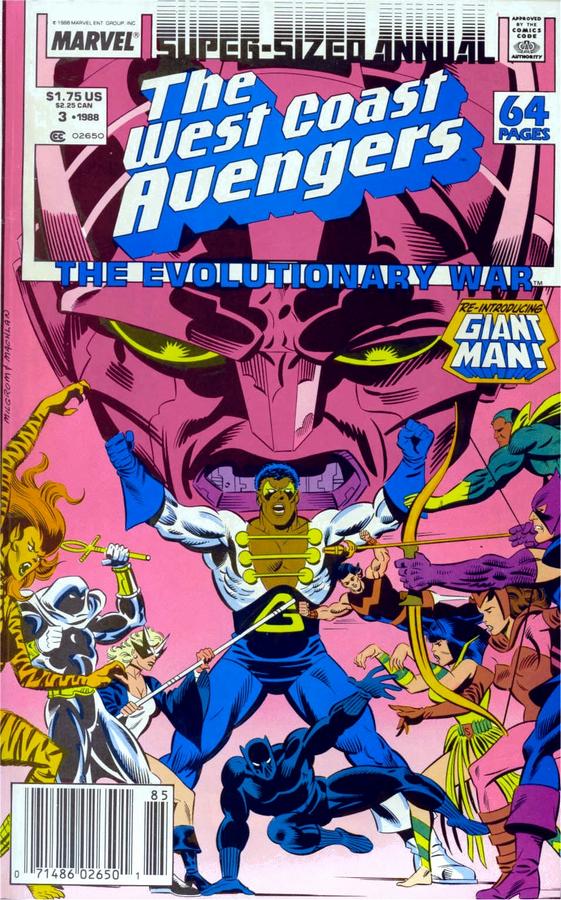 West Coast Avengers Annual #3 (1988)
WEST COAST CREDITS!
Writer: Steve Englehart
Layouts: Al Milgrom
Finished art: Gary Talaoc and Chris Ivy
WEST COAST SUMMARY!
The High Evolutionary is getting ready to detonate a bomb that will make everyone on the planet mutate…you know, in order to save humanity! Now it's up to the West Coast Avengers and the…West Coast Avengers to save the day. Plus, not one but two black superheroesBlack Panther and Giant Man!
WEST COAST THOUGHTS!
I have specific memories of getting this issue in the summer of 1988. I used to mow lawns for $8 in the neighborhood. And as soon as I collected the weekly pay $16-$24 (depending on the week), I would ride my bike to the comic book store. I was really excited about The Evolutionary War which ran in all the Marvel annuals that year. I can remember the Saturday afternoon on the living room floor with my stack of comic books, savoring every issue, and West Coast Avengers Annual #3 was at the bottom of the pile (I always saved the best for last!).
And here we are 23 years later and I have no idea why anyone in their right mind would be excited about this storyline. This issue reads well and it makes sense, but I think that's because I've been reading so much Englehart over the last year that I'm now able to relate to nonsensical ideas.
For the record, it takes nine pages for the team to finally show up in their own annual, and when they do, they're different thanks to the events from West Coast Avengers #37, as Vision and Scarlet Witch have joined up, as well as Mantis. Speaking of Mantis, she doesn't say a single word in this story, even though Milgrom is clearly drawing her speaking. What's up with that?
This is a two-part story with the first one focusing on Hawkeye, Wonder Man, Mantis, Vision and Scarlet Witch in Wakanda. This is standard stuff for a WCA annual, with the team discovering a problem, fighting a group of themed-villains (The Sensors…Sight! Smell! Touch! Sound! Taste! and Intuition!), and then falling short of victory so that the story can continue someplace else.
The second story is about Mockingbird, Moon Knight and Tigra in the Savage Land. This part feels a little more hands on to the bigger story running in the monthly book. Plus, it's the return of Dr William Foster as GIANT MAN!
I have to give Englehart credit for breaking the story into two parts, with each one focusing on a different team. He even ends each story at the same moment (using the same panel),  something he wouldn't do in the monthly book, and here it feels special.
The issue ends with a bunch of pin-ups of each member of the team (the Hawkeye one is below) which string together to loosely tell a story. While it's essentially fluff, it's a cool little addition to the annual. That said, some of those pin-ups are little creepy.
WEST BOAST OR ROAST?
Boast. Englehart playing around with the story's chronology helps to make this annual a winner.
WEST COAST SCENE (OF THE WEEK)!
This pin-up offers a rare behind-the-scenes look at Hawkeye. And it's depressing!
Nothing says healthy like shooting an arrow in the upside-down picture of your ex-wife in your office.
Previously on West Coast Wednesdays…
West Coast Avengers Vol. 1, #1
West Coast Avengers Vol. 1, #2
West Coast Avengers Vol. 1, #3
West Coast Avengers Vol. 1, #4
The Vision and Scarlet Witch #1
West Coast Avengers Vol. 2, #2
The Vision and Scarlet Witch #2
West Coast Avengers Vol. 2, #3
West Coast Avengers Vol. 2, #4
West Coast Avengers Vol. 2, #5
West Coast Avengers Vol. 2, #6
West Coast Avengers Vol. 2, #7
West Coast Avengers Vol. 2, #8
West Coast Avengers Vol. 2, #9
West Coast Avengers Vol. 2, #10
West Coast Avengers Vol. 2, #11
West Coast Avengers Vol. 2, #12
West Coast Avengers Vol. 2, #13
West Coast Avengers Vol. 2, #14
West Coast Avengers Vol. 2, #15
West Coast Avengers Vol. 2, #16
West Coast Avengers Vol. 2, #17
West Coast Avengers Vol. 2, #18
West Coast Avengers Vol. 2, #19
West Coast Avengers Vol. 2, #20
West Coast Avengers Vol. 2, #21
West Coast Avengers Vol. 2, #22
West Coast Avengers Vol. 2, #23
West Coast Avengers Vol. 2, #24
West Coast Avengers Vol. 2, #25
West Coast Avengers Vol. 2, #26
West Coast Avengers Vol. 2, #27
West Coast Avengers Vol. 2, #28
West Coast Avengers Vol. 2, #29
West Coast Avengers Vol. 2, #30
West Coast Avengers Vol. 2, #31
West Coast Avengers Vol. 2, #32
West Coast Avengers Vol. 2, #33
West Coast Avengers Vol. 2, #34
West Coast Avengers Vol. 2, #35
West Coast Avengers Vol. 2, #36