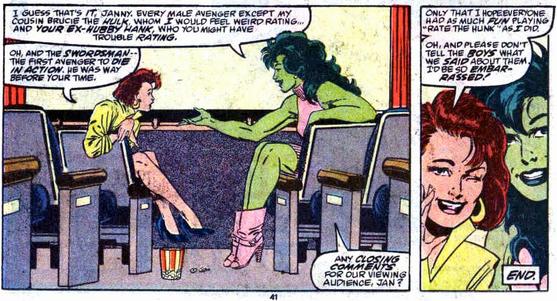 West Coast Wednesdays: West Coast Avengers Annual #4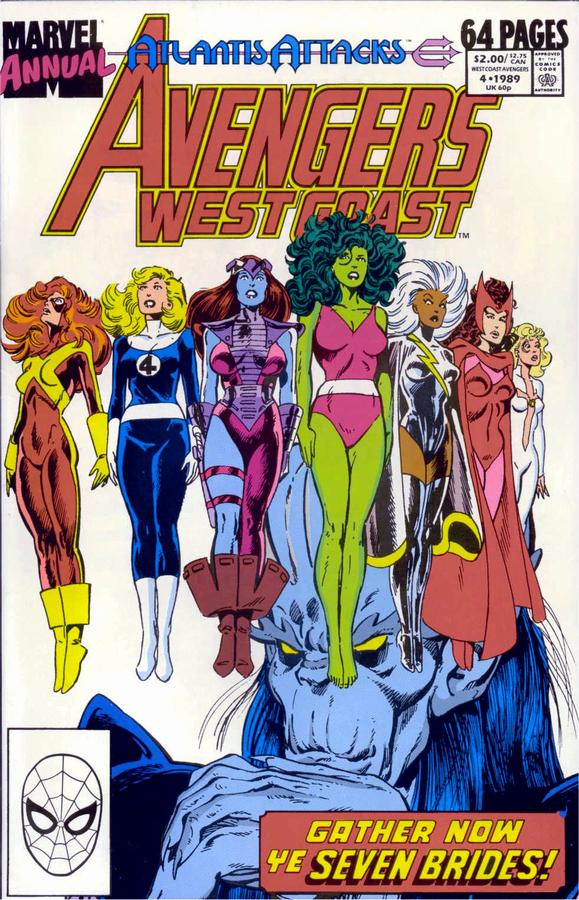 West Coast Avengers Annual #4 (1989)
WEST COAST CREDITS!
Writers: John Byrne, Mark Gruenwald, Fabian Nicieza and Peter Sanderson
Pencilers: John Byrne, Amanda Connor, Mike Manley, Gavin Curtis and Mark Bagley
Inkers: Terry Austin, Christopher Ivy and Keith Williams
WEST COAST SUMMARY!
The West Coast Avengers annual is a part of the "Atlantis Attacks" crossover that ran through all the Marvel annuals in 1989. This is Chapter 12 where the Deviant High Priest of Atlantis is setting things up to bring back the Serpent God named Set. And as the cover says, he'll need seven brides to do that…
WEST COAST THOUGHTS!
I'm putting this annual here because it's mentioned a couple of times that this takes place right after issue #50.
The first chapter is written and drawn by Byrne, with inking done by Terry Austin (who was always Byrne's Jerry to his Ben). It's a smart move because it relates directly to things happening in the regular book and has the same writer/artist steering the story. In fact, that's kind of rare, isn't it? It should also be noted that the regular book was working on a bi-weekly schedule at the time too.
While this is a completely different story, it is interesting to see the parallels between this crossover and the Fear Itself event which recently wrapped up. Set the Serpent God is an Elder God, older than the Asgardians, who is set to return and subjugate Earth. Even Thor expresses a lot of concern about Set's return. Anyway, Set needs seven brides to come back. While in Fear Itself, the Serpent is freed from his underwater prison, releases seven (that magic number again!) magical objects across the globe, and sets Asgard running out of fear. While in no way is this suggesting that FI writer Matt Fraction lifted anything from AA (and who would?), it is worth pointing out that these kinds of stories, no matter the talent working behind the scenes, tends to follow a specific structure.
Anyway, the seven women from the Marvel Universe who are kidnapped to be the seven brides are: Marvel Girl, the Invisible Woman, Andromeda, She-Hulk, Storm, Scarlet Witch and Dagger. They've already been kidnapped in their respective annuals by the time this chapter begins.
While both Avengers teams scramble to rescue their teammates, some of the women have to fulfill specific tasks for Ghaur, the Deviant High Priest who's set on bringing back…Set. While the women are conscious about their actions, they are helpless in doing anything to stop it. She-Hulk and Andromeda find themselves deep in the Atlantic at the Altar of Neptune's Wrath where a piece of Set's immortal soul is trapped, and it's up to She-Hulk to free it. However, the giant Leviathan might have something to say about this!
Marvel Girl and Invisible Woman are in Chicago where they must break into a museum to steal the Lens of Power.
The Avengers show up to rescue a whaling vessel which sent out an  SOS due to a giant sea creature attacking the ship. In actuality, the vessel just happens to be caught in the middle of a slugfest between She-Hulk and the Leviathan. The Avengers jump in to help, but once Iron Man is close to She-Hulk, she attacks him as well. Despite the team throwing their best at the creature, it's Vision who saves the day by passing through the monster until he enters its heart, forcing it to pass out. Iron Man is forced to stun She-Hulk and brings her back to the team.
Andromeda used She-Hulk's fight as a distraction for her own getaway and returns to Ghaur with the fragment of Set's lifeforce.
When She-Hulk wakes up, the team is unable to subdue her as she feels compelled to return to Ghaur. Finally, it's decided to just let her go and they'll track her telepathically. She-Hulk leads them right to Ghaur's underwater lair where things turn into a big old fight, leading to matches such as Captain America against Storm! Wonder Man breaks the Lens of Power which Ghaur needed Dagger to use to bring Set back, and all looks like is won until Ghaur gets Scarlet Witch to use her reality altering powers to bring Set back.
The chapter ends with a giant splash page of Set rising up out of the water, with Ghaur screaming, "The age of human-kind is forever at an end!"
Bummer.
Mark Gruenwald's chapter in the annual is essentially She-Hulk and Wasp sitting in a theater and rating the male Marvel heroes from 1 (which "barely qualifies the guy for manhood!") to 10 (who is "godly in his hunkiness!"). This is filler at its best, but it's also an uncomfortably tragic misfire filled with enough cheese to drown a pizza.
Gruenwald returns for another chapter called "The Last Good Soldier", a short story focusing on U.S. Agent. It's basically him parachuting on an island and fighting a bad guy for 8 pages, but it works thanks to his internal monologue which does a good job in letting readers know who is behind the mask, and more importantly, what separates him from Captain America. Nothing here to write home about, but it's serviceable and certainly light years ahead of rating hunks.
Then Fabian Nicieza steps in and gives us "So What Are You Going to Do After You Conquer the World?" which is a short story about Firebird. I swear this was put in to remind readers, in case they've forgotten within the two previous chapters, that this is in fact a West Coast Avengers annual. Firebird stumbles across a few soldiers from Atlantis who have found themselves trapped in the desert for days without water. They talk. They fight. They come to an understanding. And she sends them on their way. To Tahiti, as a matter of fact.
That last one was punishment.
The issue ends with the 12th chapter of a tale told by the Watcher about the Serpent Society from another Earth that is so convoluted and confusing, even a Marvel kid like me can't make heads or tails out of it.
WEST BOAST OR ROAST?
Boast, but barely. And that's only for Byrne's contribution to the book. The rest, with the exception of the U.S. Agent story, is awful. This annual is a throwback to the good old days when the West Coast Avengers was awful, which feels a lot more jarring after months of Byrne steering the ship.
WEST COAST SCENE (OF THE WEEK)!
Warning: Cousins and ex-husbands are not eligible to have their hunkiness rated!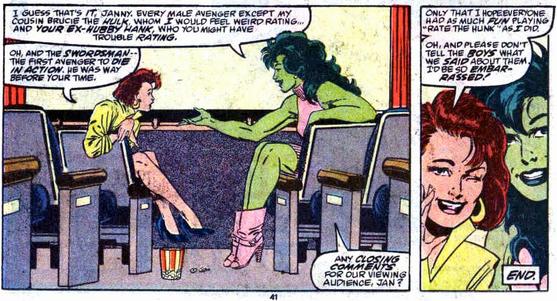 Previously on West Coast Wednesdays…
West Coast Avengers Vol. 1, #1
West Coast Avengers Vol. 1, #2
West Coast Avengers Vol. 1, #3
West Coast Avengers Vol. 1, #4
The Vision and Scarlet Witch #1
West Coast Avengers Vol. 2, #2
The Vision and Scarlet Witch #2
West Coast Avengers Vol. 2, #3
West Coast Avengers Vol. 2, #4
West Coast Avengers Vol. 2, #5
West Coast Avengers Vol. 2, #6
West Coast Avengers Vol. 2, #7
West Coast Avengers Vol. 2, #8
West Coast Avengers Vol. 2, #9
West Coast Avengers Vol. 2, #10
West Coast Avengers Vol. 2, #11
West Coast Avengers Vol. 2, #12
West Coast Avengers Vol. 2, #13
West Coast Avengers Vol. 2, #14
West Coast Avengers Vol. 2, #15
West Coast Avengers Vol. 2, #16
West Coast Avengers Vol. 2, #17
West Coast Avengers Vol. 2, #18
West Coast Avengers Vol. 2, #19
West Coast Avengers Vol. 2, #20
West Coast Avengers Vol. 2, #21
West Coast Avengers Vol. 2, #22
West Coast Avengers Vol. 2, #23
West Coast Avengers Vol. 2, #24
West Coast Avengers Vol. 2, #25
West Coast Avengers Vol. 2, #26
West Coast Avengers Vol. 2, #27
West Coast Avengers Vol. 2, #28
West Coast Avengers Vol. 2, #29
West Coast Avengers Vol. 2, #30
West Coast Avengers Vol. 2, #31
West Coast Avengers Vol. 2, #32
West Coast Avengers Vol. 2, #33
West Coast Avengers Vol. 2, #34
West Coast Avengers Vol. 2, #35
West Coast Avengers Vol. 2, #36
West Coast Avengers Vol. 2, #37
West Coast Avengers Vol. 2, #38
West Coast Avengers Vol. 2, #39
West Coast Avengers Vol. 2, #40
West Coast Avengers Vol. 2, #44
West Coast Avengers Vol. 2, #48
West Coast Avengers Vol. 2, #49