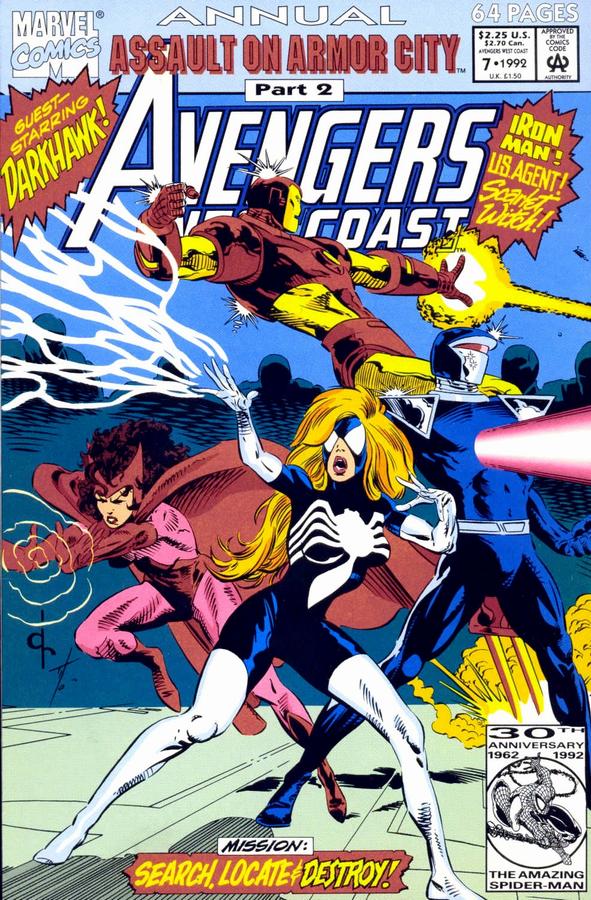 West Coast Avengers Annual #7  (1992)
WEST COAST CREDITS!
Writer: Roy and Dann Thomas
Penciler: M.C. Wyman, Al Bigley, John Dennis and David Ammerman
Inker:  Tim Dzon, John Tartaglione, Mike DeCarlo, Pam Ecklund, Brad Vancata and Keith Williams
WEST COAST SUMMARY!
The second part of "Assault on Armor City" has the team working with Darkhawk in order to save a kidnapped Jim Rhodes.

WEST COAST THOUGHTS!
"Locate (Assault on Armor City, Part 2)"
"Assault on Armor City" ran through three Marvel annuals in 1992, with part one in Darkhawk Annual #1 and the third part in Iron Man Annual #13. This issue is the middle chapter, which is pretty amazing considering how little information is given to what happened before.
Tony Stark is running out of time since he's discovered that his technology is being used for villainous purposes. On top of that, Anthony Power – one of the men responsible for this technological conspiracy – has kidnapped Jim Rhodes and is prepared to torture him in order to acquire information.
Iron Man splits the team up, asking the Living Lightning, Hawkeye and Wonder Man to protect the Stark Enterprises in California while Spider-Woman and Scarlet Witch join him and Darkhawk to attack a manufacturing base. Other than that, there's not a lot to say here. The attack on the manufacturing base goes pretty much by the numbers, with an emphasis on the mysterious Darkhawk that Marvel was trying really hard to sell. Iron Man hacks into the system, makes some shocking discoveries, leaves a crippling computer virus and saves his friend Rhodes.
This chapter ends with Living Lightning, Hawkeye and Wonder Man under attack at Stark Enterprises by the Hunters, Seekers and Raiders (I have no idea who they are either).
Let's see what the next story is like…
"A Study in Scarlet"
While doing her morning "hexercise" the Scarlet Witch accidentally opens up a window to an alternate world. Through this window, Wanda see a reality where the Vision wasn't kidnapped and redesigned by Cameron Block (West Coast Avengers #42). Because of this, she and Vision live happily ever after with their two children. And though the window disappears, Wanda takes comfort knowing that she had a happy ending somewhere else.
Because all of us would take comfort in knowing that in another reality, we married a robot and raised fake children.
"Mile High Mayhem"
While she has an hour layover in Denver, Julia meets with her old friend Yvonne to catch up at the airport. They share family photos and talk about men, dieting, and children. When a plane tries to land with two engines out, Julia takes a bathroom break to change into Spider-Woman and save the day. Once the crisis is averted and Julia is back in normal clothes, Yvonne confesses that she's dying from breast cancer. And through this experience Julia realizes that her problems with balancing a superhero career with being a divorced mother is complete and utter bullshit.
"Ten Little Villains"
The team sits around at the compound on a rainy night and discuss who the West Coast Avengers' Top 10 Worst Villains are. Keeping in mind that they can't choose Ultron because he's more of an Avengers East foe.
And the list is:
Dr. Demonicus and the Pacific Overlords
Hangman and the Night Shift
Grim Reaper
Immortus
Master Pandemonium
Quantum
Halflife
Cat People
Dominus (even though he's really an X-Men villain, Hawkeye says he's theirs because they've tangled with him twice now…you know, like Ultron!)
Graviton
"My Name is Legion"
The Living Lightning is the special guest at L.A.'s Cinco de Mayo festivities. Attending with his mother, Miguel meets with Lou Denham, an old colleague of his father who is interested in knowing how Miguel got his powers so that he can create a new Legion of the Living Lightning. When Miguel refuses, Denham takes his mother hostage at gunpoint. With some quick thinking, Miguel defuses the situation. However, a little girl is wounded when a bullet ricochets off Miguel. Luckily, the girl is only grazed, and Miguel agrees not to blame himself as long as the little girl calls him by his first name. Yeah...what? Sadly, this was 1992, when you couldn't do a story with a Hispanic character without someone getting shot.
WEST BOAST OR ROAST?
Roast. Has there ever been a good Marvel annual crossover event?
WEST COAST SCENE (OF THE WEEK)!
Say my name and make the guilt vanish!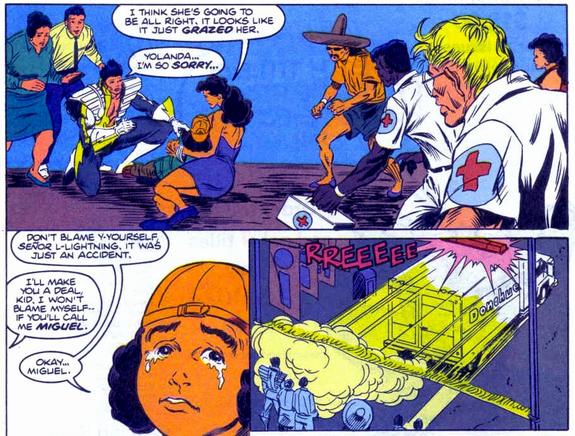 Previously on West Coast Wednesdays…
West Coast Avengers Vol. 1, #1
West Coast Avengers Vol. 1, #2
West Coast Avengers Vol. 1, #3
West Coast Avengers Vol. 1, #4
Avengers Vol. 1, #250
Iron Man Annual #7
West Coast Avenger Vol. 2, #1
The Vision and Scarlet Witch #1
West Coast Avengers Vol. 2, #2
The Vision and Scarlet Witch #2
West Coast Avengers Vol. 2, #3
West Coast Avengers Vol. 2, #4
West Coast Avengers Vol. 2, #5
West Coast Avengers Vol. 2, #6
West Coast Avengers Vol. 2, #7
West Coast Avengers Vol. 2, #8
West Coast Avengers Vol. 2, #9
West Coast Avengers Vol. 2, #10
West Coast Avengers Vol. 2, #11
West Coast Avengers Vol. 2, #12
West Coast Avengers Vol. 2, #13
Avengers Annual #15
West Coast Avengers Annual #1
West Coast Avengers Vol. 2, #14
West Coast Avengers Vol. 2, #15
West Coast Avengers Vol. 2, #16
West Coast Avengers Vol. 2, #17
West Coast Avengers Vol. 2, #18
West Coast Avengers Vol. 2, #19
West Coast Avengers Vol. 2, #20
West Coast Avengers Vol. 2, #21
West Coast Avengers Vol. 2, #22
West Coast Avengers Vol. 2, #23
West Coast Avengers Vol. 2, #24
West Coast Avengers Annual #2
Avengers Annual #16
Silver Surfer #3
West Coast Avengers Vol. 2, #25
West Coast Avengers Vol. 2, #26
West Coast Avengers Vol. 2, #27
West Coast Avengers Vol. 2, #28
West Coast Avengers Vol. 2, #29
West Coast Avengers Vol. 2, #30
West Coast Avengers Vol. 2, #31
West Coast Avengers Vol. 2, #32
West Coast Avengers Vol. 2, #33
West Coast Avengers Vol. 2, #34
West Coast Avengers Vol. 2, #35
West Coast Avengers Vol. 2, #36
West Coast Avengers Annual #3
West Coast Avengers Vol. 2, #37
West Coast Avengers Vol. 2, #38
West Coast Avengers Vol. 2, #39
West Coast Avengers Vol. 2, #40
West Coast Avengers Vol. 2, #41
West Coast Avengers Vol. 2, #42
West Coast Avengers Vol. 2, #43
West Coast Avengers Vol. 2, #44
West Coast Avengers Vol. 2, #45
West Coast Avengers Vol. 2, #46
West Coast Avengers Vol. 2, #47
West Coast Avengers Vol. 2, #48
West Coast Avengers Vol. 2, #49
West Coast Avengers Vol. 2, #50
West Coast Avengers Annual #4
West Coast Avengers Vol. 2, #51
West Coast Avengers Vol. 2, #52
West Coast Avengers Vol. 2, #53
Avengers Vol. 1, #312 
West Coast Avengers Vol. 2, #54
Avengers Vol. 1, #313 
West Coast Avengers Vol. 2, #55
West Coast Avengers Vol. 2, #56
West Coast Avengers Vol. 2, #57
West Coast Avengers Vol. 2, #58
West Coast Avengers Vol. 2, #59
West Coast Avengers Vol. 2, #60
West Coast Avengers Vol. 2, #61
West Coast Avengers Vol. 2, #62
West Coast Avengers Annual #5
West Coast Avengers Vol. 2, #63
West Coast Avengers Vol. 2, #64
West Coast Avengers Vol. 2, #65
Avengers Spotlight #38 
West Coast Avengers Vol. 2, #66
West Coast Avengers Vol. 2, #67
West Coast Avengers Vol. 2, #68
West Coast Avengers Vol. 2, #69
West Coast Avengers Vol. 2, #70
West Coast Avengers Vol. 2, #71
West Coast Avengers Vol. 2, #72
West Coast Avengers Vol. 2, #73
West Coast Avengers Vol. 2, #74
West Coast Avengers Annual #6
West Coast Avengers Vol. 2, #75
West Coast Avengers Vol. 2, #76
West Coast Avengers Vol. 2, #77
West Coast Avengers Vol. 2, #78
West Coast Avengers Vol. 2, #79
West Coast Avengers Vol. 2, #80
West Coast Avengers Vol. 2, #81
West Coast Avengers Vol. 2, #82
West Coast Avengers Vol. 2, #83
West Coast Avengers Vol. 2, #84
West Coast Avengers Vol. 2, #85
West Coast Avengers Vol. 2, #86