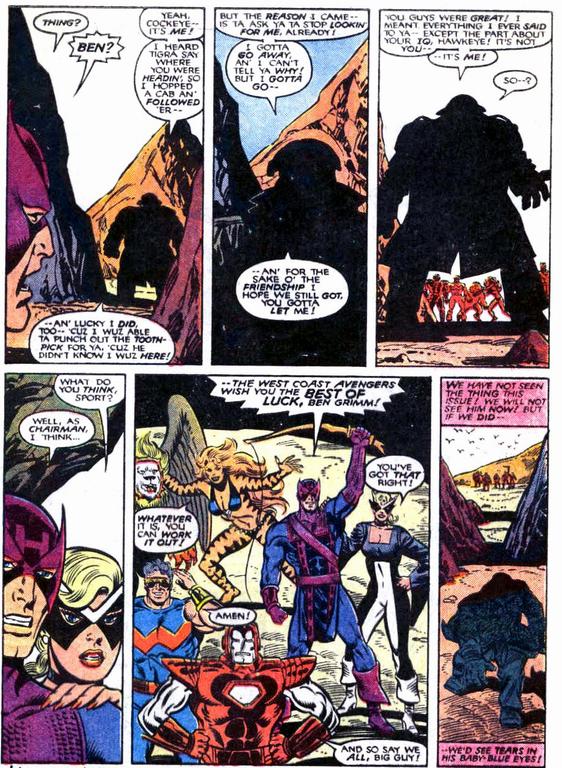 West Coast Wednesdays: West Coast Avengers Vol. 2, #10
West Coast Avengers, Vol. 2, Issue 10 (July 1986)
WEST COAST CREDITS!
Writer: Steve Englehart
Breakdowns: Al Milgrom
Finisher: Joe Sinnott
WEST COAST SUMMARY!
The Thing joined the team at the end of last issue and by the second page of this issue, he's already gone missing. The team goes all out to find Ben even though it's clear he doesn't want to be found, and in the process, they stumble across Headlok and the Griffin, two foes who give the team a run for their money.
WEST COAST THOUGHTS!
This story is a continuation of both the previous issue of West Coast Avengers and The Thing #36. It's also worth noting that the cover mentions nothing about the Thing disappearing, which is the whole point of this issue.
While the whole story is the search for the Thing, he appears quite regularly in the book wearing a trench coat and usually obscured in heavy shadows. At one point, he nearly bumps into Tigra who is looking for him. In fact, if I've learned anything from this issue, it's that California is about the size of a small trailer park.
The issue's big fight is against Headlok and the Griffin who were apparently hanging out on the beach waiting for the team to come along. My favorite moment in the fight is when the Griffin is beating on Wonder Man, and he takes a moment to exclaim, "What a great fight!" Surprisingly, it's Mockingbird who ends up saving the day, but how isn't exactly clear.
The big news for this issue is that the Wasp informs Hawkeye that the six member limit no longer has to be followed, meaning that Firebird could also be a member of the team. But by this time, she's also hit the road in order to take a retreat.
At the end, the team find the Thing, who is hiding in shadows. And to see what happens next, all you have to do is read on below.
WEST BOAST OR ROAST?
Boast, though it seems like an odd choice to spend months getting the Thing to join the team only to have him run off when he does. This smells of something editorial.
WEST COAST SCENE (OF THE WEEK)!
The Thing does the whole "It's not you, it's me" break-up and we learn that Iron Man watched Battlestar Galactica…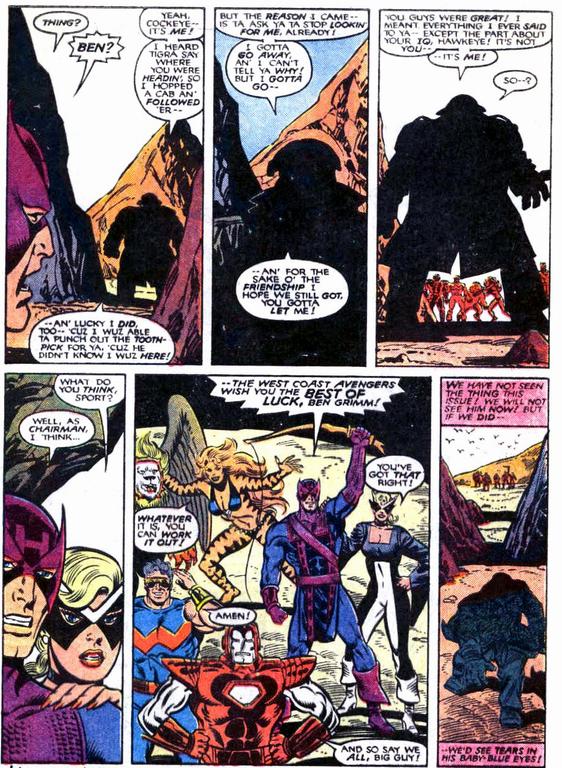 BONUS WEST COAST SCENE (OF THE WEEK)!
This is from the end of The Thing #36:
Not the happiest way to end a series, that's for sure.