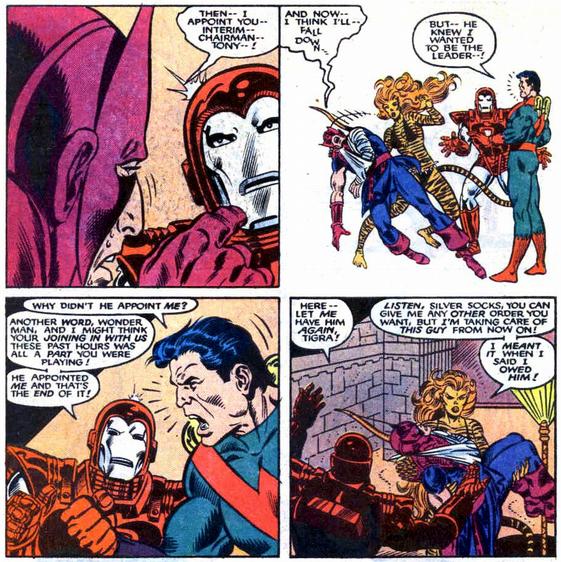 West Coast Wednesdays: West Coast Avengers Vol. 2, #20
West Coast Avengers, Vol. 2, Issue 20 (May 1987)
WEST COAST CREDITS!
Writer: Steve Englehart
Layouts: Al Milgrom
Finishes: Joe Sinnott
WEST COAST SUMMARY!
The story splits from three to four as we follow 1) Hawkeye, Tigra, Wonder Man and Iron Man from the 17th century to 2940 B.C.; 2) Carlotta Valdez in 1776 as Firebird's vision becomes a reality; 2) Mockingbird in the 18th century under the influence of the Night Rider's potion; and 4) Hank Pym and Firebird as they continue to travel down memory lane in the 20th century.
WEST COAST THOUGHTS!
Part 4 of the West Coast Avengers "greatest adventure" continues with lots of jumping around through time.
We'll start with what's going on with Hawkeye, Tigra, Wonder Man and Iron Man. With Iron Man carrying a wounded Hawkeye and Wonder Man carrying Tigra and a time machine, the team flies over America, makes a pit stop in Philadelphia, and then flies over the Atlantic to Egypt. I don't want to get into how horribly uncomfortable and time consuming this trip must've been. Instead, it's important to focus on Wonder Man's evolution to Whiny Jerk. You know you have problems when Tigra is talking down to you. You might remember her as the woman who broke up with a man by telling him to keep trying to get her.
By the time their story ends, they're in 2940 B.C. and knocked out by an Ultra-Diode Ray that Rama-Tut took from the future. If that sentence confuses you, don't worry, it's more confusing when you read the book.
Firebird's vision from way back when finally comes true and Carlotta is shot in the back, though her shooter is still a mystery. All of this is pushed aside to show the progress of Hawkeye's message (written in the previous issue) and how it eventually makes its way to Firebird's Bible. It's a cool idea in theory, but makes no sense. Englehart writes this as if the message suddenly appears in the Bible, like teleportation, instead of it being inside the book for a couple of hundred years. Because it makes no sense why Firebird would not have found this message already, especially when she says that the book has brought her comfort before. Which means she's 1) incredibly dense, 2) a liar and has never read her family copy of the Bible, or 3) stuck in a comic book where the writer doesn't understand how time travel works.
The Mockingbird storyline continues to be creepy in all the wrong places as she tries on a new dress. Um…yeah. That's her story for this issue.
WEST BOAST OR ROAST?
Roast. Like I said previously, I like the multiple storylines, but there something to be said about a team book that's more interesting when the team is separated.
WEST COAST SCENE (OF THE WEEK)!
WAHHH!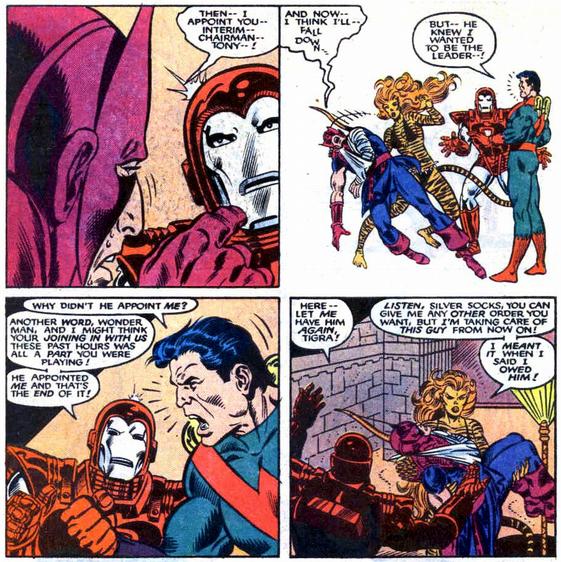 PREVIOUS WEST COAST WEDNESDAYS!