West Coast Wednesdays: West Coast Avengers Vol. 2, #21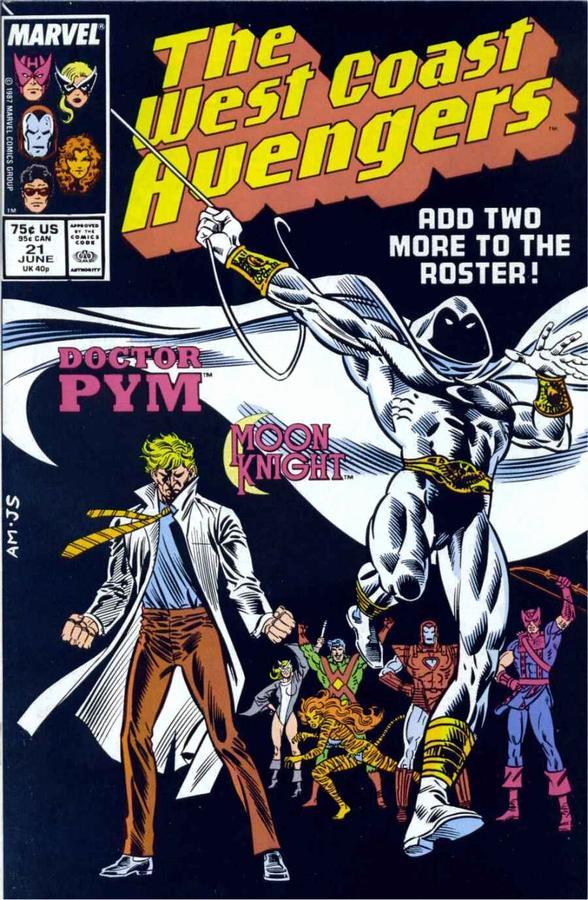 West Coast Avengers, Vol. 2, Issue 21 (June 1987)
WEST COAST CREDITS!
Writer: Steve Englehart
Layouts: Al Milgrom
Finishes: Joe Sinnott
WEST COAST SUMMARY!
The story splits yet again, this time from four to five as we follow 1) Hawkeye, Tigra, Wonder Man and Iron Man in 2940 B.C.; 2) Mockingbird in the 18th century still under the Phantom Rider's influence; 3) Carlotta's funeral in 1776; 4) Hank Pym and Espirita in 1987; and 5) Isabel, a 12 year old, in 1847. Plus, the introduction of Doctor Pym and Moon Knight!
WEST COAST THOUGHTS!
Part 5 of the West Coast Avengers "greatest adventure" continues with lots of jumping around through time.
Hawkeye, Wonder Man, Tigra and Iron Man have been made powerless by Rama-Tut's Ultra-Diode Ray. To add insult to injury, they're forced to listen to Rama-Tut's pointless exposition. His elite guards takes the team to the Temple of Khonshu and leaves them alone. Hawkeye, fading in and out of consciousness, enters the Land of the Dead and meets the shining face of Khonshu, the taker of vengeance (wait, please, don't click away! Stay!). Khonshu offers to restore the team's life in exchange for fighting Rama-Tut. Hawkeye agrees, but only if he sends a message to his friends in the future.
Khonshu does send the message, to none other than Moon Knight.
The events in 1776 and 1847 is Englehart's continuation of showing how Hawkeye's message made it to the future. I think I said everything I had to say about this last week.
Two-Gun and the Rawhide Kid catch up with Mockingbird. Two-Gun pretends to be Hawkeye as a way to get Bobbi to remember her husband. The usual fight ensues, but she finally comes around. And when she does, boy, she's rightfully angry.
Meanwhile, Hank Pym shows off some inventions to Espirita, mainly ROVER, a flying talking Pym-Mobile that shoots flames, acid and gases. And then he announces that he's now DOCTOR PYM! A superhero who wears a lab coat! This impresses Espirita enough to get her to make out with him. Go, Hank!
The issue ends with Dominus wondering if perhaps sending the West Coast Avengers back in time, rather than, you know, killing them, was a mistake.
WEST BOAST OR ROAST?
Boast. While it's corny as all hell, things are moving forward again.
WEST COAST SCENE (OF THE WEEK)!
I'm guessing Simon is really Charlie Sheen.
Previously on West Coast Wednesdays…
The Vision and Scarlet Witch #1
The Vision and Scarlet Witch #2
West Coast Avenger Vol. 2, #10
West Coast Avenger Vol. 2, #11
West Coast Avenger Vol. 2, #12
West Coast Avenger Vol. 2, #13
West Coast Avenger Vol. 2, #14
West Coast Avenger Vol. 2, #15
West Coast Avenger Vol. 2, #16
West Coast Avenger Vol. 2, #17
West Coast Avenger Vol. 2, #18
West Coast Avenger Vol. 2, #19
West Coast Avenger Vol. 2, #20