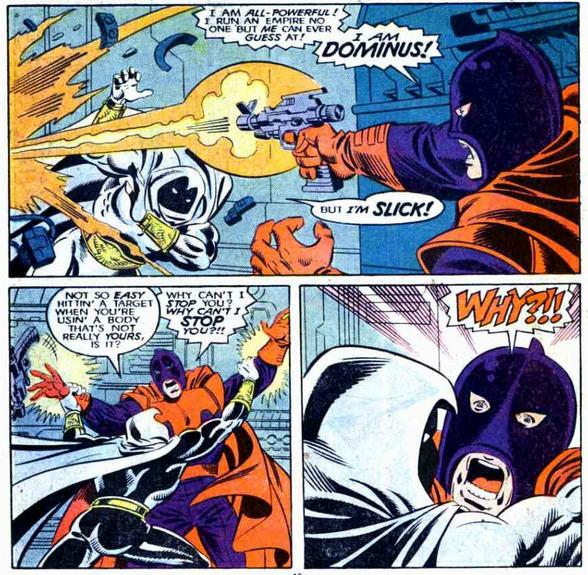 West Coast Wednesdays: West Coast Avengers Vol. 2, #24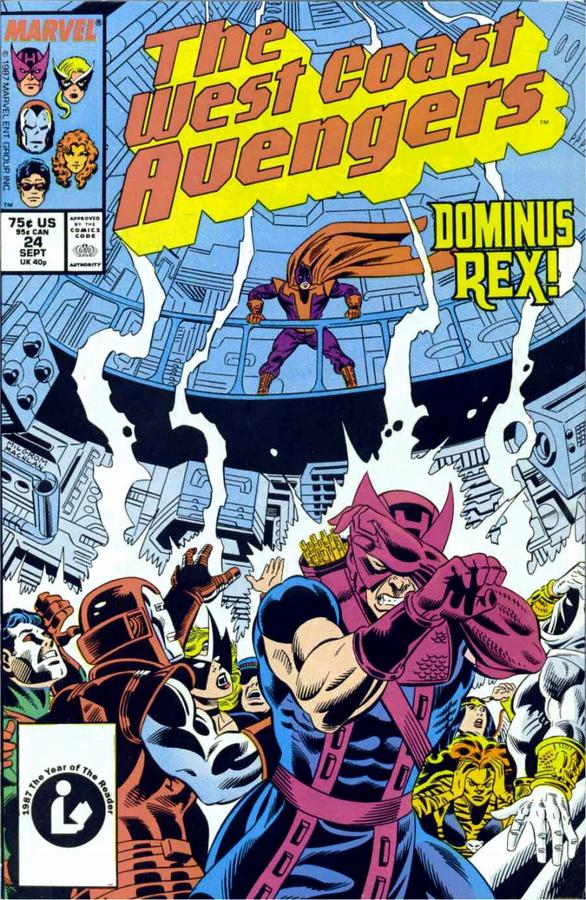 West Coast Avengers, Vol. 2, Issue 24 (September 1987)
WEST COAST CREDITS!
Writer: Steve Englehart
Layouts: Al Milgrom
Finishes: Mike Machlan
WEST COAST SUMMARY!
Back in their own time at last, the West Coast Avengers are determined to take down Dominus once and for all.
WEST COAST THOUGHTS!
This is meant to be an epilogue to the West Coast Avengers "greatest adventure" but there's no reason why we can't consider this Part 8, especially when considering that Dominus was the one who introduced the adventure's conflict to begin with.
Like the last two issues, regular inker Joe Sinnott is not around. This time Mike Machlan is up, and honestly, it may as well be Sinnott, as there's pretty much no difference in the art.
Exposition is the name of the game with the beginning of the issue as Dominus lays out his ultimate plan to enslave the human race and take over the planet. Dominus proclaims that "it was simple as salt, once I destroyed the West Coast Avengers!" I love how the West Coast Avengers was the only obstacle in his plan, considering that they sort of just stumbled onto him by accident.
The big fight in the issue is the West Coast Avengers vs. an army of Cacti, which pretty much highlights a lot of the problems with this book. This is supposed to be about taking down Dominus, and here we are wasting pages on fighting cacti and bad puns ("You always laugh at me, but my brothers and I will 'stick it to you' today!").
Iron Man and Wonder Man continue to go at it, and it's hard to find any sympathy for Simon. He's just clearly a jerk. I hope Englehart is going somewhere with this.
Moon Knight ends up being the issue's most valuable player! Dominus uses his "brain blasts" to render the team powerless. But thanks to Moon Knight's three different personalities, the brain blasts only make one of his personalities helpless, leaving Moon Knight with two other personalities to fight Dominus with. [I promise never to use personalities in a sentence three times again!] Who knew schizophrenia was so fucking awesome?
Mockingbird is happy to be back (my favorite quote from the book reads like a Lady Gaga lyric: ""I was a pretty 80's lady before we met, but I'm a real old-fashioned wife when it comes to loving my man!"), but clearly her involvement in Phantom Rider's death is weighing on her. Even Hawkeye notices it ("I'm intense right now — but she's INTENSE!").
The issue ends with Wonder Man finding out that everyone hates his costume and doubting whether he wants to be an Avenger or not.
WEST BOAST OR ROAST?
Boast.
WEST COAST SCENE (OF THE WEEK)!
But I'm slick! And I'm going to hug the crap out of you!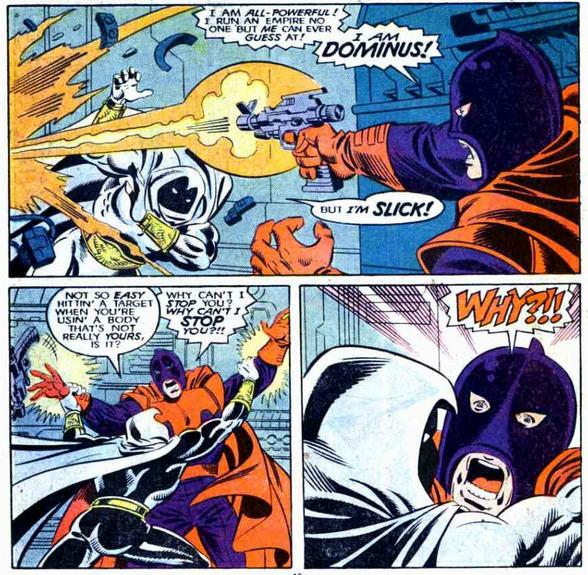 Previously on West Coast Wednesdays…
West Coast Avengers Vol. 1, #1
West Coast Avengers Vol. 1, #2
West Coast Avengers Vol. 1, #3
West Coast Avengers Vol. 1, #4
The Vision and Scarlet Witch #1
West Coast Avengers Vol. 2, #2
The Vision and Scarlet Witch #2
West Coast Avengers Vol. 2, #3
West Coast Avengers Vol. 2, #4
West Coast Avengers Vol. 2, #5
West Coast Avengers Vol. 2, #6
West Coast Avengers Vol. 2, #7
West Coast Avengers Vol. 2, #8
West Coast Avengers Vol. 2, #9
West Coast Avengers Vol. 2, #10
West Coast Avengers Vol. 2, #11
West Coast Avengers Vol. 2, #12
West Coast Avengers Vol. 2, #13
West Coast Avengers Vol. 2, #14
West Coast Avengers Vol. 2, #15
West Coast Avengers Vol. 2, #16
West Coast Avengers Vol. 2, #17
West Coast Avengers Vol. 2, #18
West Coast Avengers Vol. 2, #19
West Coast Avengers Vol. 2, #20
West Coast Avengers Vol. 2, #21
West Coast Avengers Vol. 2, #22