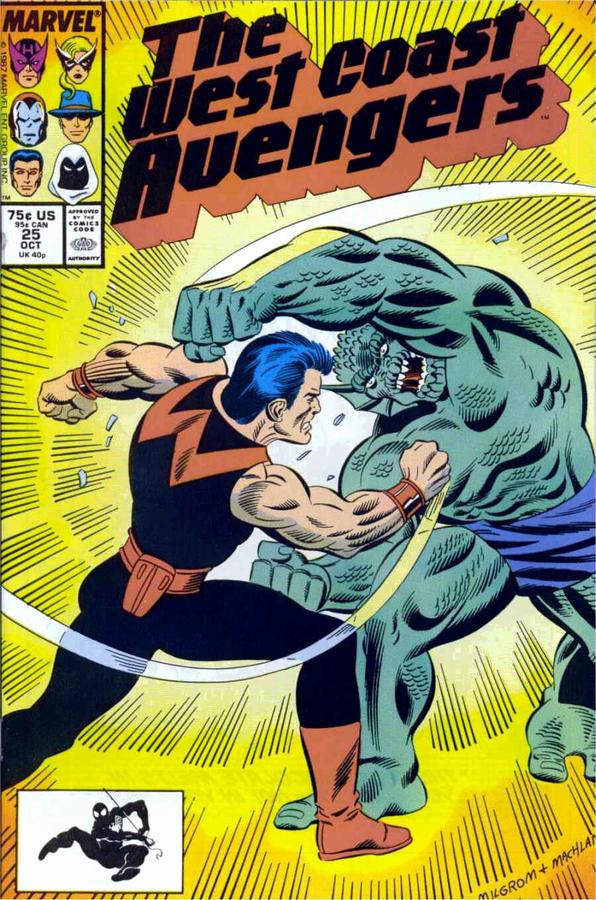 West Coast Avengers, Vol. 2, Issue 25 (October 1987)
WEST COAST CREDITS!
Writer: Steve Englehart
Pencils: Al Milgrom
Inks: Mike Machlan
WEST COAST SUMMARY!
After spending a year traveling back, back, back in time in their regular series, and then dying in the summer annuals, the West Coast Avengers deserve a break. It's a return to business as usual for the team. And despite the appearance of the Abomination, this is a surprisingly low key issue.
WEST COAST THOUGHTS!
In many ways, this issue reminds me of those quiet baseball issues that Chris Claremont was so fond of doing with the X-Men on occasion, and maybe that's why I enjoyed reading this one so much.
Most of the issue is spent with Simon as his movie Arkon IV finally premieres in Hollywood. Simon remains his usual blowhard self as he wrestles with the decision on whether to remain an Avenger now that his movie career is taking off. And while the issue ends with him accepting his place with the team, the story's biggest reveal – thanks to a shoehorned appearance by the Abomination – is that Wonder Man may not be as indestructible as he thought.
I give Englehart a lot of crap for his overuse of exposition, but at least he's good at making everything that's ever happened in every Marvel comic book ever matter. Here, the events from the two annuals are not only referenced quite a bit, it appears that they will be relevant in the coming storyline, as the Collector's poison that Wonder Man drank may have seriously affected him.
Hawkeye and Mockingbird spend the entire issue in a hot tub and sauna reconnecting after the big time travel storyline kept them apart. Mockingbird's secret is a big selling point now for the series, as she's struggling with the guilt for having to lie to her husband about letting the Phantom Rider fall to his death. This is the beginning of the wedge that will define their relationship for decades to come.
Tony Stark gets a small scene in to extend an olive branch to Simon in order to settle their feud, but Simon isn't home.
Pym gets in a scene with Espirita, confirming that even though he's back in the superhero game, he's still going to remain the team's bumbling, awkward idiot. He comes to her in order to tell him that he's not in love with her, which feels like something a high school student would write. And then awkwardly confesses that he's an atheist (see below). Despite that, I'm surprised to see such a confession in a kid's book from 1987.  This scene takes place right after Espirita returns to Earth with the Silver Surfer, and it's clear that the events from the annual is pushing her character in a new direction.
Moon Knight makes an appearance to confirm his place on the team by meeting with Frenchy and telling him that, hey, it's not you, it's me. I just need some space to think things out a bit. I'll call, I promise. Hey, don't be like that. Please. Don't make this harder than it needs to be, Christian. Could you keep it down? Your sobbing is making everyone look over here. Come on. Get off the floor. I…I should go now. Despite all this, it was a nice blind date.
By the way, where's Tigra? The box on the upper left of the cover suggests she's not on the team anymore. Did I miss something?
WEST BOAST OR ROAST?
Boast, because Englehart channels Claremont a bit. I feel like I should hate myself for acknowledging that.
WEST COAST SCENE (OF THE WEEK)!
Move over, Dawkins!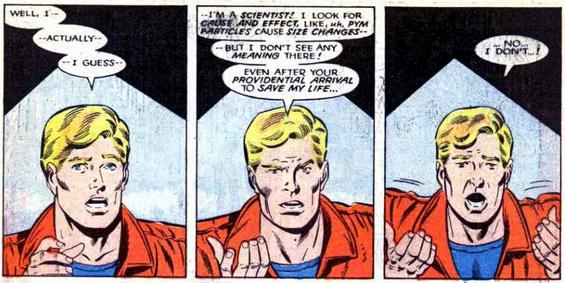 Previously on West Coast Wednesdays…
West Coast Avengers Vol. 1, #1
West Coast Avengers Vol. 1, #2
West Coast Avengers Vol. 1, #3
West Coast Avengers Vol. 1, #4
The Vision and Scarlet Witch #1
West Coast Avengers Vol. 2, #2
The Vision and Scarlet Witch #2
West Coast Avengers Vol. 2, #3
West Coast Avengers Vol. 2, #4
West Coast Avengers Vol. 2, #5
West Coast Avengers Vol. 2, #6
West Coast Avengers Vol. 2, #7
West Coast Avengers Vol. 2, #8
West Coast Avengers Vol. 2, #9
West Coast Avengers Vol. 2, #10
West Coast Avengers Vol. 2, #11
West Coast Avengers Vol. 2, #12
West Coast Avengers Vol. 2, #13
West Coast Avengers Vol. 2, #14
West Coast Avengers Vol. 2, #15
West Coast Avengers Vol. 2, #16
West Coast Avengers Vol. 2, #17
West Coast Avengers Vol. 2, #18
West Coast Avengers Vol. 2, #19
West Coast Avengers Vol. 2, #20
West Coast Avengers Vol. 2, #21
West Coast Avengers Vol. 2, #22
West Coast Avengers Vol. 2, #23
West Coast Avengers Vol. 2, #24