West Coast Wednesdays: West Coast Avengers Vol. 2, #27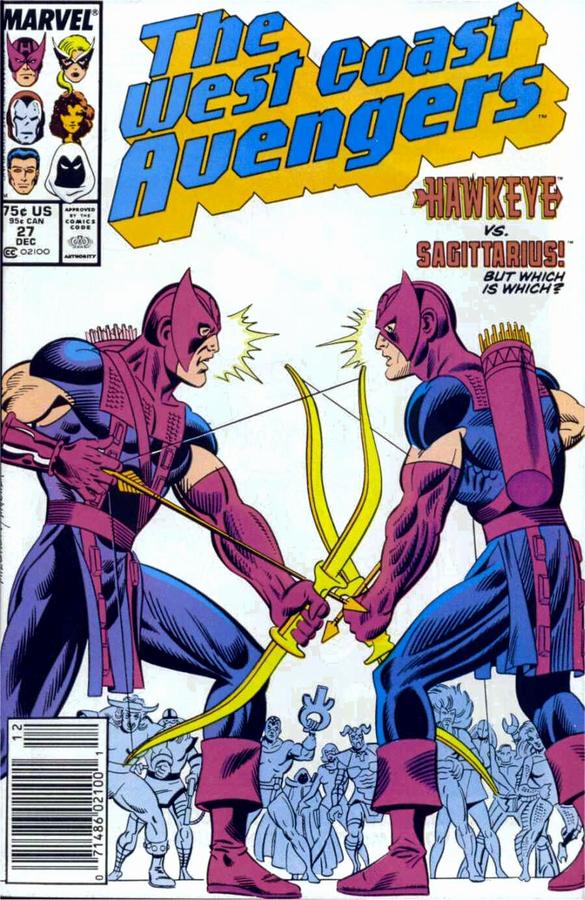 West Coast Avengers, Vol. 2, Issue 27 (December 1987)
WEST COAST CREDITS!
Writer: Steve Englehart
Layouts: Al Milgrom
Finished art: Mike Machlan
WEST COAST SUMMARY!
The Evil-Evil Zodiac Cartel ambush Hawkeye and replace him with a look-alike android (or LMD) to infiltrate the team. Meanwhile Mockingbird contacts her old employer, Nick Fury, for some advice, which leads her to a startling confession.
WEST COAST THOUGHTS!

The issue starts off with Hawkeye being ambushed by the Evil-Evil Zodiac Cartel (that is, they are the evil android clones of the evil Zodiac Cartel) as he's returning from seeing Wonder Man's movie for the 5th time…in costume ("The guy gets better every time I see it!"). After holding his own for quite a few pages, he's defeated by Scorpio with the help of the Zodiac Key, and then replaced by fake-Hawkeye (hereafter referred to as Fawkeye).
Fawkeye goes to the Avengers compound, and with the exception of passing up on a massage from Mockingbird he manages to go undetected.
My favorite scene is when Mockingbird contacts Nick Fury and interrupts him in the shower. I love how he has a large computer next to theshower with a video screen that apparently can come on at any time. It's like he's auditioning for a Fury Gone Wild TV show. Mockingbird asks him for some advice about lying to her husband, and he tells her to confess to Hawkeye once and for all. She takes the advice and immediately goes to confess. The problem is, she confesses to Fawkeye, who blows off the death of the Phantom Rider as if she accidentally overcooked dinner.
Mockingbird is annoyed that Fawkeye isn't making a big deal about her confession, so she punches him in the chest (as you do in marriage, I suppose). The punch makes a "clunk" sound, revealing Fawkeye to be an android! This leads to a big fight where Tigra and Mockingbird team up to rip Fawkeye apart limb from limb.
When Mockingbird goes to warn the team that they were infiltrated, we discover that Tigra is an android too.
[Cue dramatic music here!]
What else is worth mentioning? Well, Tigra makes out with Moon Knight ("Strange guy…but a new guy!" – apparently satisfying her one requirement to hook up with someone).
OH MY GOD! GUYS! It looks like Moon Knight might be the One!

WEST BOAST OR ROAST?
Boast. A cool cameo by a wet Nick Fury. And Mockingbird's emotional turmoil. Two ingredients to a successful issue.
WEST COAST SCENE (OF THE WEEK)!
That is funny! Hawkeye never says no to a body massage!
Previously on West Coast Wednesdays…
West Coast Avengers Vol. 1, #1
West Coast Avengers Vol. 1, #2
West Coast Avengers Vol. 1, #3
West Coast Avengers Vol. 1, #4
The Vision and Scarlet Witch #1
West Coast Avengers Vol. 2, #2
The Vision and Scarlet Witch #2
West Coast Avengers Vol. 2, #3
West Coast Avengers Vol. 2, #4
West Coast Avengers Vol. 2, #5
West Coast Avengers Vol. 2, #6
West Coast Avengers Vol. 2, #7
West Coast Avengers Vol. 2, #8
West Coast Avengers Vol. 2, #9
West Coast Avengers Vol. 2, #10
West Coast Avengers Vol. 2, #11
West Coast Avengers Vol. 2, #12
West Coast Avengers Vol. 2, #13
West Coast Avengers Vol. 2, #14
West Coast Avengers Vol. 2, #15
West Coast Avengers Vol. 2, #16
West Coast Avengers Vol. 2, #17
West Coast Avengers Vol. 2, #18
West Coast Avengers Vol. 2, #19
West Coast Avengers Vol. 2, #20
West Coast Avengers Vol. 2, #21
West Coast Avengers Vol. 2, #22
West Coast Avengers Vol. 2, #23
West Coast Avengers Vol. 2, #24
West Coast Avengers Vol. 2, #25
West Coast Avengers Vol. 2, #26