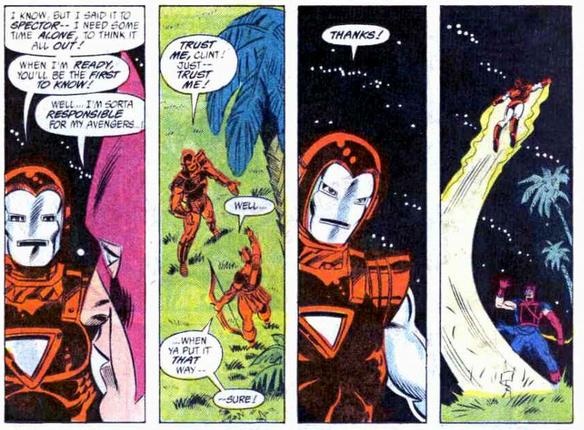 West Coast Wednesdays: West Coast Avengers Vol. 2, #31
West Coast Avengers, Vol. 2, Issue 31 (April 1988)
WEST COAST CREDITS!
Writer: Steve Englehart
Layouts: Al Milgrom
Finished art: Mike Machlan
WEST COAST SUMMARY!
Arkon arrives to take down Wonder Man for having the audacity to be the villain in a movie based on Arkon's life. And while the team is distracted with that fight, Mockingbird is in the fight of her life against the Phantom Rider who's got only revenge on his mind.
WEST COAST THOUGHTS!
The issue kicks off with the current Phantom Rider and Texas Twister (not seen since issue #8) inadvertently bringing Arkon, ruler of the extra-dimensional world of Polemachus, into our dimension. I'm noticing that a lot of the storylines in this book hinge on dimension hopping, from Zodiac Keys to the Sligs. Anyway, while Phantom Rider 1987 is 5 generations removed from Phantom Rider 1876, it appears his spirit is the same one that Mockingbird let die way back in the "West Coast Avengers Epic that Would Not End!" By summoning Arkon, Phantom Rider sees an opportunity to exact his revenge.
Moon Knight and Tigra get some make out time on the compound, but they're interrupted by a grumpy Iron Man who needs some alone time to think things through. Why he needs this exact spot is a mystery. Perhaps it's Tony's favorite thinking spot. Hawkeye comes to the rescue to see what the deal is with Iron Man being all grumpy and the conversation is poorly resolved in this week's "Scene of the Week" (below).
We find out later thanks to an emergency call from the Avengers that Iron Man had recently beat up Captain America (see Iron Man #228 – I won't be covering it here as it's not directly related to WCA) and that's why he's acting all dodgy. Hawkeye reminds everyone that Iron Man did ask him to trust him – twice! And when you put it that way, it's hard to argue.
But before they can do anything about Iron Man, Arkon shows up to take down Wonder Man. Apparently, it's "against the Polemachan code to create an image of the Imperion" and because Simon played a villain in Arkon IV (during the fight, Arkon is surprised to learn that there have been four parts!), he needs a good ass whooping.
While Simon and Arkon are going at it, Mockingbird sees the Phantom Rider, freaks out, and then abandons everyone to deal with it. Naturally, they fight (a lot of the moves mimicking the events from issue #23) until it's Mockingbird hanging off the edge of a cliff with Phantom Rider standing over her. But he doesn't let her die, as he feels she hasn't suffered enough as it is. He says "Happy trails, Barbara!" (not a joke) and rides off.
The fight with Arkon ends when Simon agrees to talk to the studio to not make anymore Arkon movies. Arkon, impressed by Wonder Man's honor, agrees and disappears back to his dimension.
WEST BOAST OR ROAST?
Roast. While I like where the Mockingbird storyline is going, the way Englehart uses meaningless fights to take up the page count (Arkon, really?) is a little distracting. But then again, that's American mainstream comics for you.
WEST COAST SCENE (OF THE WEEK)!
"Let me break it down so you can't argue with me, Clint. Trust me. Trust me. Trust me. Trust. Me."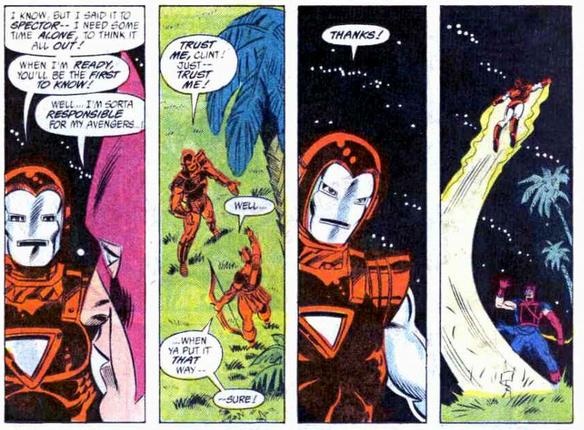 Previously on West Coast Wednesdays…
West Coast Avengers Vol. 1, #1
West Coast Avengers Vol. 1, #2
West Coast Avengers Vol. 1, #3
West Coast Avengers Vol. 1, #4
The Vision and Scarlet Witch #1
West Coast Avengers Vol. 2, #2
The Vision and Scarlet Witch #2
West Coast Avengers Vol. 2, #3
West Coast Avengers Vol. 2, #4
West Coast Avengers Vol. 2, #5
West Coast Avengers Vol. 2, #6
West Coast Avengers Vol. 2, #7
West Coast Avengers Vol. 2, #8
West Coast Avengers Vol. 2, #9
West Coast Avengers Vol. 2, #10
West Coast Avengers Vol. 2, #11
West Coast Avengers Vol. 2, #12
West Coast Avengers Vol. 2, #13
West Coast Avengers Vol. 2, #14
West Coast Avengers Vol. 2, #15
West Coast Avengers Vol. 2, #16
West Coast Avengers Vol. 2, #17
West Coast Avengers Vol. 2, #18
West Coast Avengers Vol. 2, #19
West Coast Avengers Vol. 2, #20
West Coast Avengers Vol. 2, #21
West Coast Avengers Vol. 2, #22
West Coast Avengers Vol. 2, #23
West Coast Avengers Vol. 2, #24
West Coast Avengers Vol. 2, #25
West Coast Avengers Vol. 2, #26
West Coast Avengers Vol. 2, #27
West Coast Avengers Vol. 2, #28
West Coast Avengers Vol. 2, #29
West Coast Avengers Vol. 2, #30