West Coast Wednesdays: West Coast Avengers Vol. 2, #32
West Coast Avengers, Vol. 2, Issue 32 (May 1988)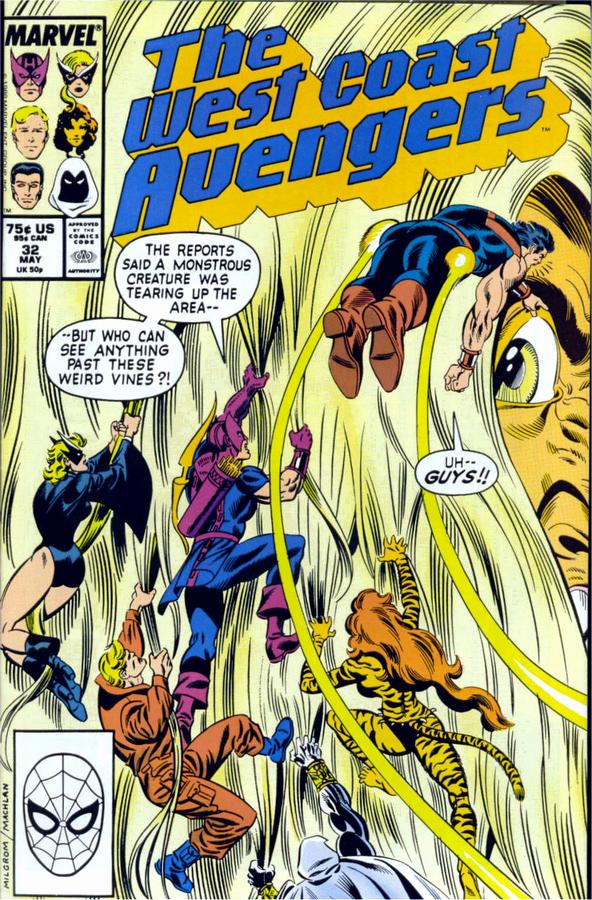 WEST COAST CREDITS!
Writer: Steve Englehart
Layouts: Al Milgrom
Finished art: Tony Dezuniga
WEST COAST SUMMARY!
Wasp shows up to help the team out just when Mockingbird proposes the team take a break and go hiking in the Grand Canyons. But the team doesn't know that the whole thing is a set up for Mockingbird to confront the only living relative of the Phantom Rider.
WEST COAST THOUGHTS!
The issue starts off with Wasp entering the West Coast Avengers compound and deactivating all of its defenses. While this might be a dramatic way to start the issue off, you have to wonder why she didn't just let the team know she was stopping by.
Janet is in town to see the team because she feels they're feeling pretty down for having to let Iron Man go last issue. But little does she know that the team is perfectly capable of feeling down about themselves with or without old shellhead. Her appearance also adds more soap opera to a series that's already overflowing with soap, as Tigra gets catty with Janet (see below), Simon reminds every one what a douche he is ("I figured [Iron Man would] always be here! He was the one I measured myself against–and if I decided after a while that I'd surpassed him, I still figured we'd test that out someday!"), and Pym puts his foot in his mouth without ever realizing it (see right). Wow. Am I the person who introduced that panel to the internets? If so, have I peaked? Will the rest of my life be downhill?
Mockingbird suggests that the team go hiking in the Grand Canyon. And so the team is off. On the way, we get to see Moon Knight get all jealous over Wonder Man's flirting with Tigra. The trip wasn't meant for the team, however, as Bobbi uses the opportunity to find the last living relative of the Phantom Rider. Now, she could've gone on this trip alone, mind you. Or she could've suggested a little alone time to go hiking off on her own. But that would be too simple for the woman who solves her marriage problems by punching her husband.
So when she reaches a specific point, Mockingbird casually drops some sticks of dynamite off a cliff where Vetrigar, a gigantic mutated pre-humanoid, happens to be, I don't know, resting. He starts attacking everyone and Mockingbird uses this to make a quick escape. Moon Knight, however, sees this and decides to follow her.
Mockingbird finds Hamilton Slade, the great-great grandson of the Phantom Rider and professor of archaeology at the University of Nevada, at a camp on the other side of the mountain. Once she finds him, she proceeds to beat the living crap out of him, even though he insists he has no idea what she's talking about. And if it wasn't for Moon Knight, it's possible she would've killed him.
Hamilton's beating is pretty excessive and highlights a lot of the problems the book has regarding its attitude towards violence. That said, Englehart almost makes it work at the last minute when it's discovered that it wasn't a case of mistaken identity, that Hamilton was in fact the Phantom Rider. The problem is that Hamilton doesn't know it and he's suffering from blackouts when the Phantom Rider takes possession of him. So despite the twist that justifies Mockingbird's actions, she's still in the wrong because Hamilton is still innocent.
Moon Knight eventually covers for her, and Mockingbird tells Hawkeye that Moon Knight help free her when a boulder pinned her leg down. Upon hearing this, Hawkeye wants to make Moon Knight a full-fledged Avenger. The issue ends with Wasp noticing that something is amiss in Hawkeye's marriage.
WEST BOAST OR ROAST?
Roast. Another miss. Wasp adds a new dynamic for the team, sure, but we haven't dealt with all the dynamics the team already had. Plus, the book is riddled with heroes making one ridiculously stupid choice after another. That's starting to get old.
WEST COAST SCENE (OF THE WEEK)!
And do you expect the Wasp to do anything except sting, Hank?
Previously on West Coast Wednesdays…
West Coast Avengers Vol. 1, #1
West Coast Avengers Vol. 1, #2
West Coast Avengers Vol. 1, #3
West Coast Avengers Vol. 1, #4
The Vision and Scarlet Witch #1
West Coast Avengers Vol. 2, #2
The Vision and Scarlet Witch #2
West Coast Avengers Vol. 2, #3
West Coast Avengers Vol. 2, #4
West Coast Avengers Vol. 2, #5
West Coast Avengers Vol. 2, #6
West Coast Avengers Vol. 2, #7
West Coast Avengers Vol. 2, #8
West Coast Avengers Vol. 2, #9
West Coast Avengers Vol. 2, #10
West Coast Avengers Vol. 2, #11
West Coast Avengers Vol. 2, #12
West Coast Avengers Vol. 2, #13
West Coast Avengers Vol. 2, #14
West Coast Avengers Vol. 2, #15
West Coast Avengers Vol. 2, #16
West Coast Avengers Vol. 2, #17
West Coast Avengers Vol. 2, #18
West Coast Avengers Vol. 2, #19
West Coast Avengers Vol. 2, #20
West Coast Avengers Vol. 2, #21
West Coast Avengers Vol. 2, #22
West Coast Avengers Vol. 2, #23
West Coast Avengers Vol. 2, #24
West Coast Avengers Vol. 2, #25
West Coast Avengers Vol. 2, #26
West Coast Avengers Vol. 2, #27
West Coast Avengers Vol. 2, #28
West Coast Avengers Vol. 2, #29
West Coast Avengers Vol. 2, #30
West Coast Avengers Vol. 2, #31