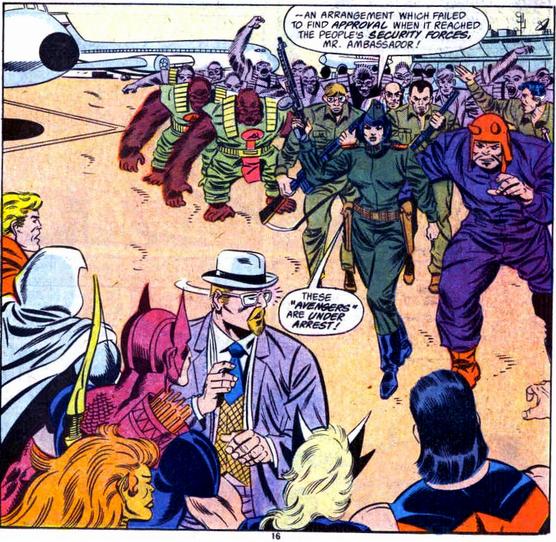 West Coast Wednesdays: West Coast Avengers Vol. 2, #33
West Coast Avengers, Vol. 2, Issue 33 (June 1988)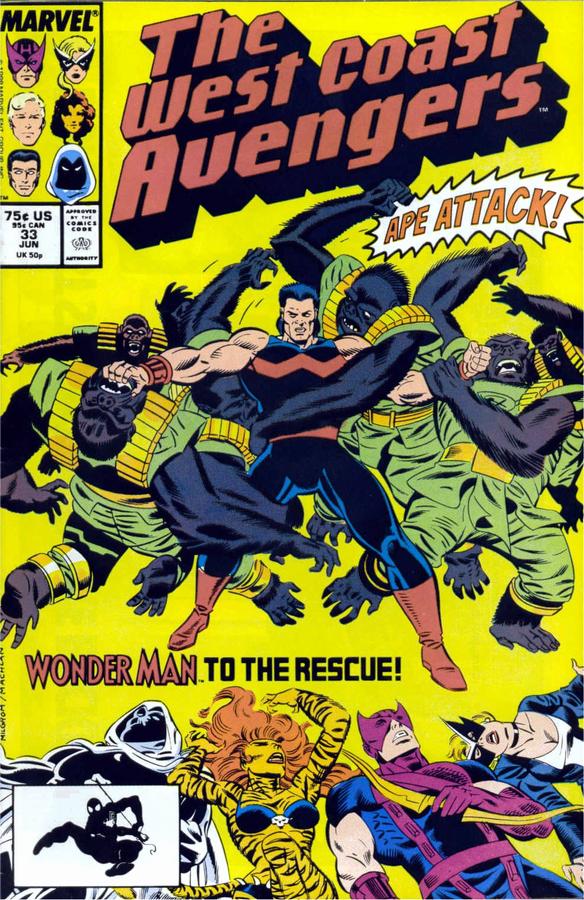 WEST COAST CREDITS!
Writer: Steve Englehart
Layouts: Al Milgrom
Finished art: Mike Machlan
WEST COAST SUMMARY!
Just as the Moon Knight is to be inducted into the West Coast Avengers, Hank Pym comes crashing in with news that his first wife – long believed dead – may be alive. The team goes to Hungary and immediately get arrested. Pym and Janet are the only ones to escape, and it's up to them to save the team and solve the mystery once and for all.
WEST COAST THOUGHTS!
This issue is so intense we're given two splash pages in the first three pages.
Things kick off with Moon Knight finally joining the team, but then Hank comes barging in all dramatic-like. Apparently Hank was "having fun — hacking, on the computer!" when he discovered that his deceased first wife, Maria Trovaya, was no longer deceased.
Now, I don't know if this is new info about Hank or not, as I'm not a licensed Pymologist. I had no idea he was married before Janet. I always assumed he wore a white lab coat when he walked down the aisle with Janet.
We're given some flashbacks (and to Milgrom and Machlan's credit, they sell the Silver Age look with the art) where Hank meets Maria, falls in love and marries. For their honeymoon, they return to Hungary, where Maria and her father were once prisoners before they were forced to flee. Hank questions Maria about whether this is a good idea, but naturally he doesn't share his concerns until AFTER THEY'RE IN HUNGARY! Seconds after expressing his doubts, Maria is kidnapped and Hank is knocked out by thugs.
Hank gets a note saying that Maria has been killed, which makes Hank go all Liam Neeson on Hungary until he's eventually sent back to America. Once he's returned home, driven by the anger of losing his wife, he creates the gas that allows him to grow and shrink and become the Ant-Man!
And now he knows Maria is alive. So they make Moon Knight an avenger and off the team goes to Hungary.
While traveling by quinjet, Tigra uses the opportunity to hook up with Moon Knight. And readers are given a few more pages of flashbacks, this time detailing some of the early history between Janet and Hank, how she became the Wasp, and how they fell in love.
Once the team lands in Hungary, no sooner are they off the jet and they're under arrest (see below!). The team naturally resists and there's our big mandatory fight for the issue. Everyone except Hank and Janet manage to escape. So now it's up to our favorite divorced couple to save the team and unravel the mystery of Maria's death once and for all.
Following a lead to a prison, Janet and Hank break in and open up a state-of-the-art vault to reveal…Vision and Scarlet Witch!
WEST BOAST OR ROAST?
Boast. Don't know why I liked this issue to be honest. All of the exposition and abundant flashbacks are here, but it's all fun. And big points for having the most accurate depiction of Budapest I've ever seen in comic books, talking apes and all!
WEST COAST SCENE (OF THE WEEK)!
Even Hungarians don't believe these guys are Avengers!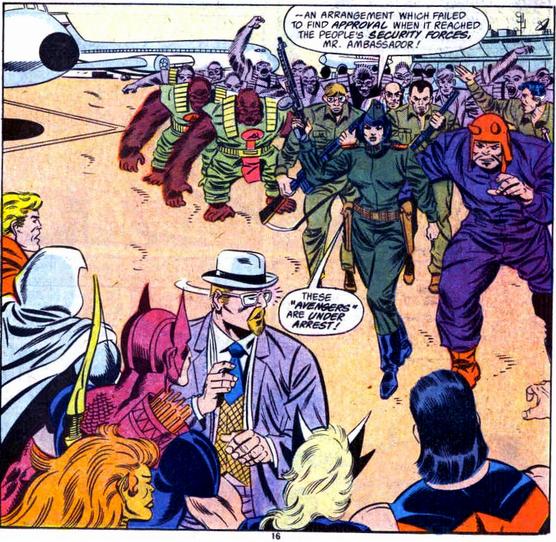 Previously on West Coast Wednesdays…
West Coast Avengers Vol. 1, #1
West Coast Avengers Vol. 1, #2
West Coast Avengers Vol. 1, #3
West Coast Avengers Vol. 1, #4
The Vision and Scarlet Witch #1
West Coast Avengers Vol. 2, #2
The Vision and Scarlet Witch #2
West Coast Avengers Vol. 2, #3
West Coast Avengers Vol. 2, #4
West Coast Avengers Vol. 2, #5
West Coast Avengers Vol. 2, #6
West Coast Avengers Vol. 2, #7
West Coast Avengers Vol. 2, #8
West Coast Avengers Vol. 2, #9
West Coast Avengers Vol. 2, #10
West Coast Avengers Vol. 2, #11
West Coast Avengers Vol. 2, #12
West Coast Avengers Vol. 2, #13
West Coast Avengers Vol. 2, #14
West Coast Avengers Vol. 2, #15
West Coast Avengers Vol. 2, #16
West Coast Avengers Vol. 2, #17
West Coast Avengers Vol. 2, #18
West Coast Avengers Vol. 2, #19
West Coast Avengers Vol. 2, #20
West Coast Avengers Vol. 2, #21
West Coast Avengers Vol. 2, #22
West Coast Avengers Vol. 2, #23
West Coast Avengers Vol. 2, #24
West Coast Avengers Vol. 2, #25
West Coast Avengers Vol. 2, #26
West Coast Avengers Vol. 2, #27
West Coast Avengers Vol. 2, #28
West Coast Avengers Vol. 2, #29
West Coast Avengers Vol. 2, #30
West Coast Avengers Vol. 2, #31
West Coast Avengers Vol. 2, #32