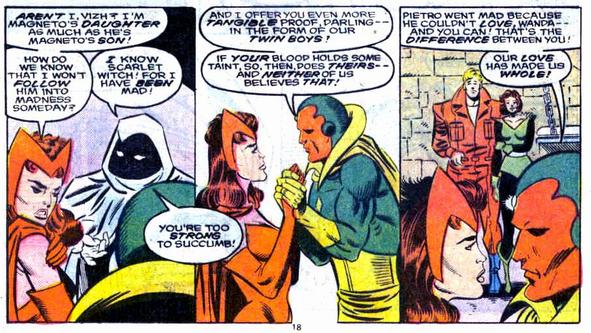 West Coast Wednesdays: West Coast Avengers Vol. 2, #34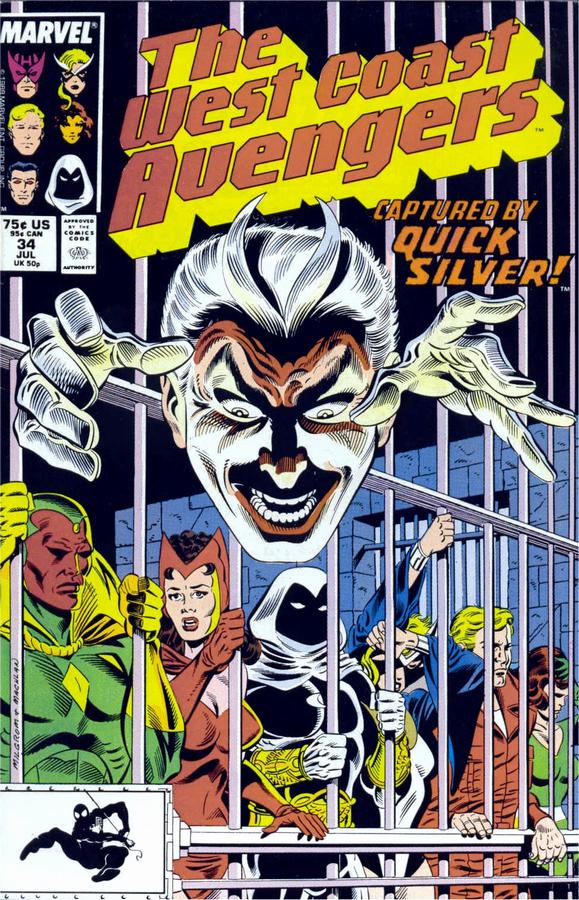 West Coast Avengers, Vol. 2, Issue 34 (July 1988)
WEST COAST CREDITS!
Writer: Steve Englehart
Layouts: Al Milgrom
Finished art: Mike Machlan
WEST COAST SUMMARY!
Hawkeye, Tigra and Wonder Man are released thanks to the American Embassy. Meanwhile Mockingbird and Moon Knight hook up with Hank, Janet, Vision and Scarlet Witch in a Hungarian prison. But there's more than meets the eye here as not only does Quicksilver appear, but the Phantom Rider himself.
WEST COAST THOUGHTS!
Mockingbird and Moon Knight are considered criminals in Hungary because of their espionage ways, but the rest of the team are released. Hawkeye, Tigra and Wonder Man don't want their freedom. In fact, they don't want to play around. They don't want nobody, baby, part time love just brings them down. To show how much Hawkeye doesn't want their freedom, he grabs the nearest flag of Hungary and uses it to beat the crap out of the bad guys. He even goes so far as to turn the flag into a makeshift bow and arrow. And just when things look bad for our three heroes, the United States ambassador shows up and takes them away.
Once everyone is safe and sound at the embassy, they discover that their teammates are no where to be found. However, the Phantom Rider is there to offer his help. Apparently, he's got business in Budapest!
Moon Knight and Mockingbird are thrown into a cell with none other than Hank, Janet, Vision and Scarlet Witch. The cell is equipped with rays that disrupt everyone's powers. And just when things get interesting, Vision decides to flashback to his origin for the sake of Moon Knight, even though anyone who's been reading this book knows this information already.
Suddenly Quicksilver appears! Apparently it was him who established this deliberate trap to bring everyone to Hungary. You see, he wants to become the King of the Evil Mutants. And he needs all those who pose a threat to him to be off the board. I think (let's be honest, if the West Coast Avengers are the ones in your way, you were never meant to be King of the Evil Mutants). He really just appears to gloat, reveal his plan, and then leave the team to escape.
Scarlet Witch has a brief moment of doubt about herself. If her brother can go mad, what about her? Luckily Vision is equipped with a thousand different pep talks and he uses one to defuse the situation (see below!). However, Mockingbird, upon hearing this, breaks down and confesses her big secret about Phantom Rider to everyone. Luckily everyone is supportive and lets her know that surely Hawkeye will see it the same way they do.
The Phantom Rider, in spirit form, hears the whole thing and returns to Hawkeye and the rest and tells them Mockingbird's big secret – only from his point of view, naturally. It's interesting that Englehart, a writer who has a knack of connecting dots and bringing things together pretty naturally when it comes down to it, decided to have all of this go down with the character in Hungary. This is a secret that's been a long time coming and I'm surprised Englehart made the choice to take care of it here. Because it makes no sense that the Phantom Rider is in Budapest outside of the fact that the writer needed him there. If I had to guess, I'd say he moved this forward because of editorial.
By the time everyone is reunited, Simon, Tigra and Hawkeye are giving Mockingbird the cold shoulder. They're so disgusted with her that they can't help but verbally attack her while they're all being attacked by giant bugs ("Murderess!" shouts Wonder Man).
In the end, they all pile into the quinjet and make a break for it. Unfortunately, a missile hits the jet and sends them crashing down in…Latveria (who knew it neighbored Hungary? Guess where I'm going this summer?).
Does this mean after years of talking apes, disgruntled brothers, possessed C-listers, and clones that the West Coast Avengers is finally going to fight an A-level bad guy? We'll find out next week.
WEST BOAST OR ROAST?
Boast. Again, I'm stuck not knowing why I'm enjoying this particular adventure.
WEST COAST SCENE (OF THE WEEK)!
You're too strong to go mad, Wanda.
When the team is wrong, boy, they're WRONG!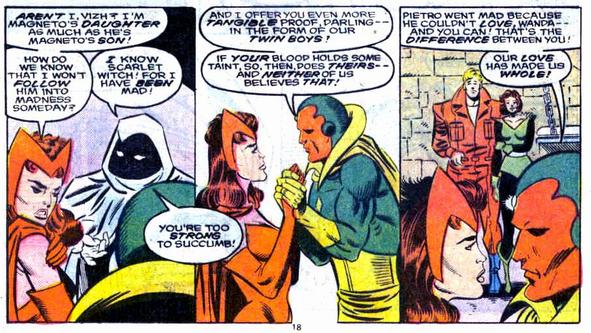 Previously on West Coast Wednesdays…
West Coast Avengers Vol. 1, #1
West Coast Avengers Vol. 1, #2
West Coast Avengers Vol. 1, #3
West Coast Avengers Vol. 1, #4
The Vision and Scarlet Witch #1
West Coast Avengers Vol. 2, #2
The Vision and Scarlet Witch #2
West Coast Avengers Vol. 2, #3
West Coast Avengers Vol. 2, #4
West Coast Avengers Vol. 2, #5
West Coast Avengers Vol. 2, #6
West Coast Avengers Vol. 2, #7
West Coast Avengers Vol. 2, #8
West Coast Avengers Vol. 2, #9
West Coast Avengers Vol. 2, #10
West Coast Avengers Vol. 2, #11
West Coast Avengers Vol. 2, #12
West Coast Avengers Vol. 2, #13
West Coast Avengers Vol. 2, #14
West Coast Avengers Vol. 2, #15
West Coast Avengers Vol. 2, #16
West Coast Avengers Vol. 2, #17
West Coast Avengers Vol. 2, #18
West Coast Avengers Vol. 2, #19
West Coast Avengers Vol. 2, #20
West Coast Avengers Vol. 2, #21
West Coast Avengers Vol. 2, #22
West Coast Avengers Vol. 2, #23
West Coast Avengers Vol. 2, #24
West Coast Avengers Vol. 2, #25
West Coast Avengers Vol. 2, #26
West Coast Avengers Vol. 2, #27
West Coast Avengers Vol. 2, #28
West Coast Avengers Vol. 2, #29
West Coast Avengers Vol. 2, #30
West Coast Avengers Vol. 2, #31
West Coast Avengers Vol. 2, #32
West Coast Avengers Vol. 2, #33