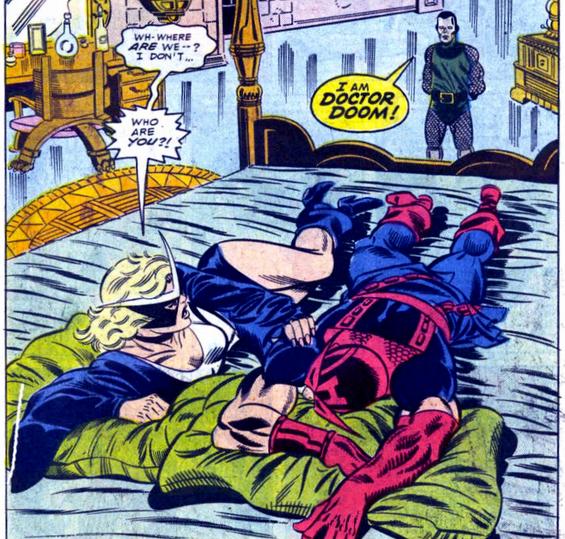 West Coast Wednesdays: West Coast Avengers Vol. 2, #35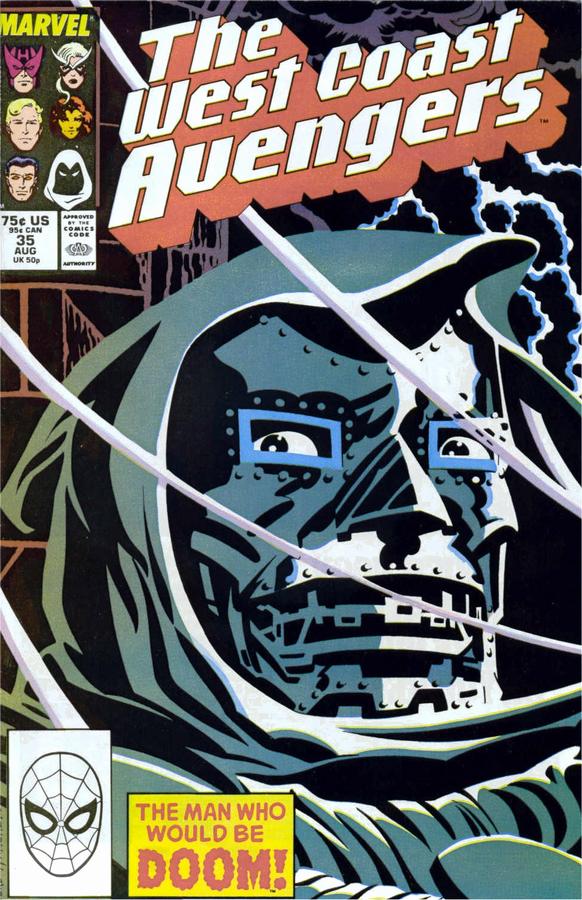 West Coast Avengers, Vol. 2, Issue 35 (August 1988)
WEST COAST CREDITS!
Writer: Steve Englehart
Layouts: Al Milgrom
Finished art: Mike Machlan
WEST COAST SUMMARY!
Shot down by Hungary, the team crash lands in Latveria. Doctor Doom has kidnapped the team and wants them to be his allies for his war against his impostor. But this is Doom we're talking about, so his attempt to win the team over involves captivity and torture. He might've gotten away with it too, if not for that pesky Quicksilver who still has a beef against the team.
WEST COAST THOUGHTS!
I mentioned last week that after years of talking apes, disgruntled brothers, possessed C-listers, and clones that it looked like the West Coast Avengers were finally going to take on an A-level bad guy for once. And it looks like I spoke too soon. Unfortunately, this isn't Doctor Doom. Instead, this is is a nine year old boy named Kristoff who believes himself to be Doctor Doom. Or maybe it's Doctor Doom trapped in the body of a nine year old? Actually, it doesn't matter – and it's certainly not going to be resolved in this series.
The issue starts off with Mockingbird and Hawkeye waking up with a nine year old Doctor Doom watching (see below). That's not creepy at all! Doom unloads the typical Englehart exposition which lets readers know that they should have read all their Daredevil comic books and they also should be collecting the current run of Fantastic Four (luckily for me, I was!). Anyway, Doom wants the team to join him in his battle against his maybe-impostor. While Doom reveals a lot of unsettling details, Hawkeye responds with the most important observation of all: "I want to know why we're in such a fancy room!" That's why he's the leader, folks.
The rest of the team is in a dungeon and unable to use their powers. He also separates Moon Knight and Tigra in a "special chamber" in order to test their strengths and weaknesses, as he's never encountered them before. He threatens to study them "every way imaginable!" From the four panels shown, these tests include: 1) firing nine missiles at Tigra all at the same time; 2) shooting Tigra with endless strips of paper; 3) attacking Moon Knight with a stolen arm from Dr. Octopus; and 4) fighting Moon Knight with machines made of cardboard.
This is hardcore science, people.
While all of this is going down, Hawkeye and Mockingbird finally (FINALLY!) deal with the Phantom Rider's death. I'll paraphrase the conversation:
Hawkeye: You let him die.
Mockingbird: Because he drugged and raped me.
Hawkeye: That's not what he said.
Mockingbird: You believe him over me?
Hawkeye: Yes.
And then it all ends with two of the most thought provoking and mature panels about divorce that I've ever read in a comic book (right).
The team ends up getting rescued by, of all people, the taker of vengeance, Khonshu. He appears to challenge Doom because he doesn't like the tests he's subjecting Moon Knight to. Doom gets all in his face, but backs down because Khonshu is the first person to actually address him as Doom and not an impostor.
Quicksilver appears later…because, why not.
Doom is just about to kill him when the team appears and saves the day. Quicksilver runs away. And Doom gives the team a ship to go back home. But they decide to go to Hungary instead. If you don't understand any of the motivation behind the sentences I've just typed, then you know how I feel having read the issue itself.
The issue ends with Doom watching the team walk away and making the following observation: "Why do Hawkeye and Mockingbird walk so far apart?"
Because Doom notices shit like that!
WEST BOAST OR ROAST?
Boast. It wasn't Doom. Or maybe it was. Instead of an epic fight with Doctor Doom, all it took was an Egyptian God to say, "Hey, baby, I respect you." Conflict resolved!
WEST COAST SCENE (OF THE WEEK)!
I AM DOCTOR DOOM! I want to sleep with Hawkeye for a million dollars. I'm not kidding. A million dollars. The night would come and go but the money could last a lifetime. Think of it. A million dollars. A lifetime of security… for one night. Don't answer right away. JUST CONSIDER IT! FOR I AM DOCTOR DOOM!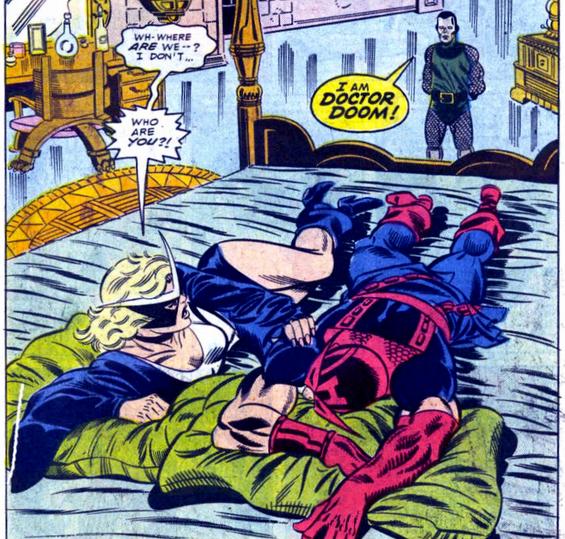 Previously on West Coast Wednesdays…
West Coast Avengers Vol. 1, #1
West Coast Avengers Vol. 1, #2
West Coast Avengers Vol. 1, #3
West Coast Avengers Vol. 1, #4
The Vision and Scarlet Witch #1
West Coast Avengers Vol. 2, #2
The Vision and Scarlet Witch #2
West Coast Avengers Vol. 2, #3
West Coast Avengers Vol. 2, #4
West Coast Avengers Vol. 2, #5
West Coast Avengers Vol. 2, #6
West Coast Avengers Vol. 2, #7
West Coast Avengers Vol. 2, #8
West Coast Avengers Vol. 2, #9
West Coast Avengers Vol. 2, #10
West Coast Avengers Vol. 2, #11
West Coast Avengers Vol. 2, #12
West Coast Avengers Vol. 2, #13
West Coast Avengers Vol. 2, #14
West Coast Avengers Vol. 2, #15
West Coast Avengers Vol. 2, #16
West Coast Avengers Vol. 2, #17
West Coast Avengers Vol. 2, #18
West Coast Avengers Vol. 2, #19
West Coast Avengers Vol. 2, #20
West Coast Avengers Vol. 2, #21
West Coast Avengers Vol. 2, #22
West Coast Avengers Vol. 2, #23
West Coast Avengers Vol. 2, #24
West Coast Avengers Vol. 2, #25
West Coast Avengers Vol. 2, #26
West Coast Avengers Vol. 2, #27
West Coast Avengers Vol. 2, #28
West Coast Avengers Vol. 2, #29
West Coast Avengers Vol. 2, #30
West Coast Avengers Vol. 2, #31
West Coast Avengers Vol. 2, #32
West Coast Avengers Vol. 2, #33
West Coast Avengers Vol. 2, #34