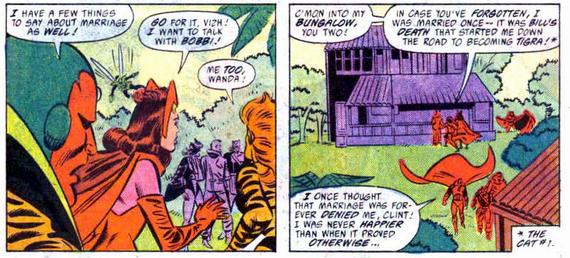 West Coast Wednesdays: West Coast Avengers Vol. 2, #37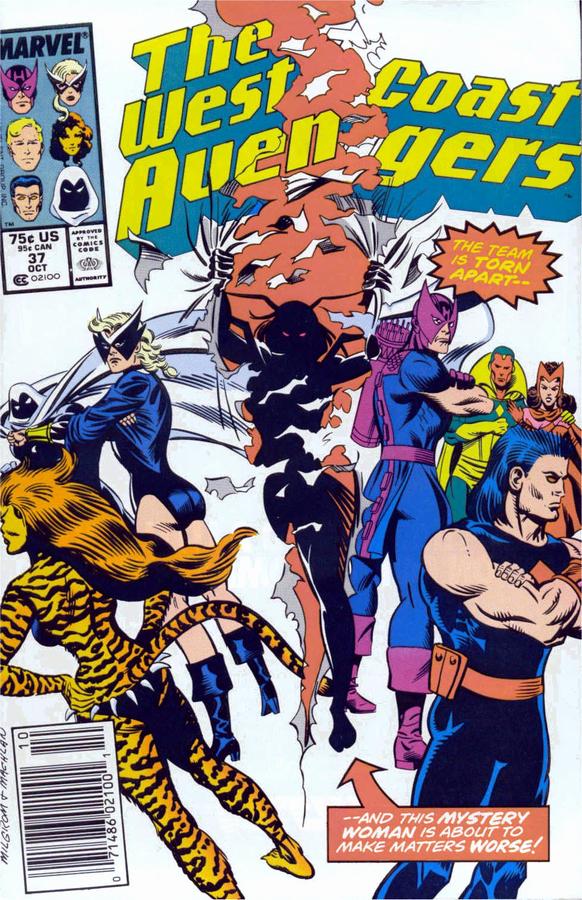 West Coast Avengers, Vol. 2, Issue 37 (October 1988)
WEST COAST CREDITS!
Writer: Steve Englehart
Layouts: Al Milgrom
Finished art: Mike Machlan
WEST COAST SUMMARY!
Shout. Pep talk. Shout. Bitching. Fight. Exposition. End.
Help me.
WEST COAST THOUGHTS!
The issue starts off in the middle of another blow up between Hawkeye and Mockingbird. There's a lot of yelling here, but at least they're not physically attacking one another as in previous issues. For Hawkeye, he has beef both as a husband ("You lied about it to my face!") and team leader ("I don't condone death as any answer for anything!"). And Mockingbird feels like she's been dragged into the team and forced to be someone she's not. After a brief time out where the men give Hawkeye a pep talk on marriage (even Vision gets in on the action, see right) and the women give their support to Mockingbird, Bobbi quits the team. Her decision to leave is made worse when Tigra and Moon Knight, both with their own views on killing, step forward and quit too.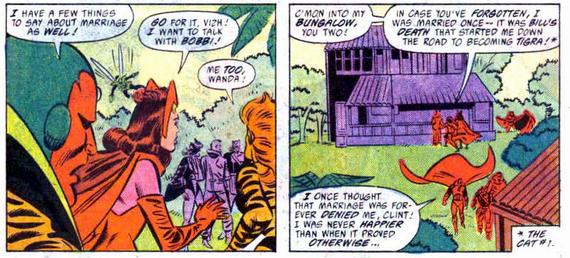 Mantis shows up and brings with her the issue's mandatory fight. Because of her alien martial arts, she's able to give the team a run for their money (but really, at this point Webster could show up and give the team a decent challenge) as she takes out each member one by one. Thanks to Hawkeye's quick thinking, he flees the scene and finds the Voice (one of the bad guy's from their previous Hungarian Adventure) hiding in the woods. Of course, Mantis was under his control.
As it turns out, Mantis has lost her memory and needs the Avengers to help her figure what's she been doing for the last year. She went to the Avengers in New York first, but discovered that they were no longer there. Thankfully, a police man guarding the Avengers mansion was possessed by Englehart Exposition and was able to give her way too much information, thus sending her to California to join up with that other team. Hawkeye immediately accepts the mission, no questions asked.
WEST BOAST OR ROAST?
Roast. This one just doesn't work. The fight seemed like it was shoehorned into a story that clearly deserved a lot more emotion. It's amazing how a book known for being a soap opera pulls back when it finally has emotional material worth mining.
WEST COAST SCENE (OF THE WEEK)!
If you or someone you love suffers from Englehart Exposition, please get help.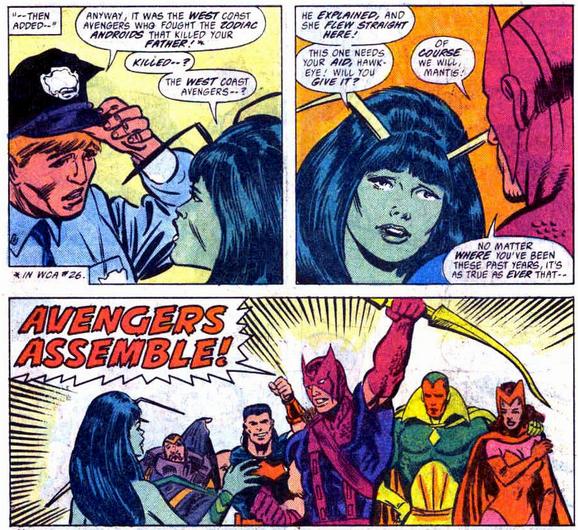 Previously on West Coast Wednesdays…
West Coast Avengers Vol. 1, #1
West Coast Avengers Vol. 1, #2
West Coast Avengers Vol. 1, #3
West Coast Avengers Vol. 1, #4
The Vision and Scarlet Witch #1
West Coast Avengers Vol. 2, #2
The Vision and Scarlet Witch #2
West Coast Avengers Vol. 2, #3
West Coast Avengers Vol. 2, #4
West Coast Avengers Vol. 2, #5
West Coast Avengers Vol. 2, #6
West Coast Avengers Vol. 2, #7
West Coast Avengers Vol. 2, #8
West Coast Avengers Vol. 2, #9
West Coast Avengers Vol. 2, #10
West Coast Avengers Vol. 2, #11
West Coast Avengers Vol. 2, #12
West Coast Avengers Vol. 2, #13
West Coast Avengers Vol. 2, #14
West Coast Avengers Vol. 2, #15
West Coast Avengers Vol. 2, #16
West Coast Avengers Vol. 2, #17
West Coast Avengers Vol. 2, #18
West Coast Avengers Vol. 2, #19
West Coast Avengers Vol. 2, #20
West Coast Avengers Vol. 2, #21
West Coast Avengers Vol. 2, #22
West Coast Avengers Vol. 2, #23
West Coast Avengers Vol. 2, #24
West Coast Avengers Vol. 2, #25
West Coast Avengers Vol. 2, #26
West Coast Avengers Vol. 2, #27
West Coast Avengers Vol. 2, #28
West Coast Avengers Vol. 2, #29
West Coast Avengers Vol. 2, #30
West Coast Avengers Vol. 2, #31
West Coast Avengers Vol. 2, #32
West Coast Avengers Vol. 2, #33
West Coast Avengers Vol. 2, #34
West Coast Avengers Vol. 2, #35
West Coast Avengers Vol. 2, #36