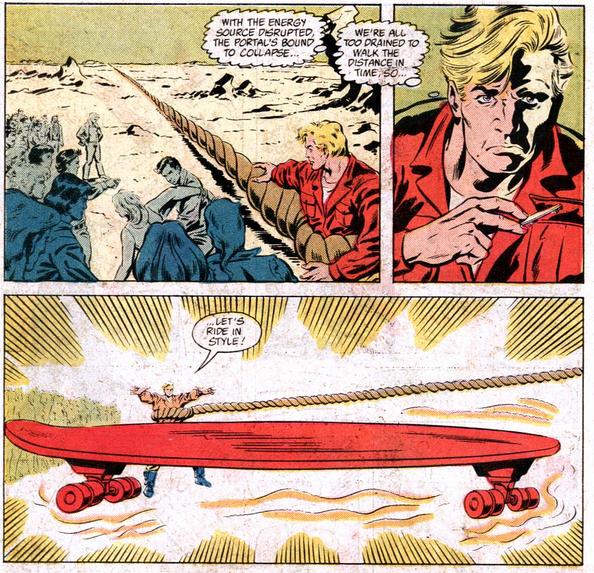 West Coast Wednesdays: West Coast Avengers Vol. 2, #38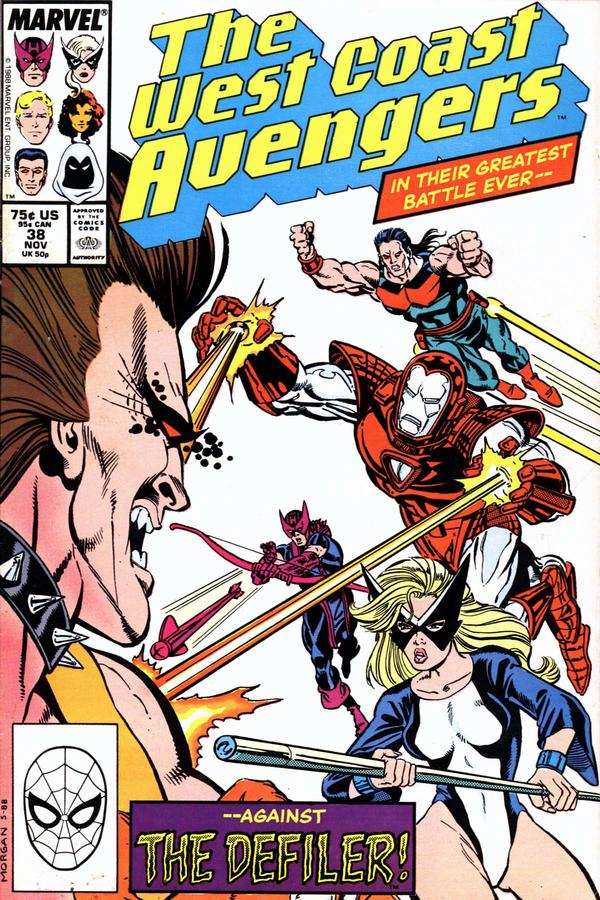 West Coast Avengers, Vol. 2, Issue 38 (November 1988)
WEST COAST CREDITS!
Writer: D.G. Chichester and Margaret Clark
Penciler: Tom Morgan
Inker: Dave Hunt
WEST COAST SUMMARY!
While the new team flies off to solve the mystery of Mantis' amnesia, Wonder Man reflects on the old days with the original members of the team and how awesome last week those times were – like the time they fought a heavy metal singer from another dimension. How awesome was that?!
WEST COAST THOUGHTS!
This issue is a big deal. This is the first issue of the monthly series not written by Steve Englehart. While I know Al Milgrom wrote issue #30, I still consider him to be one of the Founding Fathers of this book and you don't feel Englehart's loss when Milgrom steps up. And speaking of Milgrom, he's no where to be found either. Tom Morgan is the artist this time around and his art is simultaneously a step forward and a step back, as it moves the book to a more modern art style, but Morgan stumbles when it comes to telling a clear story. Also, there's a disconnect with the art from the first and last pages and the rest of the book, making me think that there's an artist that went uncredited here. What makes it even more frustrating is that it looks really familiar (anyone know?).
All that said, it's clear this is an inventory story with a prologue and epilogue added in to make it feel like it belongs in the series. And it's pretty awful.
Like, I-miss-Englehart-so-much-it-hurts-awful!
What is this one about? Well, after a quick shot of the new team posing uncomfortably in the quinjet, Wonder Man goes into maximum flashback mode to show readers an adventure with the old team that was never meant to be seen. How bad is it? Well, the bad guy is the Defiler, the lead singer of a heavy metal band called Corruption of Innocence, who happens to be from another dimension. He opens up gateways to his dimension that sucks in his audience enabling the Defiler to use their energy to become crazy strong.
This issue feels like an editor gave the writer a list of things considered "cool" and to somehow incorporate it into the story to make the WCA hip. There is a large emphasis on heavy metal, particularly the "hardcore scene". The point of view character (mostly) is a cool teenager named Mike who ends up saving the day. And Pym's big rescue moment happens thanks to his giant skateboard. After over 40 issues of old school Avengers thrills and excitement (if you can call it that), this story feels more jarring than reassuring.
There's not a lot else to say about this issue. It's awful at pretty much every level.
Shame on you, fill-in issue! SHAME!
WEST BOAST OR ROAST?
Roast. This one is awful. This might be the series' low point. Luckily for Englehart, he's no where to be seen.
WEST COAST SCENE (OF THE WEEK)!
OMG! HANK PYM IS SO COOL!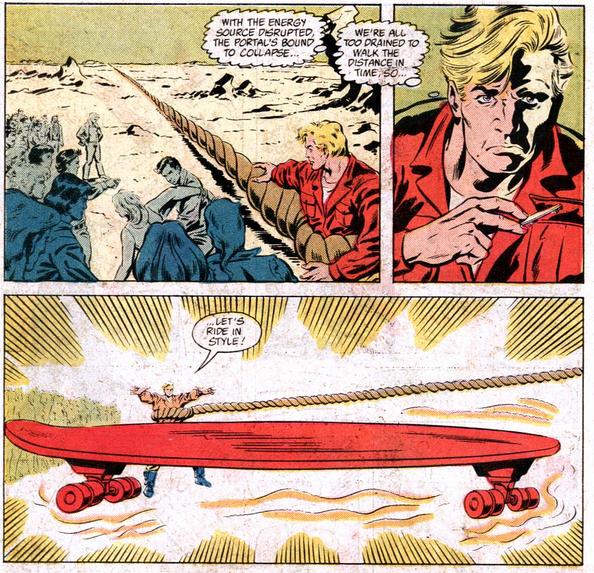 Previously on West Coast Wednesdays…
West Coast Avengers Vol. 1, #1
West Coast Avengers Vol. 1, #2
West Coast Avengers Vol. 1, #3
West Coast Avengers Vol. 1, #4
The Vision and Scarlet Witch #1
West Coast Avengers Vol. 2, #2
The Vision and Scarlet Witch #2
West Coast Avengers Vol. 2, #3
West Coast Avengers Vol. 2, #4
West Coast Avengers Vol. 2, #5
West Coast Avengers Vol. 2, #6
West Coast Avengers Vol. 2, #7
West Coast Avengers Vol. 2, #8
West Coast Avengers Vol. 2, #9
West Coast Avengers Vol. 2, #10
West Coast Avengers Vol. 2, #11
West Coast Avengers Vol. 2, #12
West Coast Avengers Vol. 2, #13
West Coast Avengers Vol. 2, #14
West Coast Avengers Vol. 2, #15
West Coast Avengers Vol. 2, #16
West Coast Avengers Vol. 2, #17
West Coast Avengers Vol. 2, #18
West Coast Avengers Vol. 2, #19
West Coast Avengers Vol. 2, #20
West Coast Avengers Vol. 2, #21
West Coast Avengers Vol. 2, #22
West Coast Avengers Vol. 2, #23
West Coast Avengers Vol. 2, #24
West Coast Avengers Vol. 2, #25
West Coast Avengers Vol. 2, #26
West Coast Avengers Vol. 2, #27
West Coast Avengers Vol. 2, #28
West Coast Avengers Vol. 2, #29
West Coast Avengers Vol. 2, #30
West Coast Avengers Vol. 2, #31
West Coast Avengers Vol. 2, #32
West Coast Avengers Vol. 2, #33
West Coast Avengers Vol. 2, #34
West Coast Avengers Vol. 2, #35
West Coast Avengers Vol. 2, #36