West Coast Wednesdays: West Coast Avengers Vol. 2, #4
West Coast Avengers, Vol. 2, Issue 4 (January 1986)
WEST COAST CREDITS!
Writer: Steve Englehart
Penciler: Al Milgrom
Inker: Joe Sinnott
WEST COAST SUMMARY!
Hawkeye won't take no for an answer when the Thing refuses to join the team. The sudden appearance of Firebird brings with her the first flashback sequence in two issues. The villainous Master Pandemonium attacks the Thing at a wrestling match and the team comes to his rescue. But is the team prepared to take down Master Pandemonium and his countless demons?
WEST COAST THOUGHTS!
The beginning of the issue is a lot of fun with the Thing refusing to join the team. Englehart does a great job with Hawkeye in this scene, allowing him to be insistent without coming across as annoying. The dialogue between the members of the team is also good, even when the reader has to look past the fact that Tony Stark is hanging out at the pool in his armor.
Tigra makes a move on Wonder Man (meaning all the touchy stuff from previous issues wasn't my imagination – YES!), but he freaks out. Wonder Man ends up going on Johnny Carson to confess that he is guilty of embezzlement, a crime that probably had ten year olds across the country reaching for the dictionary. And Hank Pym gets a phone call from Ultron and IT'S COMING FROM INSIDE THE HOUSE! Actually, no, it's not. Sadly.
Firebird brings the issue's precipitating incident, but unfortunately for the reader, she's not all that interesting. Luckily, Master Pandemonium makes up for her with an intriguing power set that brings a real challenge to the team with just enough of the weird to keep readers turning the pages. I mean, we're talking about a villain who has demons coming out of his sleeves. What's not to like?
WEST BOAST OR ROAST?
Boast! Yeah, I'm still digging this. It's wordy and it's more soap opera than it is action book, but this is why I loved the book when I was a kid.
WEST COAST SCENE (OF THE WEEK)!
Whatever I feel like I wanna do. Gosh!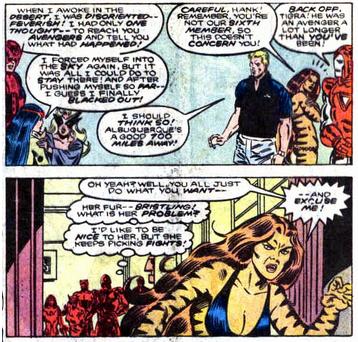 BONUS WEST COAST SCENE (OF THE WEEK)!
What?