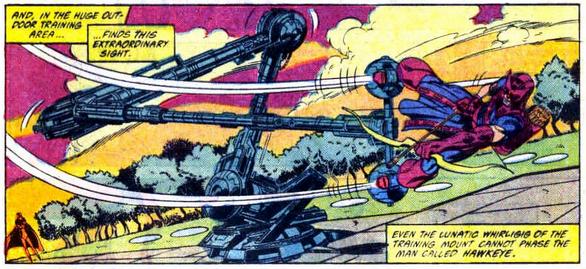 West Coast Wednesdays: West Coast Avengers Vol. 2, #42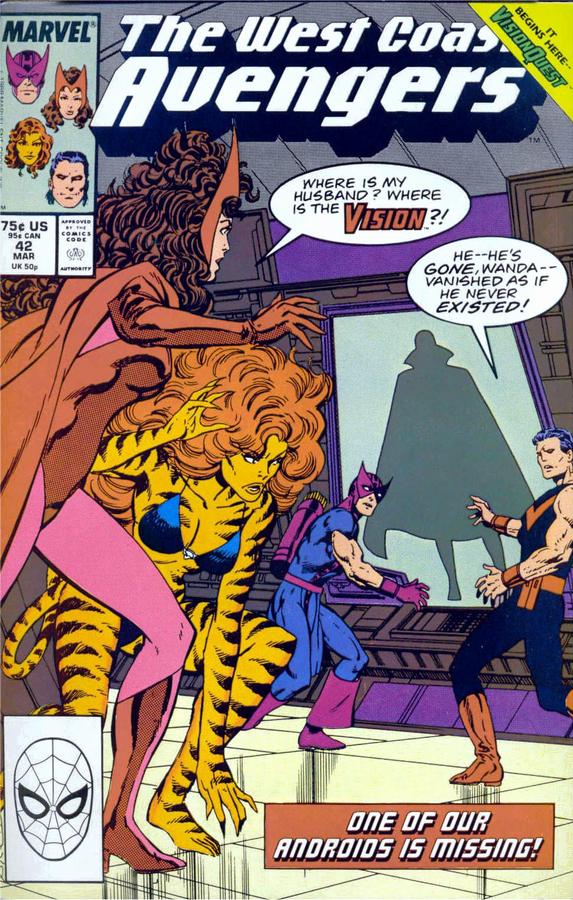 West Coast Avengers, Vol. 2, Issue 42 (March 1989)
WEST COAST CREDITS!
Writer: John Byrne
Penciler: John Byrne
Inker: Mike Machlan
WEST COAST SUMMARY!
The Scarlet Witch wakes up in her bed at the West Coast compound to find her husband, Vision, is no where to be seen. She knows something is amiss, but before she can tell the team, Ultron attacks. And things get worse from there…
WEST COAST THOUGHTS!
Here we are for John Byrne's first issue of the West Coast Avengers. Byrne taking over the title was a big deal for me when I was young because it meant that the book was finally going to get the quality it deserved. In a lot of ways, I felt that Byrne's participation in the series meant that the WCA was finally legitimate after years of missed opportunities.
And does it hold up? Absolutely.
For the first time, this book feels like an Avengers book and not a bad New Warriors spin-off. Everything – from the introduction of the individual members to the appearance of Ultron – has gravity; something that's been missing from the book since the beginning.
Wanda wakes up to find Vision missing and she leaves the bungalow to see where he went. She knows something is wrong, even if she can't quite articulate why. Now, the marriage between Wanda and Vizh is one of those things either you're on the bus for or not, and I have to admit, it's always bothered me. I get that love between a synthezoid and human is one of those things that works in a comic book, and I can deal with that, but I can't reconcile with the juvenile nature that their marriage has been portrayed. This is something that's common in comic books, where relationships tend to be written by people who appear to never have had one.
In the first two pages of the book, using numerous captions filled with some nice honest observations, Byrne makes the marriage work and even feel real without hitting the reader over the head.
Hawkeye's introduction in the book (see below) is also effective, showing off what makes him so awesome in only a few panels, which is a far cry from the whiner that's been haunting the book for years now. Tigra's intro starts with a dream where she is stalking and murdering a prey, and she wakes up devouring her pillow. It's clear her bloodlust and animal nature is getting the better of her again, but with Byrne's use of dream imagery, it's conveyed by showing rather than telling (Englehart's tried technique). Even Wonder Man's entrance in the book is a step up with him going full force against Ultron.
The only one who gets the shaft here is Wasp, but I'd argue that it's because her place in the Marvel universe is clearly established, whereas the WCA needed people to be reminded.
The issue's biggest question mark is Hank Pym suddenly being back at the compound. There is no mention of his first wife or whether or not that plot had been resolved or not.
That said, there is a load of exposition running through the book, focusing on the origin of Vision from the days of the original Human Torch to more recent events, but I'd argue that since this is a storyline about Vision, this isn't gratuitous.
Anyway, Ultron shows up and it's a big throw down between him and the team. However, it's discovered that he isn't the real Ultron, and thanks to Pym's shrinking particles, a small Wonder Man enters Ultron through the open mouth and then expands, bursting Ultron apart from the inside. Byrne's clear art makes it all vivid and exciting.
Ultron's appearance is merely a distraction, as Pym discovers that a computer virus has erased all record of Vision in their database. And for that to happen, that means it had to be one of their own. And the issue ends with the appearance of the traitor: Mockingbird!
WEST BOAST OR ROAST?
Boast. With one issue, Byrne turns the book around from being a joke into a legitimate A-level book.
WEST COAST SCENE (OF THE WEEK)!
With one panel, Hawkeye is cool again…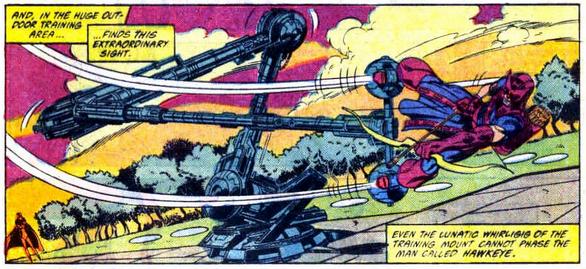 Previously on West Coast Wednesdays…
West Coast Avengers Vol. 1, #1
West Coast Avengers Vol. 1, #2
West Coast Avengers Vol. 1, #3
West Coast Avengers Vol. 1, #4
The Vision and Scarlet Witch #1
West Coast Avengers Vol. 2, #2
The Vision and Scarlet Witch #2
West Coast Avengers Vol. 2, #3
West Coast Avengers Vol. 2, #4
West Coast Avengers Vol. 2, #5
West Coast Avengers Vol. 2, #6
West Coast Avengers Vol. 2, #7
West Coast Avengers Vol. 2, #8
West Coast Avengers Vol. 2, #9
West Coast Avengers Vol. 2, #10
West Coast Avengers Vol. 2, #11
West Coast Avengers Vol. 2, #12
West Coast Avengers Vol. 2, #13
West Coast Avengers Vol. 2, #14
West Coast Avengers Vol. 2, #15
West Coast Avengers Vol. 2, #16
West Coast Avengers Vol. 2, #17
West Coast Avengers Vol. 2, #18
West Coast Avengers Vol. 2, #19
West Coast Avengers Vol. 2, #20
West Coast Avengers Vol. 2, #21
West Coast Avengers Vol. 2, #22
West Coast Avengers Vol. 2, #23
West Coast Avengers Vol. 2, #24
West Coast Avengers Vol. 2, #25
West Coast Avengers Vol. 2, #26
West Coast Avengers Vol. 2, #27
West Coast Avengers Vol. 2, #28
West Coast Avengers Vol. 2, #29
West Coast Avengers Vol. 2, #30
West Coast Avengers Vol. 2, #31
West Coast Avengers Vol. 2, #32
West Coast Avengers Vol. 2, #33
West Coast Avengers Vol. 2, #34
West Coast Avengers Vol. 2, #35
West Coast Avengers Vol. 2, #36
West Coast Avengers Vol. 2, #37
West Coast Avengers Vol. 2, #38
West Coast Avengers Vol. 2, #39
West Coast Avengers Vol. 2, #40
West Coast Avengers Vol. 2, #41