West Coast Wednesdays: West Coast Avengers Vol. 2, #45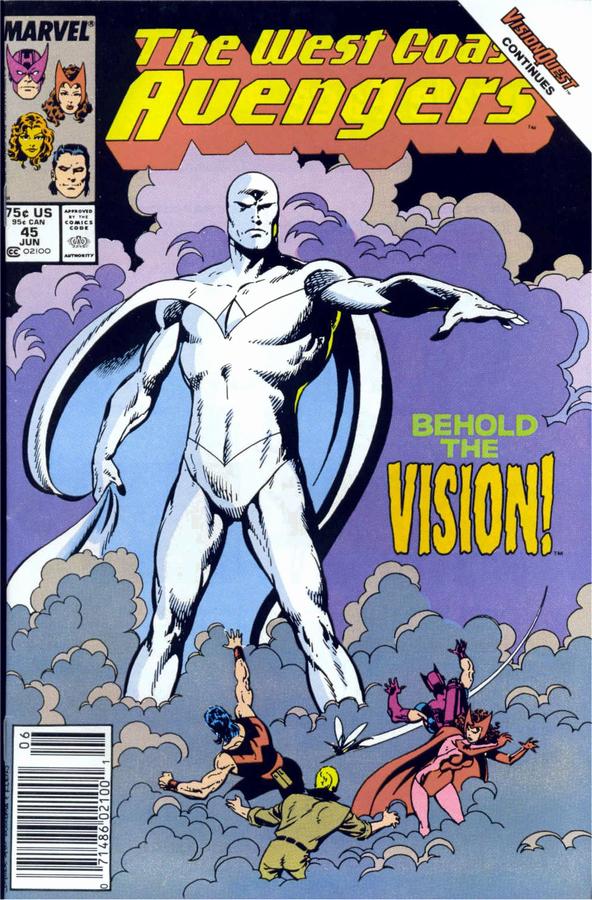 West Coast Avengers, Vol. 2, Issue 45 (June 1989)
WEST COAST CREDITS!
Writer: John Byrne
Penciler: John Byrne
Inker: Mike Machlan
WEST COAST SUMMARY!
The team isn't thrilled by the arrival of its newest member – U.S. Agent – which leads to a dramatic departure of one of its founding members. Meanwhile, Pym has Vision up and running again, but his humanity is completely gone. Only Wonder Man has the power to make Vision whole again and…he won't?
WEST COAST THOUGHTS!
Things kick off with Hawkeye telling the team how much he dislikes having the U.S. Agent around, with U.S. Agent standing right there in the room. He not only feels slighted as the leader of the team, but he doesn't like taking orders from the stinking government. Mockingbird is the one to remind him that the team exists because the government sanctions it, which he doesn't take too kindly to (interestingly enough, this has never been properly addressed in the book itself). When U.S. Agent flatly tells Hawkeye, "I'm now an Avenger. Period." he takes a swing at the second-rate Captain America. After being thrown across the room and humiliated in front of his own team, Hawkeye storms out and quits.
Scarlet Witch hires a new governess for her children. And she manages to lose the twins in less than a minute.
Pym finally gets Vision up and running, but to Scarlet Witch's dismay, she discovers that he's unemotional and lifeless – LIKE A FRAKKING TOASTER! Pym explains to her that while they have his memories restored, there's one vital element missing…
The dramatic climax of the issue hinges on a scene between Wanda and Simon. Since Pym can use Simon's brain patterns to restore Vision completely, Wanda is shocked to discover that Simon has refused. She confronts him on the beach near the compound. Simon recaps his origin for Wanda, where we see through handy flashbacks how Simon's brain patterns were used previously to give Vision his soul, only back then, Simon didn't have a choice in the matter. And now, confronted with the ability to create the Vision again, he can't do it because he chooses not to. It's an interesting angle to explore, but it doesn't make a lot of sense unless there's more going on that we don't know about yet. Naturally, Wanda takes it pretty hard, and not only slaps Simon across the face, but then proceeds to literally drop a mountain on him. Simon pulls himself out of the rubble and then flies up, releasing a scream "from his very soul" that can be heard as far away as San Francisco, until he reaches space and the vacuum turns him silent.
When Wanda returns to the compound, she discovers U.S. Agent screaming at Vision to put some clothes on. He complies by manipulating the molecular structure of his old shredded clothes and makes himself appear dressed. However, he refuses to keep the old Ethiopian flag colors he wore so proudly for years, and instead keeps a bleached look. "If I am to be called 'The Vision,' is it not logical for me to look the part?" he says, "Spectral…unearthly…"
The issue ends with Pym confirming that the Vision's body is in fact not the same one used by the original Torch, which Wanda takes very badly. We don't see this though, as he's reflecting on this scene with Janet in the hallways of the compound. They stop in front of U.S. Agent's room to hear him talking to somebody, and the readers get to see him having a conversation with framed photographs of his dead parents.
Nope, that's not creepy at all.
WEST BOAST OR ROAST?
Boast. With emotions running high, there's plenty of good material to work with here, which makes for a surprisingly strong issue. And no mandatory fight scenes!
WEST COAST SCENE (OF THE WEEK)!
U.S. Agent can't handle the sexy!
Previously on West Coast Wednesdays…
West Coast Avengers Vol. 1, #1
West Coast Avengers Vol. 1, #2
West Coast Avengers Vol. 1, #3
West Coast Avengers Vol. 1, #4
The Vision and Scarlet Witch #1
West Coast Avengers Vol. 2, #2
The Vision and Scarlet Witch #2
West Coast Avengers Vol. 2, #3
West Coast Avengers Vol. 2, #4
West Coast Avengers Vol. 2, #5
West Coast Avengers Vol. 2, #6
West Coast Avengers Vol. 2, #7
West Coast Avengers Vol. 2, #8
West Coast Avengers Vol. 2, #9
West Coast Avengers Vol. 2, #10
West Coast Avengers Vol. 2, #11
West Coast Avengers Vol. 2, #12
West Coast Avengers Vol. 2, #13
West Coast Avengers Vol. 2, #14
West Coast Avengers Vol. 2, #15
West Coast Avengers Vol. 2, #16
West Coast Avengers Vol. 2, #17
West Coast Avengers Vol. 2, #18
West Coast Avengers Vol. 2, #19
West Coast Avengers Vol. 2, #20
West Coast Avengers Vol. 2, #21
West Coast Avengers Vol. 2, #22
West Coast Avengers Vol. 2, #23
West Coast Avengers Vol. 2, #24
West Coast Avengers Vol. 2, #25
West Coast Avengers Vol. 2, #26
West Coast Avengers Vol. 2, #27
West Coast Avengers Vol. 2, #28
West Coast Avengers Vol. 2, #29
West Coast Avengers Vol. 2, #30
West Coast Avengers Vol. 2, #31
West Coast Avengers Vol. 2, #32
West Coast Avengers Vol. 2, #33
West Coast Avengers Vol. 2, #34
West Coast Avengers Vol. 2, #35
West Coast Avengers Vol. 2, #36
West Coast Avengers Vol. 2, #37
West Coast Avengers Vol. 2, #38
West Coast Avengers Vol. 2, #39
West Coast Avengers Vol. 2, #40