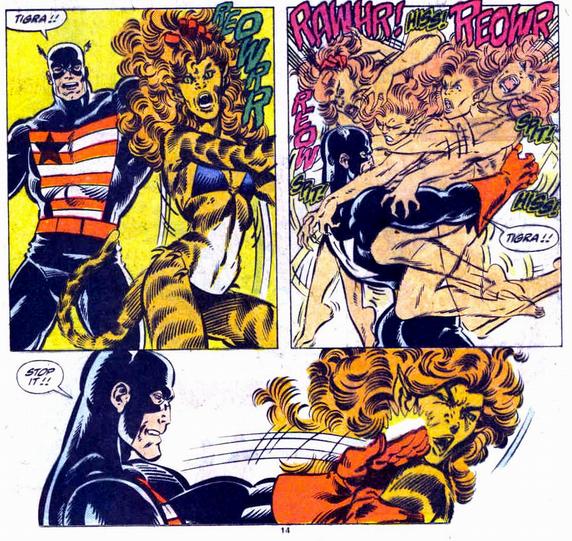 West Coast Wednesdays: West Coast Avengers Vol. 2, #46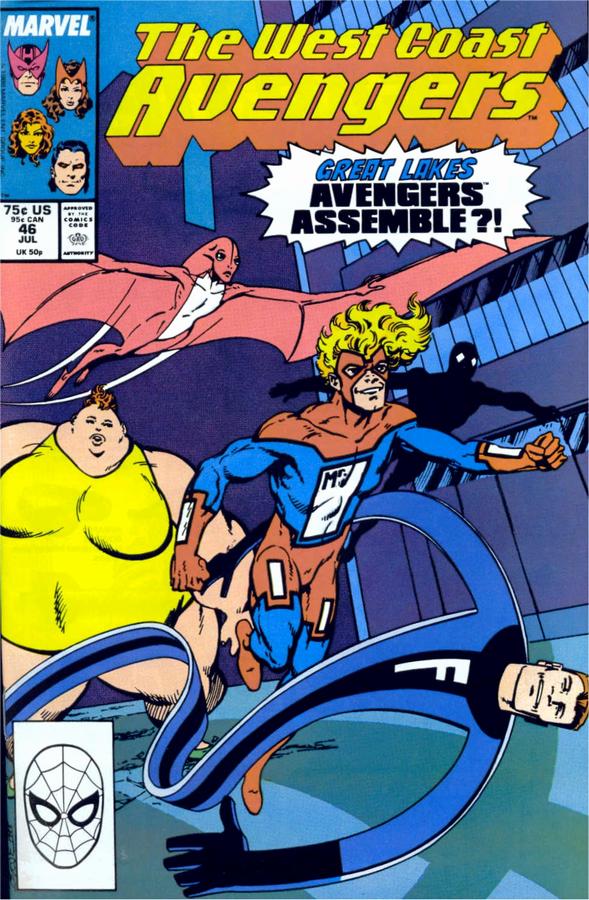 West Coast Avengers, Vol. 2, Issue 46 (July 1989)
WEST COAST CREDITS!
Writer: John Byrne
Penciler: John Byrne
Inker: Mike Machlan
WEST COAST SUMMARY!
It's the introduction to the Great Lake Avengers! What more needs to be said?
WEST COAST THOUGHTS!
We start things off by seeing the Great Lake Avengers in action as they deal with a hostage situation. We get to see all the members – Big Bertha, Flatman, Doorman, Mr. I, and Dinah – in action and see what they're capable of. And honestly, despite the cheesiness on display, they're not too shabby.
Clint hears about the Great Lake Avengers on the news in a hotel room and considers springing into action to see what they're all about when there's a knock on the door. It turns out to be Bobbi, who's been looking for him for three weeks since he quit the team. And this is where things get interesting, as Byrne does something pretty amazing. He has Bobbi and Clint (almost) talking to one another like adults. It's been a long time coming, and Bobbi finally said some things that should've been addressed a long, long time ago. It's such a refreshing change after months of the characters being written like four year olds.
U.S. Agent continues to make changes within the team by threatening to introduce a proper meal schedule when he discovers – thanks to the snitch cook Mrs Heyges! – that the team doesn't usually eat more than a slice of orange and toast. Before he can go into a rant about the importance of proper nutrition, Tigra comes barging into the kitchen in order to catch a mouse. Since she's in cat-mode, U.S. Agent tries to calm her down by giving her a good old fashioned slap across the face (see below). U.S. Agent is stunned to learn – again, thanks to the snitch Mrs Heyges! – that Tigra's been regularly eating mice. "Something has to be done about this!" he shouts.
Meanwhile, Hawkeye and Mockingbird create a diversion in Milwaukee in order to get the Great Lake Avengers' attention. Hawkeye says, "Many don't know that I'm a regular visitor, but Milwaukee has certainly had its share of visitors. The French missionaries and explorers were coming there as early as the late 1600's to trade with the Native Americans." Naturally, everyone thinks he's pretending to be Hawkeye and not the real deal, which establishes the motive needed for this issue's Fight Scene.
During the fight, Mr. I jumps off a building's ledge and seemingly falls to his death. Bobbi freaks out because this reminds him of the Phantom Rider's death. Luckily for her, the I in Mr. I is for "Immortal"!
Once everyone agrees that they are who they say they are, everyone regroups at Big Bertha's place where Hawkeye tells them that "this midwest team isn't such a bad idea . . . with the proper management…my management…this could be a heckuva team!"
The issue ends with Wanda stepping out of a pool and receiving a mysterious letter from a Texas company offering to help her with Vision. I'm sure only good will come from this.
WEST BOAST OR ROAST?
Boast. Byrne continues to be on a roll here, which is a surprise because I remembered this issue being a whole lot sillier.
WEST COAST SCENE (OF THE WEEK)!
Face it, Tigra! I just hit your jawbone!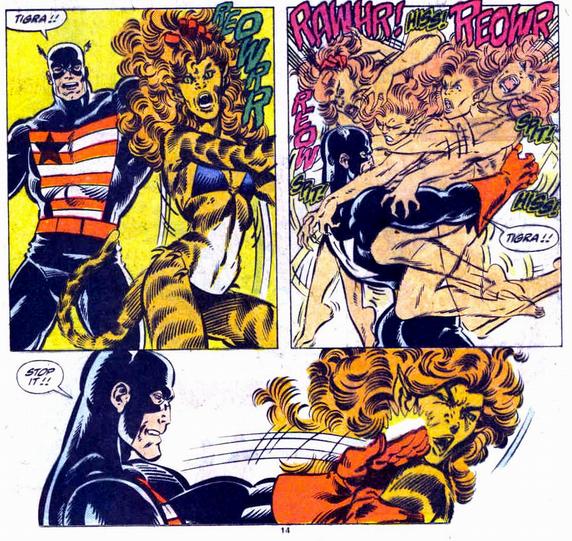 Previously on West Coast Wednesdays…
West Coast Avengers Vol. 1, #1
West Coast Avengers Vol. 1, #2
West Coast Avengers Vol. 1, #3
West Coast Avengers Vol. 1, #4
The Vision and Scarlet Witch #1
West Coast Avengers Vol. 2, #2
The Vision and Scarlet Witch #2
West Coast Avengers Vol. 2, #3
West Coast Avengers Vol. 2, #4
West Coast Avengers Vol. 2, #5
West Coast Avengers Vol. 2, #6
West Coast Avengers Vol. 2, #7
West Coast Avengers Vol. 2, #8
West Coast Avengers Vol. 2, #9
West Coast Avengers Vol. 2, #10
West Coast Avengers Vol. 2, #11
West Coast Avengers Vol. 2, #12
West Coast Avengers Vol. 2, #13
West Coast Avengers Vol. 2, #14
West Coast Avengers Vol. 2, #15
West Coast Avengers Vol. 2, #16
West Coast Avengers Vol. 2, #17
West Coast Avengers Vol. 2, #18
West Coast Avengers Vol. 2, #19
West Coast Avengers Vol. 2, #20
West Coast Avengers Vol. 2, #21
West Coast Avengers Vol. 2, #22
West Coast Avengers Vol. 2, #23
West Coast Avengers Vol. 2, #24
West Coast Avengers Vol. 2, #25
West Coast Avengers Vol. 2, #26
West Coast Avengers Vol. 2, #27
West Coast Avengers Vol. 2, #28
West Coast Avengers Vol. 2, #29
West Coast Avengers Vol. 2, #30
West Coast Avengers Vol. 2, #31
West Coast Avengers Vol. 2, #32
West Coast Avengers Vol. 2, #33
West Coast Avengers Vol. 2, #34
West Coast Avengers Vol. 2, #35
West Coast Avengers Vol. 2, #36
West Coast Avengers Vol. 2, #37
West Coast Avengers Vol. 2, #38
West Coast Avengers Vol. 2, #39
West Coast Avengers Vol. 2, #40
West Coast Avengers Vol. 2, #44