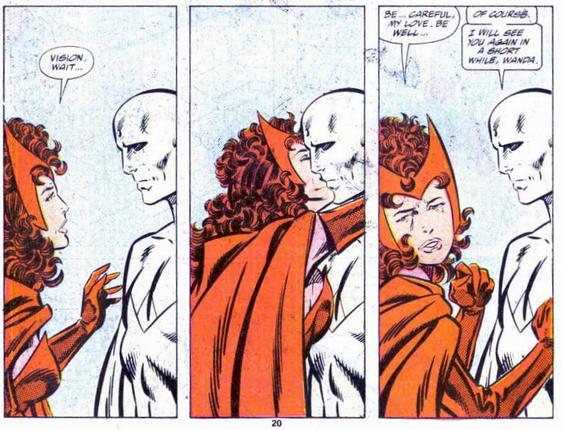 West Coast Wednesdays: West Coast Avengers Vol. 2, #47
West Coast Avengers, Vol. 2, Issue 47 (August 1989)
WEST COAST CREDITS!
Writer: John Byrne
Penciler: John Byrne
Inker: Mike Machlan
WEST COAST SUMMARY!
Feeling abandoned by her own teammates, Wanda steals a quinjet with the Vision to meet with the only people she believes can help her husband. Due to the absence of Admiral Ackbar, Wanda doesn't know that she's walked right into a trap…
WEST COAST THOUGHTS!
Of interest, the book is now called Avengers West Coast, and considering how Byrne has elevated the book into a proper Avengers book, it makes a lot of sense. Though, if I remember right, this doesn't last for a long time.
Wanda pleads with Pym and a visiting T'Challa (the Black Panther himself!) to restore her husband back to normal. Pym tells her that they've done everything that can possibly be done, while T'Challa – having not met the Vision since he's been humanized – doesn't notice anything different about him. This causes Wanda to storm out of the room, completely ignoring Wonder Man who's trying to get her attention.
Speaking of Wonder Man, I jumped a little too soon a couple of weeks ago regarding Wonder Man's decision to not transfer his brain patterns to the Vision. His excuse, while interesting, didn't really hold much water. But here, he confesses to Janet that the reason he won't help the Vision is because he's in love with Wanda. Janet admits that she always suspected, much to Simon's surprise. Byrne basically spells out that the reason Vision was capable of loving Wanda was because he was echoing Simon's feelings. Now what's Wanda's excuse?
U.S. Agent is still trying to crack the mystery of Tigra. He goes to her bungalow to see what's up with her and ends up having to chase her through the woods in the compound. Once cornered, Tigra tries to seduce U.S. Agent (another wonderful recurring theme for Tigra), and if not for the perimeter alarm going off, filthy unAmerican sex may have transpired.
The alarm went off because Wanda had stolen one of the quinjets with her husband. Using deception and the stealth shield, the team believes she took Vision to Grosvenor Memorial Hospital in Seattle (because everyone knows their android health care is fucking amazing!), but in reality she went to Texas, to the people who sent her that mysterious letter at the end of last issue.
Wanda meets with Jeremiah Random, Dean of Robotics at Saunders College, who has agreed to help Vision. But naturally, it's all a deception. After they walk away from the quinjet, it's immediately destroyed. You see, the real intent to get both of them there was so that they could kidnap Scarlet Witch. But luckily for them, the quinjet's destruction sets off an alarm on the East Coast, springing Captain America and She-Hulk into action.
Wanda is put into a room (called The Assimilator!) where she's unable to use her powers without hurting herself. Random comes up on a big screen gives the typical Eighties "Mutants are taking over and we intend to be a part of the action" speech. She's confused, but she doesn't have time to think about it because the room begins filling up with black biological ooze until it engulfs her completely.
The issue ends with yet another governess (the third since Byrne came aboard) losing Wanda's twins. You'd think that Wanda might suspect that something was up when the same thing happened to two governesses, but, you know, that would be rational.
WEST BOAST OR ROAST?
Boast. The storyline is moving along nicely. This feels like a legitimate Avengers book for once.
WEST COAST SCENE (OF THE WEEK)!
It's amazing Silver Surfer never broke character during Wanda's Punk'd episode.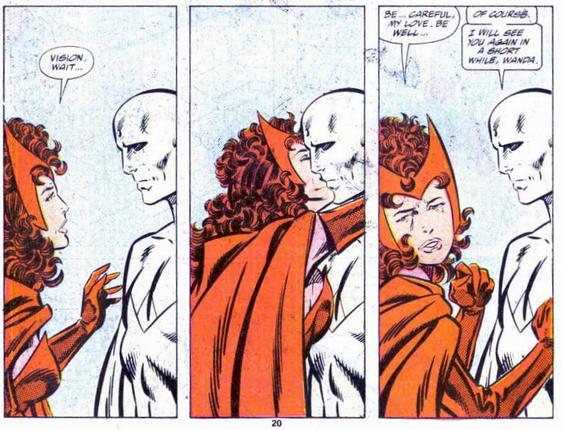 Previously on West Coast Wednesdays…
West Coast Avengers Vol. 1, #1
West Coast Avengers Vol. 1, #2
West Coast Avengers Vol. 1, #3
West Coast Avengers Vol. 1, #4
The Vision and Scarlet Witch #1
West Coast Avengers Vol. 2, #2
The Vision and Scarlet Witch #2
West Coast Avengers Vol. 2, #3
West Coast Avengers Vol. 2, #4
West Coast Avengers Vol. 2, #5
West Coast Avengers Vol. 2, #6
West Coast Avengers Vol. 2, #7
West Coast Avengers Vol. 2, #8
West Coast Avengers Vol. 2, #9
West Coast Avengers Vol. 2, #10
West Coast Avengers Vol. 2, #11
West Coast Avengers Vol. 2, #12
West Coast Avengers Vol. 2, #13
West Coast Avengers Vol. 2, #14
West Coast Avengers Vol. 2, #15
West Coast Avengers Vol. 2, #16
West Coast Avengers Vol. 2, #17
West Coast Avengers Vol. 2, #18
West Coast Avengers Vol. 2, #19
West Coast Avengers Vol. 2, #20
West Coast Avengers Vol. 2, #21
West Coast Avengers Vol. 2, #22
West Coast Avengers Vol. 2, #23
West Coast Avengers Vol. 2, #24
West Coast Avengers Vol. 2, #25
West Coast Avengers Vol. 2, #26
West Coast Avengers Vol. 2, #27
West Coast Avengers Vol. 2, #28
West Coast Avengers Vol. 2, #29
West Coast Avengers Vol. 2, #30
West Coast Avengers Vol. 2, #31
West Coast Avengers Vol. 2, #32
West Coast Avengers Vol. 2, #33
West Coast Avengers Vol. 2, #34
West Coast Avengers Vol. 2, #35
West Coast Avengers Vol. 2, #36
West Coast Avengers Vol. 2, #37
West Coast Avengers Vol. 2, #38
West Coast Avengers Vol. 2, #39
West Coast Avengers Vol. 2, #40
West Coast Avengers Vol. 2, #44