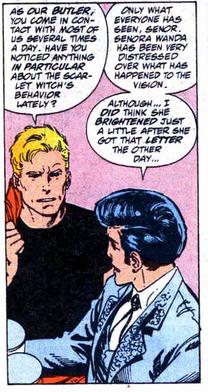 West Coast Wednesdays: West Coast Avengers Vol. 2, #49
West Coast Avengers, Vol. 2, Issue 49 (October 1989)
WEST COAST CREDITS!
Writer: John Byrne
Penciler: John Byrne
Inker: John Byrne
WEST COAST SUMMARY!
The Great Lake Avengers show up to save the day in Texas. Are they ready? Because even the bad guys aren't what they seem.
WEST COAST THOUGHTS!
Byrne breaks the pattern of having a close-up on an individual member of the team in the opening splash page with this issue, as we open the book to see a picture of an unconscious Captain America and She-Hulk under some rubble. Also of interest, the art here is all Byrne, as inker Mike Machlan is no where to be seen here.
Hawkeye and the Great Lake Avengers are flying to Texas on Big Bertha's private jet. Hawkeye is annoyed that the plane isn't moving as fast as a quinjet. It's worth noting that Mockingbird is back to calling Clint "lover" at the ends of her sentences.
Wonder Man, Wasp and Pym return to the West Coast compound from their trip to see Professor Horton. There are a lot of questions that need answers because of the discrepancies in the Vision's origin story. Pym wanders off to do Science Stuff, leaving Wonder Man and Wasp to have another discussion about Simon's love for Wanda.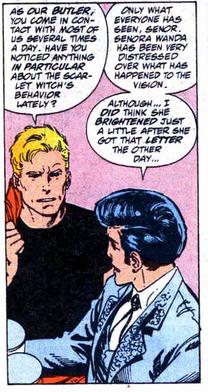 Pym questions his butler to determine if he ever noticed Wanda acting strangely. We discover that the West Coast Avengers' answer to Jarvis is Carlos, who looks like a young Elvis in a Mariachi suit. I never noticed Carlos' presence in the book before or after this, so I can only hope that someone like Brian Michael Bendis can bring him back in the modern Marvel universe as soon as possible. Anyway, Carlos is giving up the goods when Tigra comes racing past.
Pym chases Tigra into the woods where she attacks him. Because she can't be reasoned with, Pym shrinks her down to Smurf-size and catches her. But what to do with her?
Back to Texas, we see Captain America and She-Hulk waking up in a cell. It turns out, Cap used his shield to absorb the impact of the rubble, and both of them have been pretending to be unconscious in order to get more information. Unfortunately for Cap, She-Hulk has been assimilated as well, and immediately attacks him.
Vision realizes that he's been unattended to for over seven hours, which is "inconsistent with the alleged purpose for being here." So he starts exploring and comes across the Great Lake Avengers as they're about to land in the area. Vision notes that "Midwest Avengers" makes a whole lot more sense than "Great Lake Avengers" and Hawkeye is quick to point out that he didn't name them.
It turns out that the reason Captain America can't be assimilated is because of the Super Solider serum running through his body. We also learn here that the origin of the single-celled creature from millions of years ago is the real big bad, described as a "passenger" (now we know where Dexter got it from!). This consciousness resides in all of humanity, while dormant, it is making certain decisions that alters the destiny of civilizations. And because this passenger abandoned dinosaurs back in the day, they became extinct. And now, it wants to jump ship from humans to mutants in order to survive, meaning that humans will be dead before long. All things told, it's not too shabby a villain, but not the kind of big bad you bring back every three issues or so.
The Great Lake Avengers arrive and it's a big old throw down between assimilated college kids and Mockingbird and She-Hulk and Big Bertha. Mister Immortal gets past all the chaos to find the assimilator, the place where the passenger's consciousness resides. He's warned not to enter due to the intense radiation field that protects it, but he assures them that "dyin' is what I do best!" A few minutes later, everyone "wakes up" and is no longer controlled by the passenger. It's learned that Mister Immortal broke the containment wall of the assimilator before he died, which is what pretty much saved the day.
It's decided since all of this happened through mind control, no one will be arrested. Wanda expresses some concern about having the memories of the passenger still inside of her, and what happens if the thing leaves humans for mutants like it planned? Vision explains that he's not programmed for all this philosophical hocus-pocus, but luckily Captain America steps up to give everyone a pep talk.
WEST BOAST OR ROAST?
Boast. Still on board with Byrne's interpretation of the book. Even the Great Lake Avengers are a cool addition.
WEST COAST SCENE (OF THE WEEK)!
Don't permanently damage the college kid, says the woman kicking him in the face.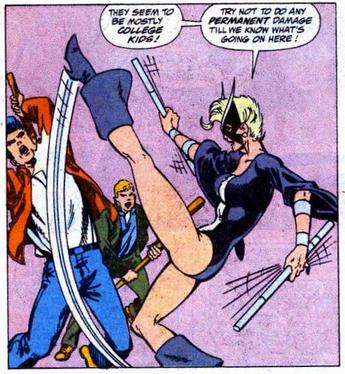 Previously on West Coast Wednesdays…
West Coast Avengers Vol. 1, #1
West Coast Avengers Vol. 1, #2
West Coast Avengers Vol. 1, #3
West Coast Avengers Vol. 1, #4
The Vision and Scarlet Witch #1
West Coast Avengers Vol. 2, #2
The Vision and Scarlet Witch #2
West Coast Avengers Vol. 2, #3
West Coast Avengers Vol. 2, #4
West Coast Avengers Vol. 2, #5
West Coast Avengers Vol. 2, #6
West Coast Avengers Vol. 2, #7
West Coast Avengers Vol. 2, #8
West Coast Avengers Vol. 2, #9
West Coast Avengers Vol. 2, #10
West Coast Avengers Vol. 2, #11
West Coast Avengers Vol. 2, #12
West Coast Avengers Vol. 2, #13
West Coast Avengers Vol. 2, #14
West Coast Avengers Vol. 2, #15
West Coast Avengers Vol. 2, #16
West Coast Avengers Vol. 2, #17
West Coast Avengers Vol. 2, #18
West Coast Avengers Vol. 2, #19
West Coast Avengers Vol. 2, #20
West Coast Avengers Vol. 2, #21
West Coast Avengers Vol. 2, #22
West Coast Avengers Vol. 2, #23
West Coast Avengers Vol. 2, #24
West Coast Avengers Vol. 2, #25
West Coast Avengers Vol. 2, #26
West Coast Avengers Vol. 2, #27
West Coast Avengers Vol. 2, #28
West Coast Avengers Vol. 2, #29
West Coast Avengers Vol. 2, #30
West Coast Avengers Vol. 2, #31
West Coast Avengers Vol. 2, #32
West Coast Avengers Vol. 2, #33
West Coast Avengers Vol. 2, #34
West Coast Avengers Vol. 2, #35
West Coast Avengers Vol. 2, #36
West Coast Avengers Vol. 2, #37
West Coast Avengers Vol. 2, #38
West Coast Avengers Vol. 2, #39
West Coast Avengers Vol. 2, #40
West Coast Avengers Vol. 2, #44