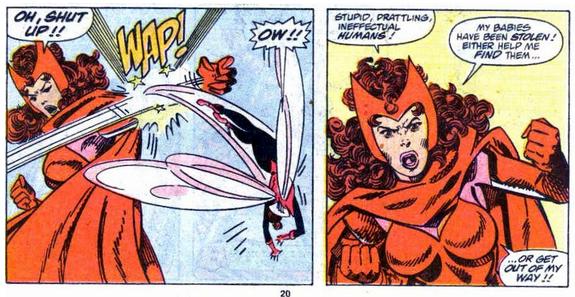 West Coast Wednesdays: West Coast Avengers Vol. 2, #51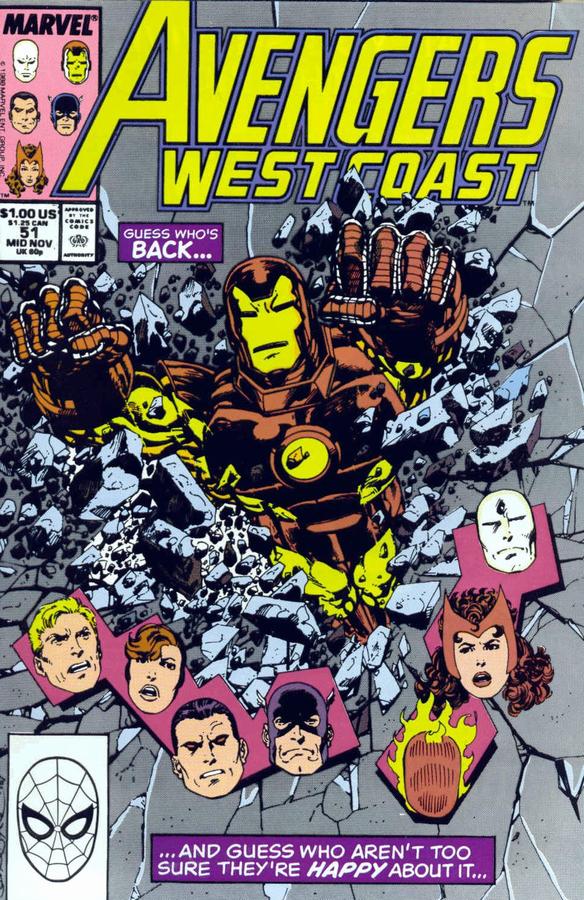 West Coast Avengers, Vol. 2, Issue 51 (November 1989)
WEST COAST CREDITS!
Writer: John Byrne
Penciler: John Byrne
Inker: Mike Machlan
WEST COAST SUMMARY!
Iron Man has returned to the team, but the team's not thrilled about it one bit. Before they can give him the cold shoulder, Master Pandemonium attacks the compound and kidnaps Wanda's children!
WEST COAST THOUGHTS!
As mentioned above, things kick off with Iron Man's return to the West Coast Avengers, continuing last issue's dramatic cliffhanger. There's a lot of resentment towards him based on what's been happening to the character in his own solo book. Apparently, Iron Man has killed someone, and there's an uncertainty about who's inside the suit. Readers know that it's Tony Stark, but because of circumstances not made clear in this issue, he's now dependent on the suit and he's unable to let anyone know his identity. Byrne does a good job here filling in the details about Iron Man since his departure from the team without giving away specific details for those who want to pick up Iron Man to see what's really going on.
This is a day of reunions at the compound, as Scarlet Witch (who is sounding more and more like her father) and Vision are greeted in their bungalow by Agatha Harkness, who you might remember having burned at the stake the last time we saw her. She admits later that everyone knows that "none of the traditional means of executing those accused of witchcraft would work on a real witch." When Wonder Man hears this, he replies (and I'm not joking here): "She's right! There was even an episode . . . of Bewitched . . . that made the same point." Thanks, Simon, for that insight.
Harkness confronts Wanda to tell her that the reason her children have been disappearing lately is due to the simple fact that during moments of distress when Wanda isn't thinking about the children, they cease to exist. Wanda takes the news with a lot of denial and disbelief, and before she can come to terms with Harkness' news, our old friend Master Pandemonium makes his big entrance.
It's been a while since we've last seen Master Pandemonium in the series. The goofy villain with a surprisingly insidious origin is probably one of the best original bad guys this series has had to offer, and Byrne really sells the visual demonic aspects of the character in ways Milgrom couldn't. His appearance gives us our obligatory fight scene with Iron Man stepping up with the team to take out an endless supply of demons that are overrunning the compound. But all of this is merely a distraction for Master Pandemonium to confront Wanda and kidnap her twins.
Wanda doesn't take this turn of events lightly. When the team regroups to consider their next course of action, she doesn't take kindly to their inability to react quickly. When Janet suggests that maybe the twins weren't kidnapped, but rather they simply disappeared like before, she slaps her down (see below).
Harkness opens up a portal that takes the team to Master Pandemonium's realm. Once there, the seemingly peaceful landscape turns out to be alive and attacks. The issue ends with the reveal of the twins having morphed into Master Pandemonium's demonic arms, making him "unbeatable."
WEST BOAST OR ROAST?
Boast. It's great to see an old villainous face back in the book. With Byrne working his magic, this feels like old fashion issue of the series, but seriously upgraded in terms of quality.
WEST COAST SCENE (OF THE WEEK)!
Hey now, Wanda! That's Hank's thing!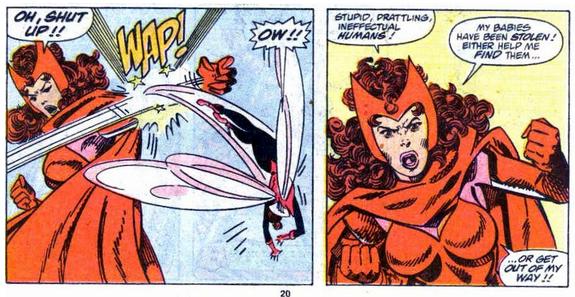 Previously on West Coast Wednesdays…
West Coast Avengers Vol. 1, #1
West Coast Avengers Vol. 1, #2
West Coast Avengers Vol. 1, #3
West Coast Avengers Vol. 1, #4
The Vision and Scarlet Witch #1
West Coast Avengers Vol. 2, #2
The Vision and Scarlet Witch #2
West Coast Avengers Vol. 2, #3
West Coast Avengers Vol. 2, #4
West Coast Avengers Vol. 2, #5
West Coast Avengers Vol. 2, #6
West Coast Avengers Vol. 2, #7
West Coast Avengers Vol. 2, #8
West Coast Avengers Vol. 2, #9
West Coast Avengers Vol. 2, #10
West Coast Avengers Vol. 2, #11
West Coast Avengers Vol. 2, #12
West Coast Avengers Vol. 2, #13
West Coast Avengers Vol. 2, #14
West Coast Avengers Vol. 2, #15
West Coast Avengers Vol. 2, #16
West Coast Avengers Vol. 2, #17
West Coast Avengers Vol. 2, #18
West Coast Avengers Vol. 2, #19
West Coast Avengers Vol. 2, #20
West Coast Avengers Vol. 2, #21
West Coast Avengers Vol. 2, #22
West Coast Avengers Vol. 2, #23
West Coast Avengers Vol. 2, #24
West Coast Avengers Vol. 2, #25
West Coast Avengers Vol. 2, #26
West Coast Avengers Vol. 2, #27
West Coast Avengers Vol. 2, #28
West Coast Avengers Vol. 2, #29
West Coast Avengers Vol. 2, #30
West Coast Avengers Vol. 2, #31
West Coast Avengers Vol. 2, #32
West Coast Avengers Vol. 2, #33
West Coast Avengers Vol. 2, #34
West Coast Avengers Vol. 2, #35
West Coast Avengers Vol. 2, #36
West Coast Avengers Vol. 2, #37
West Coast Avengers Vol. 2, #38
West Coast Avengers Vol. 2, #39
West Coast Avengers Vol. 2, #40
West Coast Avengers Vol. 2, #44
West Coast Avengers Vol. 2, #48
West Coast Avengers Vol. 2, #50