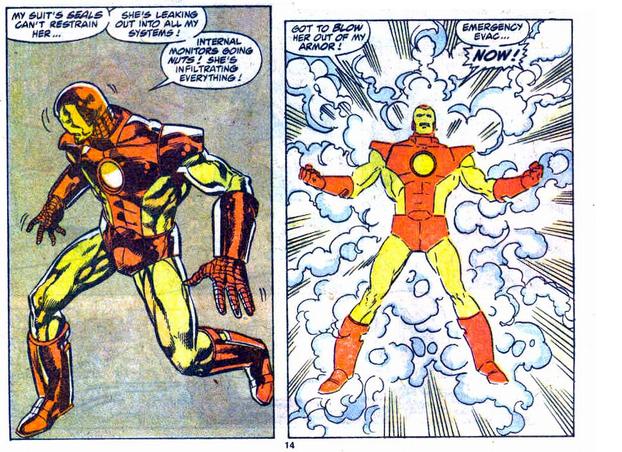 West Coast Wednesdays: West Coast Avengers Vol. 2, #53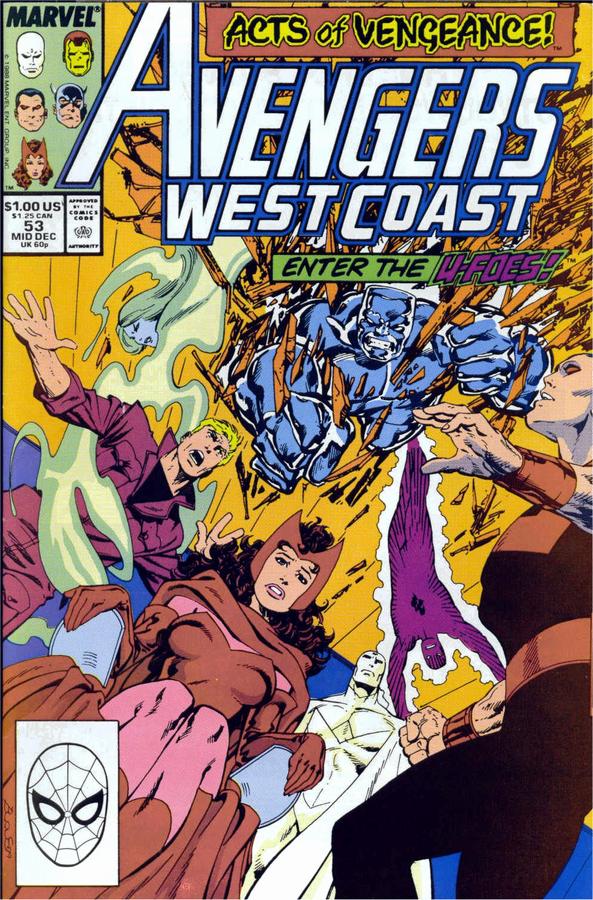 West Coast Avengers, Vol. 2, Issue 53 (December 1989)
WEST COAST CREDITS!
Writer: John Byrne
Penciler: John Byrne
Inker: Keith Williams
WEST COAST SUMMARY!
As the team tries to deal with a comatose Scarlet Witch, they're attacked by the U-Foes. But is this small attack a preview of something bigger? Something big enough to become a huge crossover event?
WEST COAST THOUGHTS!
After a long successful run on the title, you knew that John Byrne had to stumble sooner or later. The bad news is that it's finally happened, the good news is that it's really not his fault as the book is suddenly recovering from the Atlantis Attacks crossover (which ran in all of the annuals in 1989, including West Coast Avengers Annual #4) while at the same time being pushed into the Acts of Vengeance crossover (which ran throughout many Marvel titles between December 1989 to February 1990). Byrne does his best here to make it all work, but it's an unfortunate mess.
The issue kicks off with Magneto declaring "The plan proceeds!" as villains do. It turns out that many of the villains across the Marvel universe have banded together to attack our favorite heroes. What sets this plan apart from the countless times this has happened before is that they're purposely sending villains to fight heroes unfamiliar with their powers and abilities. And this is the core of Marvel's Acts of Vengeance storyline. It's a rocky start for the issue, as Magneto is speaking with an unnamed accomplice who is the one who instigated the idea. Unbeknownst to Magneto, this unnamed benefactor is actually Loki, and while Magneto feels like he's the one in charge, it's clearly not the case.
Magneto's introduction sets the stage for Acts of Vengeance to enter the book. By the time we check back in with our heroes, they're in the living room at the compound dealing with a comatose Scarlet Witch who is recovering from the events in the Atlantis Attacks crossover. It's a weird thing to put into the book because they could have simply said that she was still recovering from what Harkness did to her at the end of last issue instead of making readers feel like they've walked into a movie halfway through. This is page four and we're knee deep in two separate crossover events, neither of which had been mentioned in the book before – with the exception of West Coast Avengers Annual #4, but that was published four months before.
Wonder Man agrees to finally give Vision his brain patterns so he can finally return to normal. Vision, however, declines and informs the team that he'll be returning to the east coast.
Immortus makes an appearance in the book (as he has done in previous issues) as he continues to watch Scarlet Witch from afar. It seems that she's to play an important part in events to come. This is interesting for me because despite the fact that the book is wading in the waters of two crossovers, Byrne is still planting the seeds for future storylines in the monthly title. And while I applaud this, it only makes this issue feel more convoluted than it needs to be. This is beginning to feel more like Englehart's work again.
Then suddenly, the U-Foes attack. The team is caught off guard and there's enough mention that they've never fought the U-Foes before to justify the whole point of Acts of Vengeance. But when you're reminding the reader of how unpredictable this all is, it feels even sillier. The team is fighting new villains with unfamiliar power sets all of the time. And they just fight. They don't stand around telling one another "there's no telling what might happen."
The issue ends with Wasp, Pym, Vision and Scarlet Witch (now alert) heading east to see what the deal is with the lack of communication with the other team. Pym says he's got "a bad feeling" about what's about to happen, thus reminding readers that what we're reading is a Big Deal.
You know, a Bigger Deal than all the Big Deals the book has been dealing with since the beginning.
WEST BOAST OR ROAST?
Roast. Looks like Byrne has fallen victim to editorially mandated storylines and its sadly tarnished a nearly perfect run with the book. Somewhere in the shadows, Englehart is laughing maniacally.
WEST COAST SCENE (OF THE WEEK)!
"Got to blow her out of my armor" is scientific gibber gabber for something you wouldn't understand.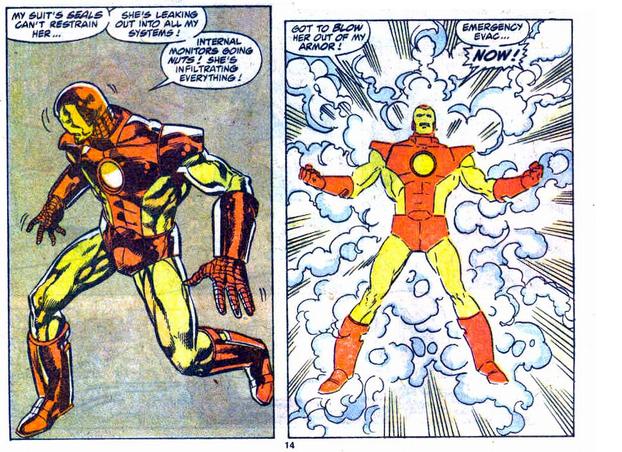 Previously on West Coast Wednesdays…
West Coast Avengers Vol. 1, #1
West Coast Avengers Vol. 1, #2
West Coast Avengers Vol. 1, #3
West Coast Avengers Vol. 1, #4
The Vision and Scarlet Witch #1
West Coast Avengers Vol. 2, #2
The Vision and Scarlet Witch #2
West Coast Avengers Vol. 2, #3
West Coast Avengers Vol. 2, #4
West Coast Avengers Vol. 2, #5
West Coast Avengers Vol. 2, #6
West Coast Avengers Vol. 2, #7
West Coast Avengers Vol. 2, #8
West Coast Avengers Vol. 2, #9
West Coast Avengers Vol. 2, #10
West Coast Avengers Vol. 2, #11
West Coast Avengers Vol. 2, #12
West Coast Avengers Vol. 2, #13
West Coast Avengers Vol. 2, #14
West Coast Avengers Vol. 2, #15
West Coast Avengers Vol. 2, #16
West Coast Avengers Vol. 2, #17
West Coast Avengers Vol. 2, #18
West Coast Avengers Vol. 2, #19
West Coast Avengers Vol. 2, #20
West Coast Avengers Vol. 2, #21
West Coast Avengers Vol. 2, #22
West Coast Avengers Vol. 2, #23
West Coast Avengers Vol. 2, #24
West Coast Avengers Vol. 2, #25
West Coast Avengers Vol. 2, #26
West Coast Avengers Vol. 2, #27
West Coast Avengers Vol. 2, #28
West Coast Avengers Vol. 2, #29
West Coast Avengers Vol. 2, #30
West Coast Avengers Vol. 2, #31
West Coast Avengers Vol. 2, #32
West Coast Avengers Vol. 2, #33
West Coast Avengers Vol. 2, #34
West Coast Avengers Vol. 2, #35
West Coast Avengers Vol. 2, #36
West Coast Avengers Vol. 2, #37
West Coast Avengers Vol. 2, #38
West Coast Avengers Vol. 2, #39
West Coast Avengers Vol. 2, #40
West Coast Avengers Vol. 2, #44
West Coast Avengers Vol. 2, #48
West Coast Avengers Vol. 2, #50