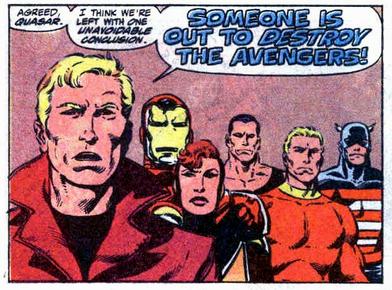 West Coast Wednesdays: West Coast Avengers Vol. 2, #54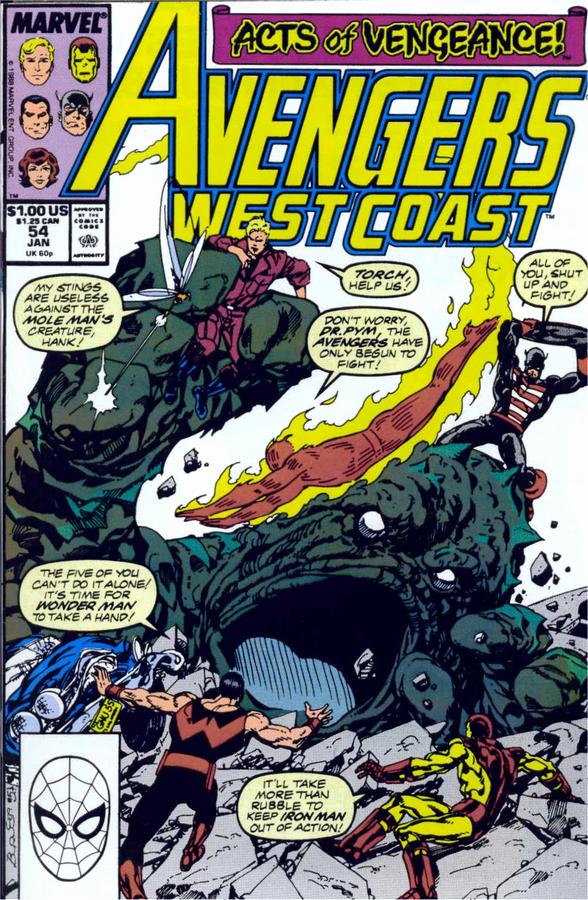 West Coast Avengers, Vol. 2, Issue 54 (January 1990)
WEST COAST CREDITS!
Writer: John Byrne
Penciler: John Byrne
Inker: Paul Ryan
WEST COAST SUMMARY!
With the team split up in opposite sides of the country, it's up to Wonder Man, U.S. Agent, Iron Man and Torch to deal with the Mole Man's attack on Los Angeles.
WEST COAST THOUGHTS!
After last month's awful issue where Byrne had to juggle two major crossovers while still setting up the pieces for his own future stories, it looks like the book is back on track. In fact, it looks like Byrne is having fun again. And if you need evidence of that, you can see it immediately with the playful homage to Fantastic Four #1 on the cover.
The Mole Man attacks Los Angeles with his surplus army of monsters. Wonder Man and Iron Man are the first to respond, with shellhead taking out the first giant monster by lifting it up and dropping it in the Pacific.
Pym and Wasp are returning home on the quinjet after the events in Avengers #312 with a comatose Scarlet Witch. When last we saw Wanda, she was giving Vision one of her creepy uncomfortably long hugs in Avengers Park, and since then she's fallen unconscious (the third time in a few issues, by the way). Pym and Wasp can't seem to wake her up. But none of that matters as the quinjet is attacked by one of Mole Man's three-headed flying monsters. The monster destroys the quinjet easily. Our heroes are about to crash in the mountains, but at the last minute the quinjet stops just inches off the ground. Before Pym and Wasp can figure out how that happened, Pym uses his Pym particles to shrink the monster down to a manageable size. Wasp goes to get help and we can see Magneto hiding in the shadows, thus answering how they managed to survive the crash. It turns out, he was protecting his daughter.
Meanwhile, Torch and Wonder Man confront the Mole Man to find out what's going on. He claims that the Avengers had attacked him and he is only defending himself. Torch tries to convince the Mole Man that he's mistaken, that this is all some kind of misunderstanding, but the Mole Man will have none of it. Wonder Man steps up and says he will no longer defend himself. He says that he knows the Mole Man's staff "is full of all kinds of electronic doohickeys and enough power to fry a small herd of elephants" and that he's not going to stop him from using it on him.
The Mole Man attacks Wonder Man again and again with his staff (which apparently packs enough power to hurt Simon) and Wonder Man takes the beating, much to the Mole Man's confusion. Finally, the Mole Man considers reason and decides to withdraw, not pleased that he was duped.
The issue ends with the West Coast Avengers having a video conference with the Avengers, and they determine that something larger is going on, leading Pym to make an unavoidable conclusion (see below).
WEST BOAST OR ROAST?
Boast. And we're back. This is a fun issue that doesn't feel like a crossover was pushed into the book. This is more like it!
WEST COAST SCENE (OF THE WEEK)!
What makes this day different than any other?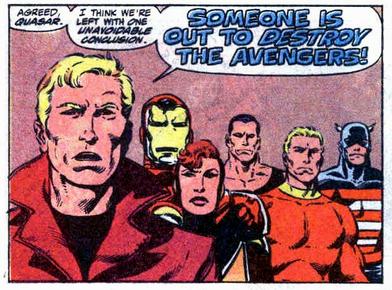 Previously on West Coast Wednesdays…
West Coast Avengers Vol. 1, #1
West Coast Avengers Vol. 1, #2
West Coast Avengers Vol. 1, #3
West Coast Avengers Vol. 1, #4
The Vision and Scarlet Witch #1
West Coast Avengers Vol. 2, #2
The Vision and Scarlet Witch #2
West Coast Avengers Vol. 2, #3
West Coast Avengers Vol. 2, #4
West Coast Avengers Vol. 2, #5
West Coast Avengers Vol. 2, #6
West Coast Avengers Vol. 2, #7
West Coast Avengers Vol. 2, #8
West Coast Avengers Vol. 2, #9
West Coast Avengers Vol. 2, #10
West Coast Avengers Vol. 2, #11
West Coast Avengers Vol. 2, #12
West Coast Avengers Vol. 2, #13
West Coast Avengers Vol. 2, #14
West Coast Avengers Vol. 2, #15
West Coast Avengers Vol. 2, #16
West Coast Avengers Vol. 2, #17
West Coast Avengers Vol. 2, #18
West Coast Avengers Vol. 2, #19
West Coast Avengers Vol. 2, #20
West Coast Avengers Vol. 2, #21
West Coast Avengers Vol. 2, #22
West Coast Avengers Vol. 2, #23
West Coast Avengers Vol. 2, #24
West Coast Avengers Vol. 2, #25
West Coast Avengers Vol. 2, #26
West Coast Avengers Vol. 2, #27
West Coast Avengers Vol. 2, #28
West Coast Avengers Vol. 2, #29
West Coast Avengers Vol. 2, #30
West Coast Avengers Vol. 2, #31
West Coast Avengers Vol. 2, #32
West Coast Avengers Vol. 2, #33
West Coast Avengers Vol. 2, #34
West Coast Avengers Vol. 2, #35
West Coast Avengers Vol. 2, #36
West Coast Avengers Vol. 2, #37
West Coast Avengers Vol. 2, #38
West Coast Avengers Vol. 2, #39
West Coast Avengers Vol. 2, #40
West Coast Avengers Vol. 2, #44
West Coast Avengers Vol. 2, #48
West Coast Avengers Vol. 2, #50
West Coast Avengers Vol. 2, #53