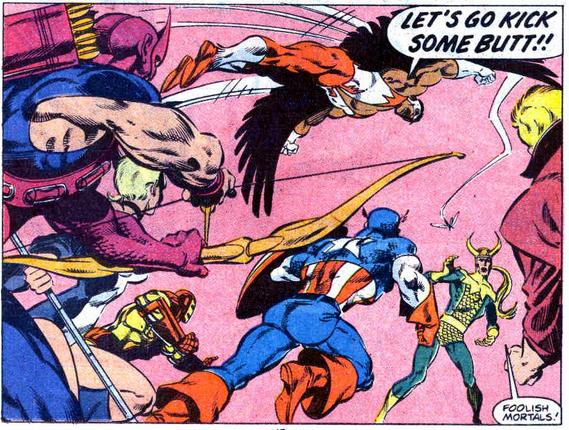 West Coast Wednesdays: West Coast Avengers Vol. 2, #55
West Coast Avengers, Vol. 2, Issue 55 (February 1990)
WEST COAST CREDITS!
Writer: John Byrne
Penciler: John Byrne
Inker: Paul Ryan
WEST COAST SUMMARY!
The team learns that Loki is behind the recent alliance among their worst villains. When they confront Loki to turn the tide, the trickster refuses to go down without a fight!
WEST COAST THOUGHTS!
Now this is certainly more like it. If the beginning of this storyline had half the fun as its ending, this would be a fantastic crossover. That said, Acts of Vengeance just didn't work. Luckily for us, Byrne steers the ship to a strong finish while setting up the West Coast Avengers' next big threat. I even like the story's title "Let There Be an Ending!" which feels like something a disgruntled and tired editor or writer would come up with.
Thor tells everyone that it's his half-brother, Loki, who is responsible for the recent attacks and destruction. This comes as a surprise to everyone as they thought Doctor Doom was in charge, even though the recently captured Wizard insists he's the one in charge. Before they can question the Wizard, he escapes from his cell using a miniature teleportation device he had hidden in a false thumbnail (like most of us do!).
The Wizard arrives back at the villains' secret headquarters where everyone is dealing with the fact that Doctor Doom had never been a part of their alliance, that it had been one of his Doombots all along. When Lackey (Loki in disguise) learns that the Wizard had just teleported there from a cell at the Avengers' headquarters, he freaks out and reveals his true identity to everyone. All the villains are shocked by the reveal. Kingpin sees this as an opportunity to exit stage right.
Wonder Man returns to the compound to see the Scarlet Witch's cottage missing. Harkness tells him that the cottage was hurled skyward. U.S. Agent appears to tell them that using the automated tracking system, he's discovered that the cottage is orbiting Earth (why would you put a tracking system inside a cottage?). Wonder Man wants to jump into action immediately, but it's U.S. Agent who insists that they take a space-rigged quinjet and "do it by the numbers, with cool heads." Cool heads or not, as soon as they're in space, Wonder Man flies to the cottage when it suddenly explodes.
Just as Loki predicted, Thor and the Avengers were able to track the energy signatures from the Wizard's teleportation device and begin an attack on their secret base. It turns out, however, that they've been operating out of the Isle of Silence, where Loki had previously been imprisoned, and where Loki has complete control over its environment. The heroes launch a full attack against Loki, but between the monsters, living plants and strong winds, they're forced to fight for their lives against their surroundings. So it comes down to a battle between Thor and Loki, which is handled effectively and quickly. Thor uses his hammer to create a pit for Loki to fall in and then he closes the ground above him like a giant door, trapping Loki "under a million tons of Earth" (so the Isle of Silence is on Earth?).
Hank and Janet return to the compound. Janet decides to check in on everybody's favorite comatose witch, but finds a bruised and battered U.S. Agent instead. He warns her to get away, but it's too late. The issue ends by revealing the Scarlet Witch, sporting a new outfit and haircut, stating that all of her powers are finally unleashed.
WEST BOAST OR ROAST?
Boast. And we're back on track. Crossover or not, this is the quality I've come to expect with Byrne on the title.
WEST COAST SCENE (OF THE WEEK)!
Falcon says it best…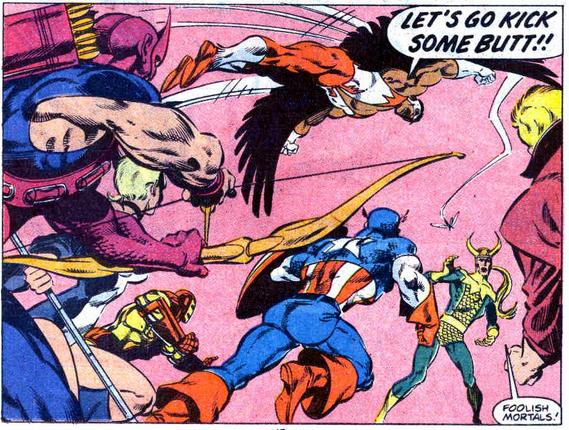 Previously on West Coast Wednesdays…
West Coast Avengers Vol. 1, #1
West Coast Avengers Vol. 1, #2
West Coast Avengers Vol. 1, #3
West Coast Avengers Vol. 1, #4
The Vision and Scarlet Witch #1
West Coast Avengers Vol. 2, #2
The Vision and Scarlet Witch #2
West Coast Avengers Vol. 2, #3
West Coast Avengers Vol. 2, #4
West Coast Avengers Vol. 2, #5
West Coast Avengers Vol. 2, #6
West Coast Avengers Vol. 2, #7
West Coast Avengers Vol. 2, #8
West Coast Avengers Vol. 2, #9
West Coast Avengers Vol. 2, #10
West Coast Avengers Vol. 2, #11
West Coast Avengers Vol. 2, #12
West Coast Avengers Vol. 2, #13
West Coast Avengers Vol. 2, #14
West Coast Avengers Vol. 2, #15
West Coast Avengers Vol. 2, #16
West Coast Avengers Vol. 2, #17
West Coast Avengers Vol. 2, #18
West Coast Avengers Vol. 2, #19
West Coast Avengers Vol. 2, #20
West Coast Avengers Vol. 2, #21
West Coast Avengers Vol. 2, #22
West Coast Avengers Vol. 2, #23
West Coast Avengers Vol. 2, #24
West Coast Avengers Vol. 2, #25
West Coast Avengers Vol. 2, #26
West Coast Avengers Vol. 2, #27
West Coast Avengers Vol. 2, #28
West Coast Avengers Vol. 2, #29
West Coast Avengers Vol. 2, #30
West Coast Avengers Vol. 2, #31
West Coast Avengers Vol. 2, #32
West Coast Avengers Vol. 2, #33
West Coast Avengers Vol. 2, #34
West Coast Avengers Vol. 2, #35
West Coast Avengers Vol. 2, #36
West Coast Avengers Vol. 2, #37
West Coast Avengers Vol. 2, #38
West Coast Avengers Vol. 2, #39
West Coast Avengers Vol. 2, #40
West Coast Avengers Vol. 2, #44
West Coast Avengers Vol. 2, #48
West Coast Avengers Vol. 2, #50
West Coast Avengers Vol. 2, #53