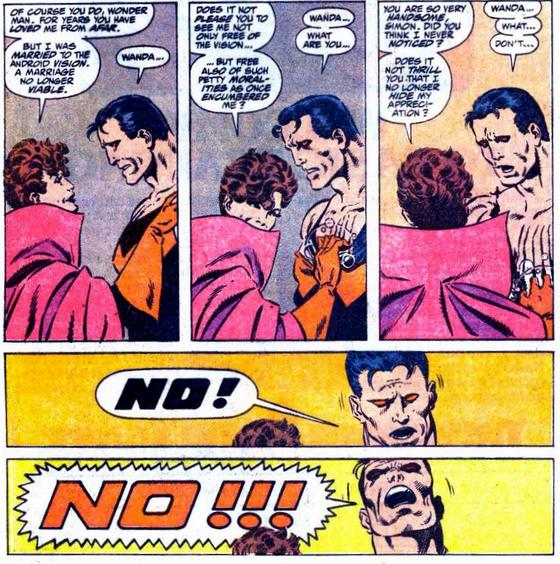 West Coast Wednesdays: West Coast Avengers Vol. 2, #56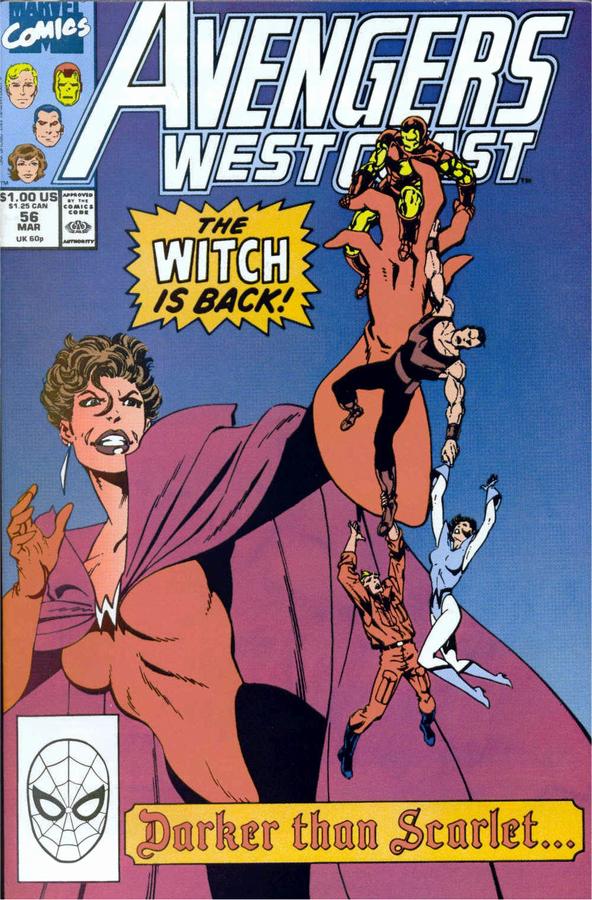 West Coast Avengers, Vol. 2, Issue 56 (March 1990)
WEST COAST CREDITS!
Writer: John Byrne
Penciler: John Byrne
Inker: Paul Ryan
WEST COAST SUMMARY!
The Scarlet Witch is back, conscious and all! But now she's not only more powerful than ever before, she's turned evil thanks to the help of her emotionally distant father, Magneto.
WEST COAST THOUGHTS!
Things kick off with Scarlet Witch gloating about her new powers and how she's been denying herself for too long. She's keeping Agatha Harkness, U.S. Agent, Wasp and Wonder Man hostage, hovering over the ground in a force field of some kind. There's no reason for her to do this, mind you, but it provides the perfect opportunity to dump some much-needed exposition for the readers.
Wasp thought Wonder Man had died in the explosion from last issue, and Wanda informs everyone that he had died and she brought him back to life (meaning, an exploding house is all it takes to kill Wonder Man?). Wanda tells everyone that with her new powers, she could even reshape the universe at will. And then to make sure we all know how evil she's become, she molests Wonder Man (see below) in front of everyone.
Hank Pym decides to finally check in on Tigra, who he Pym-particled seven issues back, only to discover that she's escaped from her cage. We learn that Immortus, who is watching everything, is the one who released her, as he's manipulating everyone as the Master of Time.
The Torch flies over the compound to help find Tigra when he sees a motorcade pull up in front. When he approaches the men getting out of the car, they inform him that the team is being evicted.
Pym finally makes his way to the Scarlet Witch's cottage. A mysterious guest appeared before to fill him in on what's been happening. He sees Wanda holding everyone hostage through the window, and things get worse when Magneto enters the room. Pym shrinks down a wall to make a surprise entrance. He tries to give Wanda the benefit of the doubt, but once he realizes that it's too late, he pulls out a gun to take her down. Honestly, this is the most interesting and noble Pym's been in this series ever.
This is why it's a shame when just as he's about to take Wanda down, Quicksilver (who was also the aforementioned mysterious guest) appears and knocks him out. He's thrilled to be reunited with his father and sister, and declares that they are "Masters of the World!" Uh oh, it's not looking good for our heroes.
WEST BOAST OR ROAST?
Boast. I'm back to officially loving the book again!
WEST COAST SCENE (OF THE WEEK)!
Nothing sexual about this at all…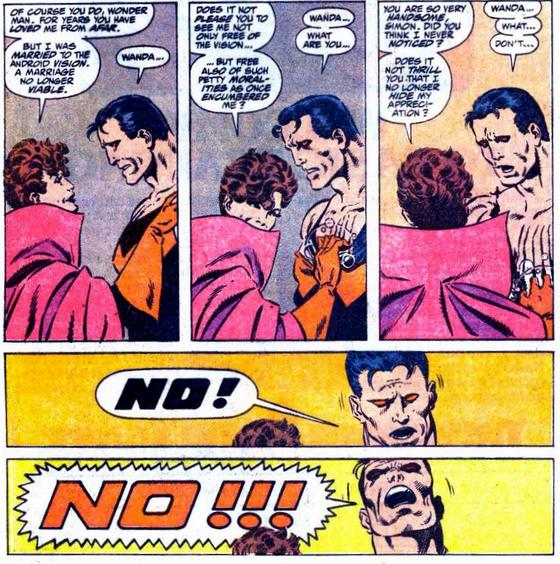 Previously on West Coast Wednesdays…
West Coast Avengers Vol. 1, #1
West Coast Avengers Vol. 1, #2
West Coast Avengers Vol. 1, #3
West Coast Avengers Vol. 1, #4
The Vision and Scarlet Witch #1
West Coast Avengers Vol. 2, #2
The Vision and Scarlet Witch #2
West Coast Avengers Vol. 2, #3
West Coast Avengers Vol. 2, #4
West Coast Avengers Vol. 2, #5
West Coast Avengers Vol. 2, #6
West Coast Avengers Vol. 2, #7
West Coast Avengers Vol. 2, #8
West Coast Avengers Vol. 2, #9
West Coast Avengers Vol. 2, #10
West Coast Avengers Vol. 2, #11
West Coast Avengers Vol. 2, #12
West Coast Avengers Vol. 2, #13
West Coast Avengers Vol. 2, #14
West Coast Avengers Vol. 2, #15
West Coast Avengers Vol. 2, #16
West Coast Avengers Vol. 2, #17
West Coast Avengers Vol. 2, #18
West Coast Avengers Vol. 2, #19
West Coast Avengers Vol. 2, #20
West Coast Avengers Vol. 2, #21
West Coast Avengers Vol. 2, #22
West Coast Avengers Vol. 2, #23
West Coast Avengers Vol. 2, #24
West Coast Avengers Vol. 2, #25
West Coast Avengers Vol. 2, #26
West Coast Avengers Vol. 2, #27
West Coast Avengers Vol. 2, #28
West Coast Avengers Vol. 2, #29
West Coast Avengers Vol. 2, #30
West Coast Avengers Vol. 2, #31
West Coast Avengers Vol. 2, #32
West Coast Avengers Vol. 2, #33
West Coast Avengers Vol. 2, #34
West Coast Avengers Vol. 2, #35
West Coast Avengers Vol. 2, #36
West Coast Avengers Vol. 2, #37
West Coast Avengers Vol. 2, #38
West Coast Avengers Vol. 2, #39
West Coast Avengers Vol. 2, #40
West Coast Avengers Vol. 2, #44
West Coast Avengers Vol. 2, #48
West Coast Avengers Vol. 2, #50
West Coast Avengers Vol. 2, #53
West Coast Avengers Vol. 2, #54