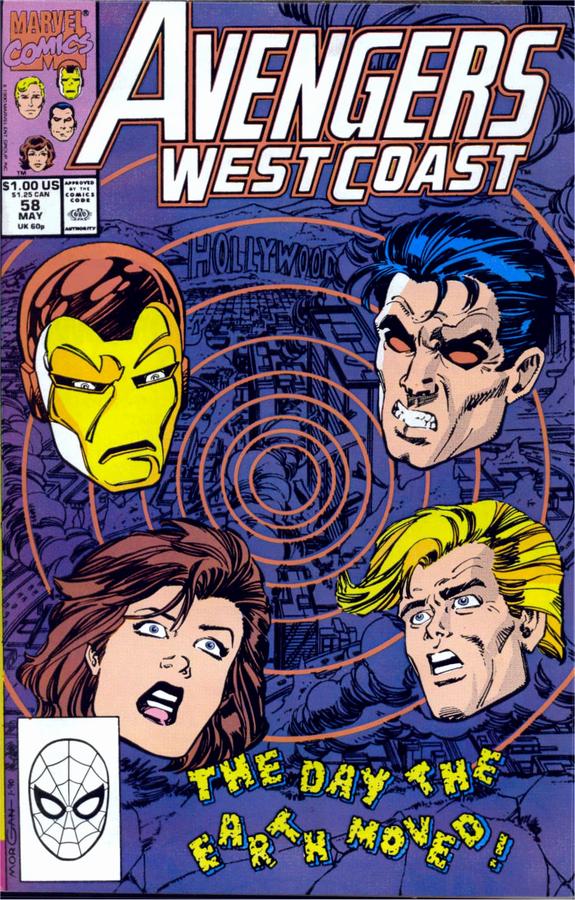 West Coast Avengers, Vol. 2, Issue 58 (May 1990)
WEST COAST CREDITS!
Writer: Fabian Nicieza
Penciler: Tom Morgan
Inker: Randy Emberlin
WEST COAST SUMMARY!
The team returns to Los Angeles after suffering the defeat of Magneto, Scarlet Witch and Quicksilver. And before they can figure out what to do next, the city suffers a horrifying earthquake.
WEST COAST THOUGHTS!
"The Day the Earth Moved" probably disappointed a lot of readers. Not only does it not continue the big throw down between the West Coast Avengers and Magneto, but it seems that John Byrne has departed the book. Fabian Nicieza has taken over the writing and Tom Morgan returns (issue #38) to do the art with Randy Emberlin.
The story starts with the introduction of Vibro who "can manipulate tectonic plates and cause the very Earth itself to upheave." When we first see him, he's attacking the Department of Urban Development in Los Angeles. Even though he's apparently angry to begin with, he's even more angry when he discovers (from a convenient document lying on the floor) that the department has allowed substandard construction to continue in the city. He's furious because if an earthquake happens in L.A. there will be a lot of deaths, so in order to teach people the stupidity of their ways, Vibro decides to make an earthquake.
Listen, if we can accepts Pym's flaws, we can roll with Vibro's logic.
The team returns to the compound straight from Magneto's defeat. The earthquake has already begun by the time they land. The team springs into action to help the city, much to Wonder Man's dismay, as he wants to immediately return to Asteroid M and save Wanda.
In perhaps one of my favorite moments in the book, Hank orders the gardener Ramon to do the following things: 1) Bring the unconscious bodies of the Human Torch and U.S. Agent inside, 2) hook up said bodies to life support, and 3) monitor all broadcast channels. Ramon is new to the book. He's not to be confused with their Elvis-like butler Carlos. We can only assume that the compound's hired help is trained to do everything, from cleaning the pool to landscaping to dismantling Ultrons. Pym treats the gardener like an active member of the team. I can not stress enough how awesome this is.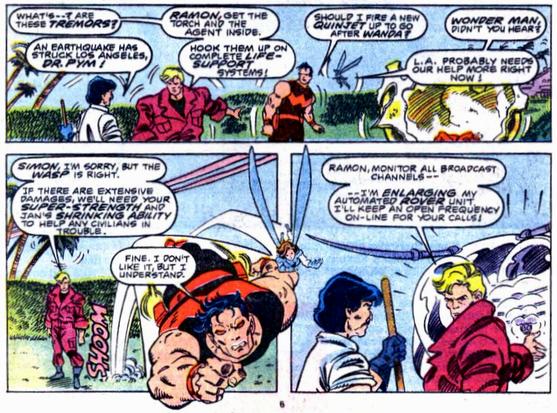 According to the ever reliable Wikipedia, his full name is Ramon Trigo, and he's supposed to be the groundskeeper. Whatever his job, I sure hope his pay is good. Also of interest, this is his only appearance.
Most of the book is watching the team work together and use their unique abilities to save the people of Los Angeles from this devastating earthquake. It's all heroic and fine, but it's not terribly effective.
The story doesn't find it's dramatic center again until the team learns of Vibro's involvement (thanks, Ramon the gardener!) and confronts him, Wasp is the one sent to confront Vibro, who is napping while wedged between two shelves. He's been slowly storing energy, allowing it to build, and now it's time to release it. Wasp warns him that he's needs to stop or the team will have to do Pym's "final solution" which might kill Vibro.
The final solution, as it turns out, is Pym using his particles to close the fault. This requires "more concentrated mass manipulation than he has ever attempted before." In fact, it could kill him. It's pretty intense (see below). In the end, Pym closes the fault, apparently crushing Vibro, and the day is won.
Wonder Man, who has been moaning about not being able to save Wanda all issue, is so moved about all the hope in Los Angeles, that he learns to be more hopeful and patient. And so the story ends with the team springing into action to continue their rescue efforts in the city.
Is it dusty in here? No. No, it's not dusty in here one bit.
WEST BOAST OR ROAST?
Roast and Boast. Despite the best efforts of Nicieza and Morgan, there was no way they could succeed here. This is the equivalent of interrupting a Harry Potter story to have an afterschool special where Hermione learns the dangers of using amphetamines. I'm with Simon: What about Wanda? That said, Nicieza created Ramon Trigo. A character so amazing, I want to write poetry about him until I get Shakespeare's elbow.
WEST COAST SCENE (OF THE WEEK)!
Hank Pym and Vibro play a game of "It's Not Your Fault!"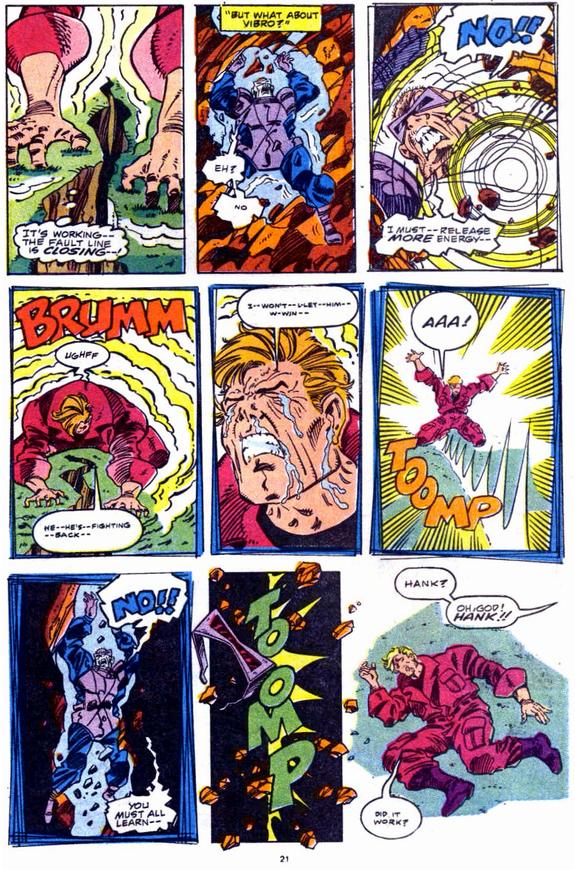 Previously on West Coast Wednesdays…
West Coast Avengers Vol. 1, #1
West Coast Avengers Vol. 1, #2
West Coast Avengers Vol. 1, #3
West Coast Avengers Vol. 1, #4
The Vision and Scarlet Witch #1
West Coast Avengers Vol. 2, #2
The Vision and Scarlet Witch #2
West Coast Avengers Vol. 2, #3
West Coast Avengers Vol. 2, #4
West Coast Avengers Vol. 2, #5
West Coast Avengers Vol. 2, #6
West Coast Avengers Vol. 2, #7
West Coast Avengers Vol. 2, #8
West Coast Avengers Vol. 2, #9
West Coast Avengers Vol. 2, #10
West Coast Avengers Vol. 2, #11
West Coast Avengers Vol. 2, #12
West Coast Avengers Vol. 2, #13
West Coast Avengers Vol. 2, #14
West Coast Avengers Vol. 2, #15
West Coast Avengers Vol. 2, #16
West Coast Avengers Vol. 2, #17
West Coast Avengers Vol. 2, #18
West Coast Avengers Vol. 2, #19
West Coast Avengers Vol. 2, #20
West Coast Avengers Vol. 2, #21
West Coast Avengers Vol. 2, #22
West Coast Avengers Vol. 2, #23
West Coast Avengers Vol. 2, #24
West Coast Avengers Vol. 2, #25
West Coast Avengers Vol. 2, #26
West Coast Avengers Vol. 2, #27
West Coast Avengers Vol. 2, #28
West Coast Avengers Vol. 2, #29
West Coast Avengers Vol. 2, #30
West Coast Avengers Vol. 2, #31
West Coast Avengers Vol. 2, #32
West Coast Avengers Vol. 2, #33
West Coast Avengers Vol. 2, #34
West Coast Avengers Vol. 2, #35
West Coast Avengers Vol. 2, #36
West Coast Avengers Vol. 2, #37
West Coast Avengers Vol. 2, #38
West Coast Avengers Vol. 2, #39
West Coast Avengers Vol. 2, #40
West Coast Avengers Vol. 2, #44
West Coast Avengers Vol. 2, #48
West Coast Avengers Vol. 2, #50