West Coast Wednesdays: West Coast Avengers Vol. 2, #59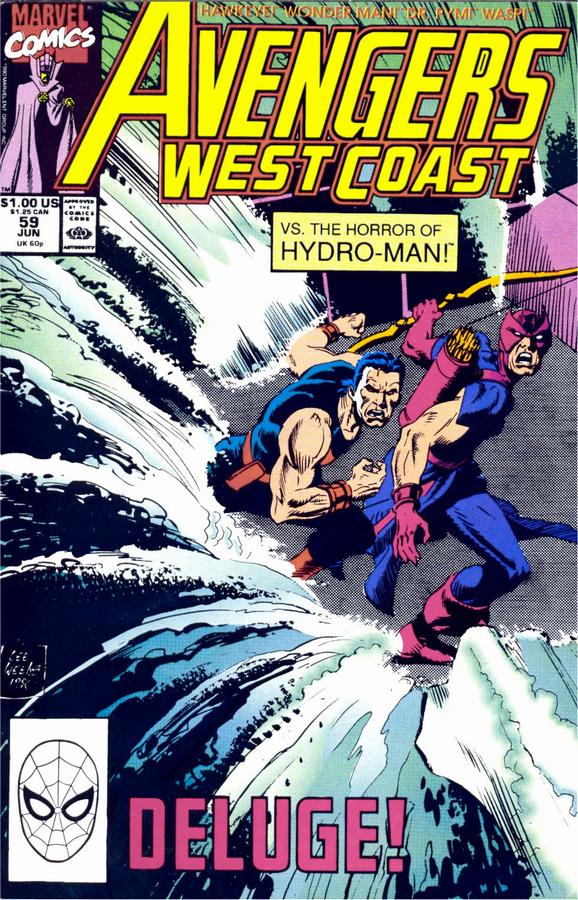 West Coast Avengers, Vol. 2, Issue 59 (June 1990)
WEST COAST CREDITS!
Writer: Danny Fingeroth
Penciler: Gary Hartle and Brad Vancata
Inker: Chris Ivy and Brad Vancata
WEST COAST SUMMARY!
Hydro-Man is given the gift of intellect from a mysterious ally and he uses his new abilities to take on the West Coast Avengers…because that's what you do when you get all smart.
WEST COAST THOUGHTS!
Looks like John Byrne's departure took some people by surprise because the dreaded inventory issue has once again surfaced on this title. Danny Fingeroth does an okay job, all things considered, but the book continues to spend time telling a side story when readers want to read the bigger story they're purposely ignoring.
A giant tidal wave is pushing through San Remo, California. And even though this is a completely horrifying moment, citizens are collected enough to notice that the wave that's about to consume them is coming from the opposite direction of the ocean and that it sounds like it's laughing. The wave (neither old or new) is actually Hydro-Man, and we're seeing the tail end of his bank robbery.
When we next see Hydro-Man, he's having a drink at a bar on the beach and enjoying the money he stole. Like most bad guys, when he's not on the job, he wears an awful red cowboy hat and keeps his bag of money open next to him at all times. Anyway, he overhears some people talking about how stupid he is. And though he's angry, he agrees with them. This is when he's approached by a stranger in a suit that touches his head and allows him to realize his potential. Hydro-Man is initially disorientated, but he realizes that he's "got the knowledge to realize [his] greatest dreams!"
What's his greatest dreams?
Apparently it's to fight the West Coast Avengers.
He takes some hostages and demands the team come "battle him."
Hawkeye and Wonder Man go ahead to fight him, telling Pym to stay behind because "It's just Hydro-Man. The guy's so dumb I bet he'll have knocked himself out before [we] get there."
Of course Hydro-Man turns out to be a force to be reckoned with. Pym does eventually show up to help his overwhelmed partners, but even he's no match for the smarter villain. And just when Hydro-Man's about to kill all of them and make a name for himself, the mysterious stranger in a suit shows up, reveals himself to be Loki, and then takes away Hydro-Man's powers. Loki doesn't mind Hydro-Man tormenting the Avengers, but only Loki gets to actually kill them.
Stupid again, the team are able to defeat Hydr0-Man in a few panels. He then tells them that he planted a bomb that'll do a lot of damage unless he's released. The team struggles to figure out whether they should release Hydro-Man or not, but he ends up telling them where the bomb is anyway.
In one of the most powerful twists ever, THE BOMB IS UNDER THE WEST COAST AVENGERS' POOL!
The team arrives at the pool. Pym gets into his scuba gear to get the bomb. However, the technology is too advanced for the man who can shrink and enlarge anything with particles of science he created. Hydro-Man no longer remembers how to deactivate it. Wonder Man finally steps up and says to give him the bomb when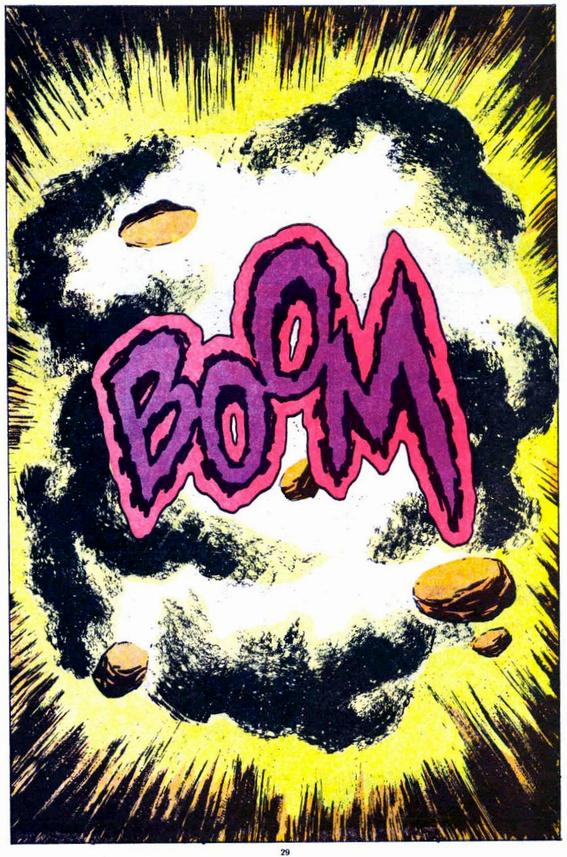 The issue ends with the funeral of Hawkeye, Pym and Wonder Man (making this the second time in a few months where Simon is killed by an explosion). Janet is asking the philosophical "Why?" as other Avengers try to console her (including an intense U.S. Agent). Immortus shows up and reveals that what we've been reading is a "divergence" in the time stream, which means that this whole issue is an incredibly boring What If?.
This reveal also explains the issue's continuity problems, such as Hawkeye's involvement in the story, as he's been MIA with the Great Lake Avengers; Wonder Man's lack of interest in rescuing Wanda;  and Loki's return so soon after being "killed" in Acts of Vengeance.
Brad Vancata does the art for the last two pages and it's clear this is where the inventory issue ends and editorial begins. Not a complete stumble, all things considered, but it's too little too late.
WEST BOAST OR ROAST?
Roast. A serviceable West Coast Avengers story that would make more sense as a back-up in an annual rather than another month of wheel-spinning.
WEST COAST SCENE (OF THE WEEK)!
Give me that bomb that's going to explode THIS VERY SECOND!
Previously on West Coast Wednesdays…
West Coast Avengers Vol. 1, #1
West Coast Avengers Vol. 1, #2
West Coast Avengers Vol. 1, #3
West Coast Avengers Vol. 1, #4
The Vision and Scarlet Witch #1
West Coast Avengers Vol. 2, #2
The Vision and Scarlet Witch #2
West Coast Avengers Vol. 2, #3
West Coast Avengers Vol. 2, #4
West Coast Avengers Vol. 2, #5
West Coast Avengers Vol. 2, #6
West Coast Avengers Vol. 2, #7
West Coast Avengers Vol. 2, #8
West Coast Avengers Vol. 2, #9
West Coast Avengers Vol. 2, #10
West Coast Avengers Vol. 2, #11
West Coast Avengers Vol. 2, #12
West Coast Avengers Vol. 2, #13
West Coast Avengers Vol. 2, #14
West Coast Avengers Vol. 2, #15
West Coast Avengers Vol. 2, #16
West Coast Avengers Vol. 2, #17
West Coast Avengers Vol. 2, #18
West Coast Avengers Vol. 2, #19
West Coast Avengers Vol. 2, #20
West Coast Avengers Vol. 2, #21
West Coast Avengers Vol. 2, #22
West Coast Avengers Vol. 2, #23
West Coast Avengers Vol. 2, #24
West Coast Avengers Vol. 2, #25
West Coast Avengers Vol. 2, #26
West Coast Avengers Vol. 2, #27
West Coast Avengers Vol. 2, #28
West Coast Avengers Vol. 2, #29
West Coast Avengers Vol. 2, #30
West Coast Avengers Vol. 2, #31
West Coast Avengers Vol. 2, #32
West Coast Avengers Vol. 2, #33
West Coast Avengers Vol. 2, #34
West Coast Avengers Vol. 2, #35
West Coast Avengers Vol. 2, #36
West Coast Avengers Vol. 2, #37
West Coast Avengers Vol. 2, #38
West Coast Avengers Vol. 2, #39
West Coast Avengers Vol. 2, #40
West Coast Avengers Vol. 2, #44
West Coast Avengers Vol. 2, #48
West Coast Avengers Vol. 2, #50
West Coast Avengers Vol. 2, #57