West Coast Wednesdays: West Coast Avengers Vol. 2, #60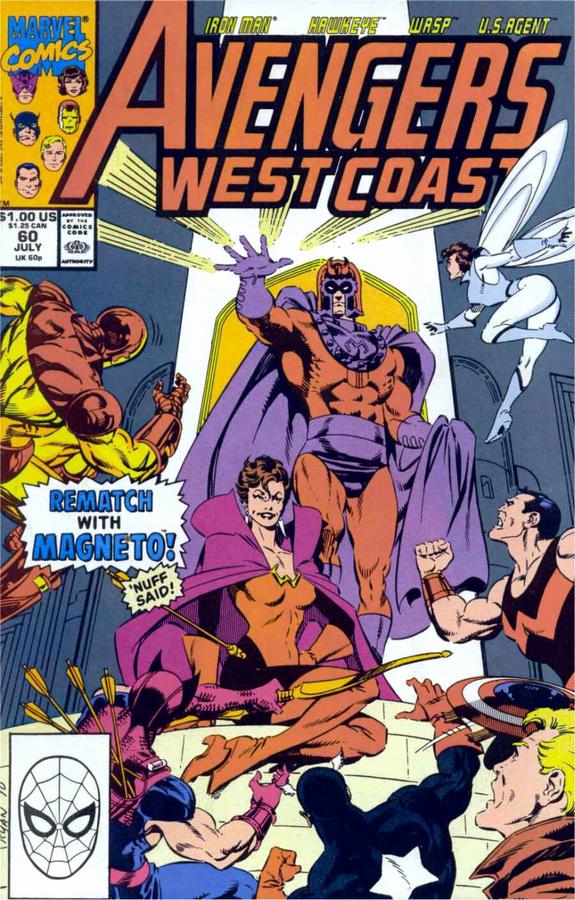 West Coast Avengers, Vol. 2, Issue 60 (July 1990)
WEST COAST CREDITS!
Writer: Roy and Dann Thomas
Penciler: Paul Ryan
Inker: Danny Bulanadi
WEST COAST SUMMARY!
It's been three months for readers but only a few hour for the West Coast Avengers to finally get their act together and go after Magneto. This is it! The fight readers have been waiting for!
WEST COAST THOUGHTS!
Roy and Dann Thomas step in to finish the massive storyline that John Byrne put in motion before he left the book. Paul Ryan comes aboard with Danny Bulanadi to handle the art. And honestly, it's not bad. The writing appears to be taking a few shortcuts to get to specific points quicker, but that's forgivable after all the running in place readers have been subjected to.
It's Friday, November 22, 1963, and John F. Kennedy and the first lady are in a motorcade in Dallas. Lee Harvey Oswald is about to pull the trigger and change the world when Agent Corrigan shoots him in the head from behind. Just when it looks like Kennedy has been saved, another shot is fired from another location and the President is killed. One of the observers on this fateful day in Dallas is Immortus, who is there to eliminate the last of the divergences so that he can reclaim his title of Master of Time. Now his endgame is set in motion…
When we first see the team of Wasp, Pym, Iron Man and Wonder Man, they're is still cleaning up the mess Vibro's earthquake made from issue #58, meaning that it's only been a few hours since Magneto defeated them on Asteroid M. This information helps to reemphasize what a ridiculous waste of time issue #59 was. Anyway, the team helps to save a bunch of people from the crumbling Point Vicente lighthouse. Working together, thanks to the arrival of Hawkeye and U.S. Agent (apparently healed from his battle with Magneto), they stabilize the lighthouse and rescue everyone from danger.
On Asteroid M, Quicksilver is concerned about the Scarlet Witch's increased powers, which is a mystery even to Magneto. The master of magnetism wants to get his plan in motion, the final clash between mutants and humans, by manipulating the Earth's weather (like Ming always does!). Sadly, this version of Magneto doesn't quite fit the merciful villain Byrne was working with.
Quicksilver protests, revealing that he's against his father's plan, leading to a clash between the two. Scarlet Witch steps in and breaks Quicksilver's leg. Quicksilver reveals that he's had a particle-Pym-ed Lockjaw in his pocket the whole time (and people give Mitt Romney grief over putting a dog on the roof of his car, imagine being stuck in the skintight outfit of a runner for hours at a time) and uses the dog to teleport them all into a trap where the West Coast Avengers are eagerly awaiting their rematch.
This scene doesn't make a lot of sense. For this plan to work, Pym and Quicksilver had to agree on a specific time for all of this to go down. No one knew that there would be an earthquake or that Magneto would learn of his son's betrayal. Quicksilver teleported them away because if he didn't, he was surely going to die. Either way, we have to assume that Pym finally told everyone of Quicksilver's involvement and the plan they made way back when, and then they all stood around at the agreed spot where Quicksilver would appear for hours, days, whatever.
Magneto is thrown off his game pretty early on in the battle as it's taking place at Ocean World at the Atlantis exhibit (aren't all the best fights there?), where the team had previously "de-metal[ed] things in a hurry." On top of that, Scarlet Witch, just as she's about to kill Wasp, is suddenly thrown into a trance, surrounded by an impenetrable force field of some kind. Magneto flees and is chased by the team until Iron Man pushes him into an oil refinery smokestack. Once inside, the two clogged the smokestack, forcing it to explode. Iron Man casually mentions that Magneto vanished in a burst of flames, and then the team makes an awful, awful joke about it (see below!).
Once back at the compound, everyone is confused by what is happening to Scarlet Witch. Before anyone can figure anything out, Immortus appears, reveals that they've all been pawns in his game, and that Scarlet Witch is now his queen.
WEST BOAST OR ROAST?
Boast. Despite taking a couple of short cuts (Quicksilver tipping his hand too soon, the trap that makes no sense) to get everyone in place and Magneto's characterization being off,  it's not the train wreck I was expecting with Byrne being off the book. But then again, this is only the first issue…
WEST COAST SCENE (OF THE WEEK)!
After nonchalantly murdering Magneto, the Avengers try out a new battle cry (with the help of the reader!):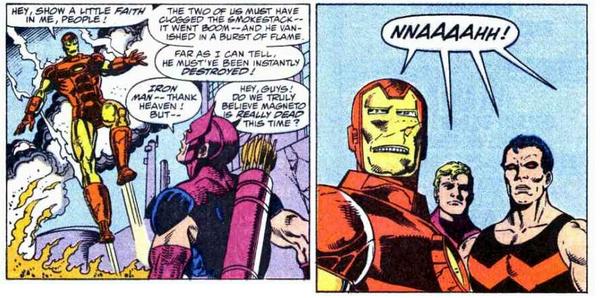 Previously on West Coast Wednesdays…
West Coast Avengers Vol. 1, #1
West Coast Avengers Vol. 1, #2
West Coast Avengers Vol. 1, #3
West Coast Avengers Vol. 1, #4
The Vision and Scarlet Witch #1
West Coast Avengers Vol. 2, #2
The Vision and Scarlet Witch #2
West Coast Avengers Vol. 2, #3
West Coast Avengers Vol. 2, #4
West Coast Avengers Vol. 2, #5
West Coast Avengers Vol. 2, #6
West Coast Avengers Vol. 2, #7
West Coast Avengers Vol. 2, #8
West Coast Avengers Vol. 2, #9
West Coast Avengers Vol. 2, #10
West Coast Avengers Vol. 2, #11
West Coast Avengers Vol. 2, #12
West Coast Avengers Vol. 2, #13
West Coast Avengers Vol. 2, #14
West Coast Avengers Vol. 2, #15
West Coast Avengers Vol. 2, #16
West Coast Avengers Vol. 2, #17
West Coast Avengers Vol. 2, #18
West Coast Avengers Vol. 2, #19
West Coast Avengers Vol. 2, #20
West Coast Avengers Vol. 2, #21
West Coast Avengers Vol. 2, #22
West Coast Avengers Vol. 2, #23
West Coast Avengers Vol. 2, #24
West Coast Avengers Vol. 2, #25
West Coast Avengers Vol. 2, #26
West Coast Avengers Vol. 2, #27
West Coast Avengers Vol. 2, #28
West Coast Avengers Vol. 2, #29
West Coast Avengers Vol. 2, #30
West Coast Avengers Vol. 2, #31
West Coast Avengers Vol. 2, #32
West Coast Avengers Vol. 2, #33
West Coast Avengers Vol. 2, #34
West Coast Avengers Vol. 2, #35
West Coast Avengers Vol. 2, #36
West Coast Avengers Vol. 2, #37
West Coast Avengers Vol. 2, #38
West Coast Avengers Vol. 2, #39
West Coast Avengers Vol. 2, #40
West Coast Avengers Vol. 2, #44
West Coast Avengers Vol. 2, #48
West Coast Avengers Vol. 2, #50
West Coast Avengers Vol. 2, #57
West Coast Avengers Vol. 2, #58