West Coast Wednesdays: West Coast Avengers Vol. 2, #66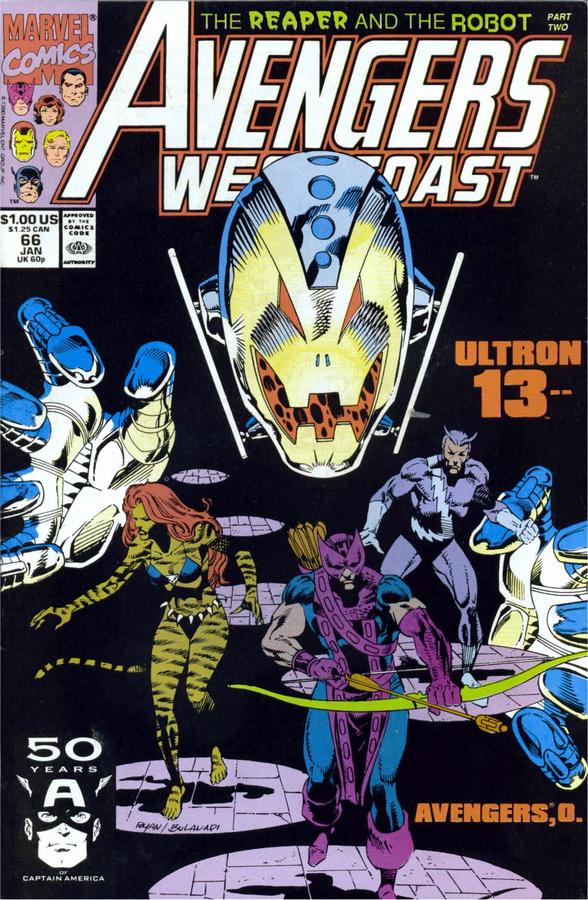 West Coast Avengers, Vol. 2, Issue 66 (January 1991)
WEST COAST CREDITS!
Writer: Roy and Dann Thomas
Penciler: Paul Ryan/Rick Levine
Inker: Danny Bulanadi/Keith Williams
WEST COAST SUMMARY!
After Pym reveals the robot farmers they discovered last issue, he sends the team out to investigate what could be behind it. Hawkeye, Quicksilver and Tigra wander off on their own and accidentally stumble upon Ultron 13's secret lair. Unfortunately, Ultron 13 is ready for them!
WEST COAST THOUGHTS!
Iron Man and U.S. Agent are at the scene of malathion spraying protest where a helicopter is about to dump a whole bunch of the chemical on the protesters. U.S. Agent resents being at the scene, feeling that they're all too stupid to get out of the way. Iron Man uses his repulsor rays to stop the spraying, but accidentally puts the helicopter in jeopardy. While he's rescuing the helicopter, U.S. Agent finds himself in a fight with the protesters. One of them is covered in metallic rashes, and tells U.S. Agent that there have been secret night sprayings, and they've caused his unusual skin condition.
When they return to the compound, they discover that Tigra is officially back on the team. And the writers waste no time having her aggressively hit on U.S. Agent. I always assumed that Tigra's flirtations with men was part of her cat-side taking over, but we learned last week (Avengers Spotlight #38) that Agatha Harkness cured Tigra and this is no longer an issue. Now in the Thomases' hands, this means that Tigra is naturally this aggressive. Frankly, it's a characteristic I find troublesome. 
In a meeting, Pym and Janet reveal the disassembled pieces of the robot farmers they discovered last issue.  Pym thinks that it has something to do with the food supply, and U.S. Agents wonders aloud if there's any connection with the secret nighttime sprayings of malathion. Hawkeye tells him to get serious, and they once again start fighting. Pym suggests that they split up and investigate different farms in the area, as well as look into the sprays U.S. Agent mentioned. Wonder Man freaks out and refuses to participate after he destroys the table. He wants to hunt down his brother, the Grim Reaper, who is wandering around the city killing people. He feels that the robots shouldn't be a main priority. Failing to be reasoned with by the team, he storms out of the room, destroying the doorway as he leaves. In the last six issues alone, the property damage Wonder Man has inflicted on the compound should be enough to have him thrown off the team.
While the team follows Pym's lead, Hawkeye – despite making fun of U.S. Agent's idea – decides to check out the secret malathion sprayings for himself. Plugging data into the computer, he notices that the sprayings (how he got this info is unclear) are all in one area, and at the very center was the site of last summer's tunnel fire. Hawkeye doesn't feel that this is a coincidence. Just as he's about to enter the tunnel, Quicksilver and Tigra appear, and confess that they've been following him since he acted so strangely back at the compound. And by strange, we are to assume that it's strange that Hawkeye would be able to connect any of these dots on his own before Pym.
Once inside the tunnel, they stumble upon a giant insidious lair that would make any James Bond villains tear up and are immediately attacked by robots. They make short work of the robots, until out of the shadows comes Ultron 13, who takes all of three of them down easily. When our heroes regain consciousness, they're in a glass tube. Ultron 13, a robot not above revealing his plan out loud, tells them that he's the one who's been spraying the area at night. His plan is to turn everyone into robots who'll become 4 billion extensions of Ultron 13.
And, of course, he's already sprayed our heroes! Oh no!
There's a small backup called "…that Shall He also Reap!" written by Roy Thomas with art by Rick Levine and Keith Williams. This story shows Wonder Man confronting the Grim Reaper in a dark alley in L.A. They fight, naturally, but it's basically a stalemate, as both are unable to hurt the other. Eventually Mandrill – the brother of Nekra, who the Grim Reaper murdered last issue – shows up to get some revenge. The Grim Reaper kills Mandrill quickly enough and absorbs his lifeforce. The Grim Reapers tells Wonder Man that he's going to let him live so he can suffer every time he hears about him killing another person. Once he feels Wonder Man has agonized enough, he'll come and kill him once and for all. And with that threat, he jumps down a sewer hole and exits the story. Something I should've done way before this.
WEST BOAST OR ROAST?
Boast for the main story. Roast for the backup. The main story has enough character drama to keep things interesting and alive, but the backup is wheel spinning at its absolute worst.
WEST COAST SCENE (OF THE WEEK)!
Wonder Man reminds you that No means No.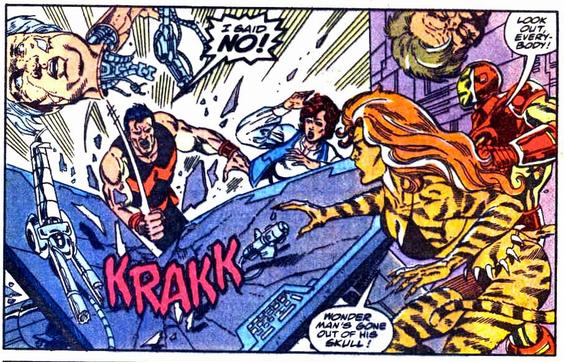 Previously on West Coast Wednesdays…
West Coast Avengers Vol. 1, #1
West Coast Avengers Vol. 1, #2
West Coast Avengers Vol. 1, #3
West Coast Avengers Vol. 1, #4
Avengers Vol. 1, #250
Iron Man Annual #7
West Coast Avenger Vol. 2, #1
The Vision and Scarlet Witch #1
West Coast Avengers Vol. 2, #2
The Vision and Scarlet Witch #2
West Coast Avengers Vol. 2, #3
West Coast Avengers Vol. 2, #4
West Coast Avengers Vol. 2, #5
West Coast Avengers Vol. 2, #6
West Coast Avengers Vol. 2, #7
West Coast Avengers Vol. 2, #8
West Coast Avengers Vol. 2, #9
West Coast Avengers Vol. 2, #10
West Coast Avengers Vol. 2, #11
West Coast Avengers Vol. 2, #12
West Coast Avengers Vol. 2, #13
Avengers Annual #15
West Coast Avengers Annual #1
West Coast Avengers Vol. 2, #14
West Coast Avengers Vol. 2, #15
West Coast Avengers Vol. 2, #16
West Coast Avengers Vol. 2, #17
West Coast Avengers Vol. 2, #18
West Coast Avengers Vol. 2, #19
West Coast Avengers Vol. 2, #20
West Coast Avengers Vol. 2, #21
West Coast Avengers Vol. 2, #22
West Coast Avengers Vol. 2, #23
West Coast Avengers Vol. 2, #24
West Coast Avengers Annual #2
Avengers Annual #16
Silver Surfer #3
West Coast Avengers Vol. 2, #25
West Coast Avengers Vol. 2, #26
West Coast Avengers Vol. 2, #27
West Coast Avengers Vol. 2, #28
West Coast Avengers Vol. 2, #29
West Coast Avengers Vol. 2, #30
West Coast Avengers Vol. 2, #31
West Coast Avengers Vol. 2, #32
West Coast Avengers Vol. 2, #33
West Coast Avengers Vol. 2, #34
West Coast Avengers Vol. 2, #35
West Coast Avengers Vol. 2, #36
West Coast Avengers Annual #3
West Coast Avengers Vol. 2, #37
West Coast Avengers Vol. 2, #38
West Coast Avengers Vol. 2, #39
West Coast Avengers Vol. 2, #40
West Coast Avengers Vol. 2, #41
West Coast Avengers Vol. 2, #42
West Coast Avengers Vol. 2, #43
West Coast Avengers Vol. 2, #44
West Coast Avengers Vol. 2, #45
West Coast Avengers Vol. 2, #46
West Coast Avengers Vol. 2, #47
West Coast Avengers Vol. 2, #48
West Coast Avengers Vol. 2, #49
West Coast Avengers Vol. 2, #50
West Coast Avengers Annual #4
West Coast Avengers Vol. 2, #51
West Coast Avengers Vol. 2, #52
West Coast Avengers Vol. 2, #53
Avengers Vol. 1, #312 
West Coast Avengers Vol. 2, #54
Avengers Vol. 1, #313 
West Coast Avengers Vol. 2, #55
West Coast Avengers Vol. 2, #56
West Coast Avengers Vol. 2, #57
West Coast Avengers Vol. 2, #58
West Coast Avengers Vol. 2, #59
West Coast Avengers Vol. 2, #60
West Coast Avengers Vol. 2, #61
West Coast Avengers Vol. 2, #62
West Coast Avengers Annual #5
West Coast Avengers Vol. 2, #63
West Coast Avengers Vol. 2, #64
West Coast Avengers Vol. 2, #65
Avengers Spotlight #38