West Coast Wednesdays: West Coast Avengers Vol. 2, #69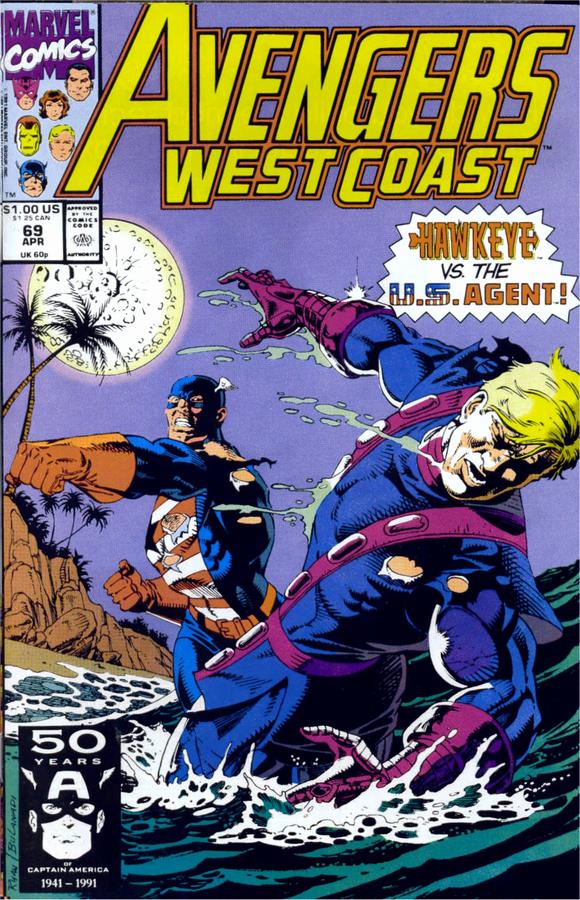 West Coast Avengers, Vol. 2, Issue 69 (April 1991)
WEST COAST CREDITS!
Writer: Roy and Dann Thomas
Penciler: Paul Ryan
Inker: Danny Bulanadi
WEST COAST SUMMARY!
The fight that's been a couple of years in the making is finally happening: Hawkeye vs. the U.S. Agent! And while this goes down, the team votes in its seven regular members.
WEST COAST THOUGHTS!
The cover promises a fight and the book delivers one. This is the fight that's been a long time a coming, ever since U.S. Agent was pushed into the team by the government (issue #45). Roy and Dann Thomas really make the fight count too. By the time it's over, the book's status quo will be forever altered. And while the fight is big enough to fill a whole issue, the Thomases play with the story's chronology to show the team convening to vote in its seven regular members. This is perhaps the issue's saving grace.
The issue starts off with a battle-armored Hawkeye calling out U.S. Agent near the cliffs of the compound. After a little back-and-forth and some Liefeldian posturing (seriously, Hawkeye's battle armor would make Cable blush), the two go at it.
We  jump back a few hours previous to the West Coast Avengers getting together to vote on their regular members. The Avengers are now operating under the United Nations, so they'll no longer be overseen by the U.S. government. This means that U.S. Agent is no longer needed as a representative for the government, and he'll now have to be voted on to the team like everyone else. All of this information is delivered by a video message from the Avengers East. Naturally, U.S. Agent doesn't take the news well.
The votes are: Hawkeye (4 votes); Mockingbird (1 vote); Tigra (4 votes);  Scarlet Witch (5 votes); Wonder Man (5 votes); Quicksilver (2 votes); Iron Man (5 votes); U.S. Agent (1 vote); Wasp (5 votes); Hank Pym (5 votes); Human Torch (3 votes); and Machine Man (1 vote). So the seven regular members of the West Coast Avengers are Hawkeye, Tigra,  Scarlet Witch, Wonder Man, Iron Man, Wasp, and Hank Pym, with everyone else acting as reserve members.
After the meeting, Mockingbird thanks Hawkeye for voting for her so she wouldn't look bad with no votes, but he tells her that there's no way he'd want his estranged wife sitting across from him. She gets offended and storms off. Wonder Man asks Scarlet Witch out for another date and she gives him the "let's be friends" speech. After Wonder Man flies off in his usual passive-aggressive style, Scarlet Witch approaches Pym and Wasp to tell them that she appreciates that they can make being a couple look easy. However, they have bad news for her too. They're both leaving the team to go their separate ways; he wants to do research and she wants to travel. They give Scarlet Witch a strangely comforting speech about their relationship, which didn't make a lot of sense due to how mature and well thought out it was (come on, West Coast Avengers, your relationships are supposed to be juvenile and ridiculous, like one from middle school!).
Back to the fight, after lots of arrows and shield throwing, the gloves come off (literally) and they just start duking it out, despite U.S. Agent warning Hawkeye that he's seriously outclassed in that department. U.S. Agent throws Hawkeye away from him, which ends up being over a cliff. Hawkeye uses a grappling hook from one of his arrows in the nick of time, but he still hits the beach below pretty hard. U.S. Agent runs down, apologizing. While he hates Clint, the last thing he wanted to do was kill him. When he reaches Hawkeye's body, the fight continues with Hawkeye throwing the next punch.
U.S. Agent keeps fighting, but he pulls his punches because of his strength. All the while, he yells out how Hawkeye and the rest of the team had been against him from the very beginning and he was "good and sick of it!" Hawkeye is seriously defeated, but he just won't quit (I give the Thomases a lot of grief here, but they really understood Hawkeye's arrogance and tenaciousness). U.S. Agent is both annoyed and impressed by Hawkeye.
Eventually, U.S. Agent drags Hawkeye back to shore just when the team arrives. They kick U.S. Agent off the team officially, and mention that Hawkeye will be put on probation. Iron Man gives U.S. Agent a huge talking down to – probably way harsher than he deserves. This goes to show you how much they fumbled the ball in terms of U.S. Agent's participation in the book. I'd like to think if Byrne were still around, U.S. Agent would have become a much stronger character. The fight part of the issue wraps up with Scarlet Witch pontificating on the possibility of someone like U.S. Agent turning bad and how he could give the team a run for its money.
WEST BOAST OR ROAST?
Boast. I'm good with this issue. The saving grace is playing with the story's chronology to good dramatic effect and Hawkeye's characterization, unfortunately, at the expense of U.S. Agent.
WEST COAST SCENE (OF THE WEEK)!
Oh, Wanda, you!  Got what I need! But you say I'm just a friend! But you say I'm just a friend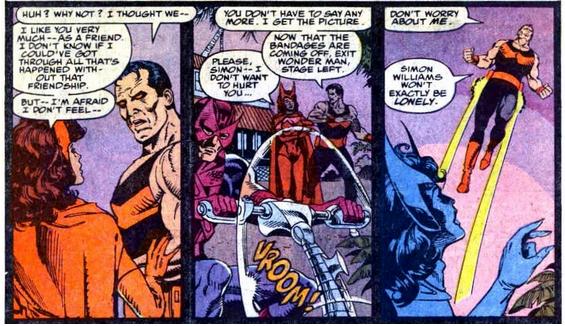 Previously on West Coast Wednesdays…
West Coast Avengers Vol. 1, #1
West Coast Avengers Vol. 1, #2
West Coast Avengers Vol. 1, #3
West Coast Avengers Vol. 1, #4
Avengers Vol. 1, #250
Iron Man Annual #7
West Coast Avenger Vol. 2, #1
The Vision and Scarlet Witch #1
West Coast Avengers Vol. 2, #2
The Vision and Scarlet Witch #2
West Coast Avengers Vol. 2, #3
West Coast Avengers Vol. 2, #4
West Coast Avengers Vol. 2, #5
West Coast Avengers Vol. 2, #6
West Coast Avengers Vol. 2, #7
West Coast Avengers Vol. 2, #8
West Coast Avengers Vol. 2, #9
West Coast Avengers Vol. 2, #10
West Coast Avengers Vol. 2, #11
West Coast Avengers Vol. 2, #12
West Coast Avengers Vol. 2, #13
Avengers Annual #15
West Coast Avengers Annual #1
West Coast Avengers Vol. 2, #14
West Coast Avengers Vol. 2, #15
West Coast Avengers Vol. 2, #16
West Coast Avengers Vol. 2, #17
West Coast Avengers Vol. 2, #18
West Coast Avengers Vol. 2, #19
West Coast Avengers Vol. 2, #20
West Coast Avengers Vol. 2, #21
West Coast Avengers Vol. 2, #22
West Coast Avengers Vol. 2, #23
West Coast Avengers Vol. 2, #24
West Coast Avengers Annual #2
Avengers Annual #16
Silver Surfer #3
West Coast Avengers Vol. 2, #25
West Coast Avengers Vol. 2, #26
West Coast Avengers Vol. 2, #27
West Coast Avengers Vol. 2, #28
West Coast Avengers Vol. 2, #29
West Coast Avengers Vol. 2, #30
West Coast Avengers Vol. 2, #31
West Coast Avengers Vol. 2, #32
West Coast Avengers Vol. 2, #33
West Coast Avengers Vol. 2, #34
West Coast Avengers Vol. 2, #35
West Coast Avengers Vol. 2, #36
West Coast Avengers Annual #3
West Coast Avengers Vol. 2, #37
West Coast Avengers Vol. 2, #38
West Coast Avengers Vol. 2, #39
West Coast Avengers Vol. 2, #40
West Coast Avengers Vol. 2, #41
West Coast Avengers Vol. 2, #42
West Coast Avengers Vol. 2, #43
West Coast Avengers Vol. 2, #44
West Coast Avengers Vol. 2, #45
West Coast Avengers Vol. 2, #46
West Coast Avengers Vol. 2, #47
West Coast Avengers Vol. 2, #48
West Coast Avengers Vol. 2, #49
West Coast Avengers Vol. 2, #50
West Coast Avengers Annual #4
West Coast Avengers Vol. 2, #51
West Coast Avengers Vol. 2, #52
West Coast Avengers Vol. 2, #53
Avengers Vol. 1, #312 
West Coast Avengers Vol. 2, #54
Avengers Vol. 1, #313 
West Coast Avengers Vol. 2, #55
West Coast Avengers Vol. 2, #56
West Coast Avengers Vol. 2, #57
West Coast Avengers Vol. 2, #58
West Coast Avengers Vol. 2, #59
West Coast Avengers Vol. 2, #60
West Coast Avengers Vol. 2, #61
West Coast Avengers Vol. 2, #62
West Coast Avengers Annual #5
West Coast Avengers Vol. 2, #63
West Coast Avengers Vol. 2, #64
West Coast Avengers Vol. 2, #65
Avengers Spotlight #38 
West Coast Avengers Vol. 2, #66
West Coast Avengers Vol. 2, #67
West Coast Avengers Vol. 2, #68