West Coast Wednesdays: West Coast Avengers Vol. 2, #70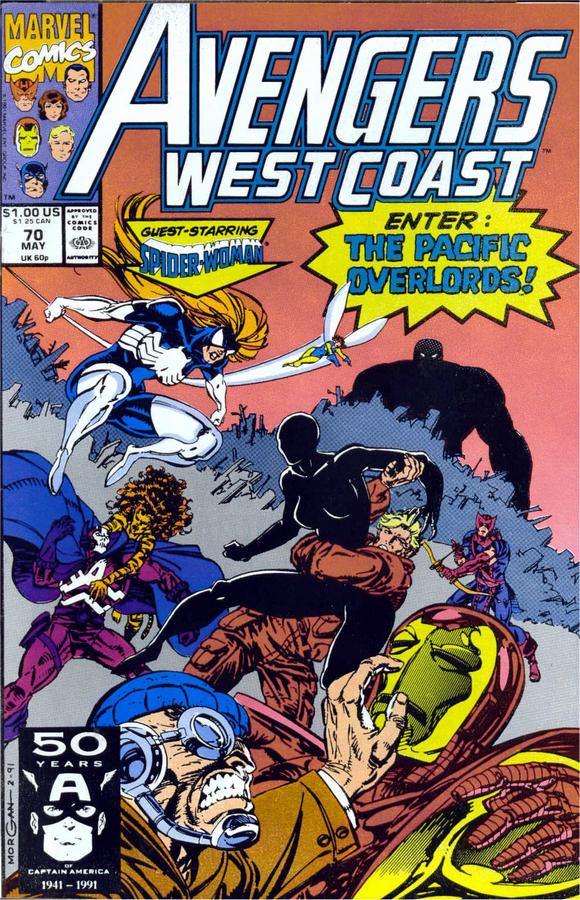 West Coast Avengers, Vol. 2, Issue 70 (May 1991)
WEST COAST CREDITS!
Writer: Roy and Dann Thomas
Penciler: Steve Butler
Inker: Danny Bulanadi
WEST COAST SUMMARY!
After Spider-Woman accidentally has a run in with members of the Pacific Overlords, she calls on the West Coast Avengers to attack their secret lair. And while the Pacific Overlords aren't there, that doesn't mean that other dangers aren't awaiting…
WEST COAST THOUGHTS!
We start things off with Spider-Woman (Julia Carpenter), having just moved from Denver, hanging out at a pier in Newport Beach. She sees a boat coming in from the ocean without any lights on and she assumes it's thieves. She witnesses a large man (Jawbreaker) getting off the boat carrying a man over his shoulder. He is accompanied by Kuroko, a woman who can appear invisible. Spider-Woman confronts them and Jawbreaker takes her down pretty easily, punching her so hard she's thrown into the ocean.
At the West Coast Avengers compound, the first meeting with the new team has just concluded. Hawkeye is annoyed that he's been put on probation due to his fight with U.S. Agent last issue (West Coast Avengers Vol. 2, #69). Tigra is once again flirting heavily with Iron Man. Wonder Man is sulking. Quicksilver shows up with his bags packed to say goodbye to Wanda. And Hank and Janet can't wait to switch to reserve status so they can both go their separate ways.
In fact, they make such a big deal about being "just friends" that you have to wonder if Roy and Dann Thomas are really married. Look, I get that there's a suspension of disbelief when it comes to superhero stories, but I can't handle emotional dishonesty no matter how fantastical the story is. This is not the behavior of two adults, let alone two adults who were once married:
Wanda bumps into Wonder Man in another room as he's on the phone hooking up with a woman he had met at a wrap party for Beverly Hills Rich Persons II. What I love about this scene is that it's designed to look like he's being a douche as a way to make Wanda jealous, but she had accidentally walked into the room. Meaning that his douchey conversation with the woman on the phone is simply Simon being a complete asshole (see below). Unless, of course, Simon was pretending to have a conversation and was standing at the desk with the phone to his ear waiting for Wanda to enter. The good news is, for the first time in many issues, Wonder Man doesn't destroy anything when he exits.
Jawbreaker arrives at Filmland in Wax (what is it with this book and wax museums? See West Coast Avengers Vol. 2, #64) to deliver the body he's been carrying around. Underneath the museum is the secret lair of Dr. Demonicus. When Jawbreaker reveals his presence, it spooks one of Dr. Demonicus' minions who drops a monitoring device. Dr. Demonicus tells Jawbreaker to kill the minion and he chokes the minion without hesitation.
It turns out that Dr. Demonicus has kidnapped the Living Lightning after his battle with the Human Torch (West Coast Avengers Vol. 2, #63) and has him hooked up to a bunch of devices. The body Jawbreaker was dragging around was Typhoon, a creation of Dr. Demonicus who eventually betrayed him. More importantly, Dr. Demonicus is excited about another package Jawbreaker brought – the Lifestone!
Tigra and Iron Man return from a date (Iron Man apparently bowled in his suit) to discover Spider-Woman roaming around the compound. After a brief tussle that, surprisingly, doesn't turn into a giant fight based on a misunderstanding, she informs them about the Pacific Overlords.
Before you know it, thanks to Spider-Woman's hunch that their lair wasn't far from where she fought Jawbreaker and Pym detecting an unauthorized power source, the team is crashing through the walls of the wax museum. They find the lair, but no one is there. Or so they think!
A giant-sized man – who looks like a cross between Sloth from the Goonies and the Blob – surprises the team and introduces the issue's big fight. After the team subdues him, they discover to their horror that Dr. Demonicus had mutated a toddler into this giant creature, and the West Coast Avengers just had their asses briefly handed to them by a baby. Once they realize that Dr. Demonicus is behind all this, the team is all pumped up to fight more babies. But where in the world do they start their search?
WEST BOAST OR ROAST?
Boast. It's not great, but I'm going with the flow for this one only because it's so ridiculous. I mean, the team fought a baby. That establishes a new low for the this book.
WEST COAST SCENE (OF THE WEEK)!
Wonder Man is a dick.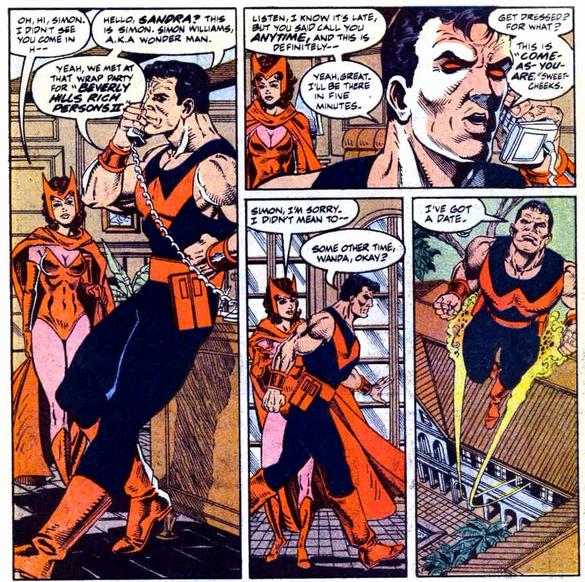 Previously on West Coast Wednesdays…
West Coast Avengers Vol. 1, #1
West Coast Avengers Vol. 1, #2
West Coast Avengers Vol. 1, #3
West Coast Avengers Vol. 1, #4
Avengers Vol. 1, #250
Iron Man Annual #7
West Coast Avenger Vol. 2, #1
The Vision and Scarlet Witch #1
West Coast Avengers Vol. 2, #2
The Vision and Scarlet Witch #2
West Coast Avengers Vol. 2, #3
West Coast Avengers Vol. 2, #4
West Coast Avengers Vol. 2, #5
West Coast Avengers Vol. 2, #6
West Coast Avengers Vol. 2, #7
West Coast Avengers Vol. 2, #8
West Coast Avengers Vol. 2, #9
West Coast Avengers Vol. 2, #10
West Coast Avengers Vol. 2, #11
West Coast Avengers Vol. 2, #12
West Coast Avengers Vol. 2, #13
Avengers Annual #15
West Coast Avengers Annual #1
West Coast Avengers Vol. 2, #14
West Coast Avengers Vol. 2, #15
West Coast Avengers Vol. 2, #16
West Coast Avengers Vol. 2, #17
West Coast Avengers Vol. 2, #18
West Coast Avengers Vol. 2, #19
West Coast Avengers Vol. 2, #20
West Coast Avengers Vol. 2, #21
West Coast Avengers Vol. 2, #22
West Coast Avengers Vol. 2, #23
West Coast Avengers Vol. 2, #24
West Coast Avengers Annual #2
Avengers Annual #16
Silver Surfer #3
West Coast Avengers Vol. 2, #25
West Coast Avengers Vol. 2, #26
West Coast Avengers Vol. 2, #27
West Coast Avengers Vol. 2, #28
West Coast Avengers Vol. 2, #29
West Coast Avengers Vol. 2, #30
West Coast Avengers Vol. 2, #31
West Coast Avengers Vol. 2, #32
West Coast Avengers Vol. 2, #33
West Coast Avengers Vol. 2, #34
West Coast Avengers Vol. 2, #35
West Coast Avengers Vol. 2, #36
West Coast Avengers Annual #3
West Coast Avengers Vol. 2, #37
West Coast Avengers Vol. 2, #38
West Coast Avengers Vol. 2, #39
West Coast Avengers Vol. 2, #40
West Coast Avengers Vol. 2, #41
West Coast Avengers Vol. 2, #42
West Coast Avengers Vol. 2, #43
West Coast Avengers Vol. 2, #44
West Coast Avengers Vol. 2, #45
West Coast Avengers Vol. 2, #46
West Coast Avengers Vol. 2, #47
West Coast Avengers Vol. 2, #48
West Coast Avengers Vol. 2, #49
West Coast Avengers Vol. 2, #50
West Coast Avengers Annual #4
West Coast Avengers Vol. 2, #51
West Coast Avengers Vol. 2, #52
West Coast Avengers Vol. 2, #53
Avengers Vol. 1, #312 
West Coast Avengers Vol. 2, #54
Avengers Vol. 1, #313 
West Coast Avengers Vol. 2, #55
West Coast Avengers Vol. 2, #56
West Coast Avengers Vol. 2, #57
West Coast Avengers Vol. 2, #58
West Coast Avengers Vol. 2, #59
West Coast Avengers Vol. 2, #60
West Coast Avengers Vol. 2, #61
West Coast Avengers Vol. 2, #62
West Coast Avengers Annual #5
West Coast Avengers Vol. 2, #63
West Coast Avengers Vol. 2, #64
West Coast Avengers Vol. 2, #65
Avengers Spotlight #38 
West Coast Avengers Vol. 2, #66
West Coast Avengers Vol. 2, #67
West Coast Avengers Vol. 2, #68
West Coast Avengers Vol. 2, #69