West Coast Wednesdays: West Coast Avengers Vol. 2, #71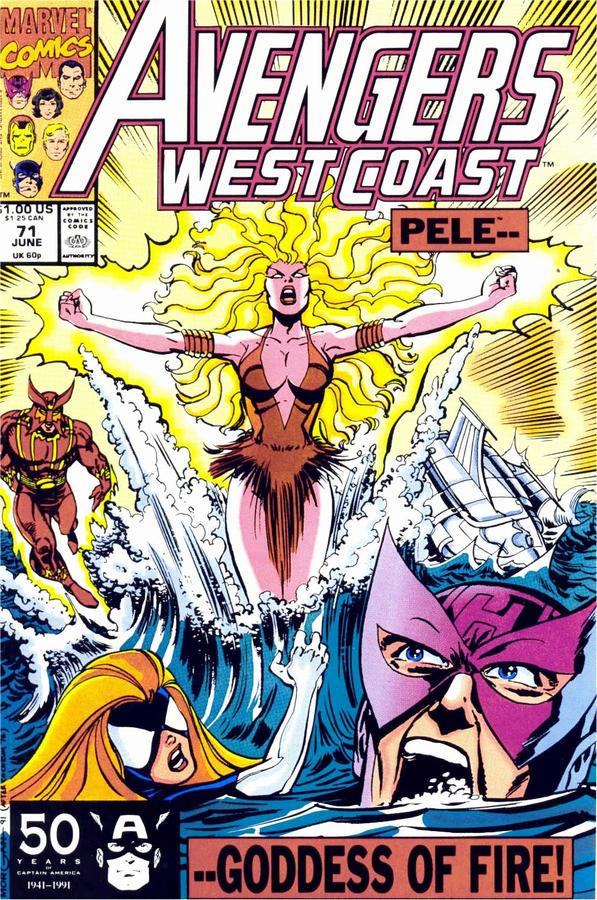 West Coast Avengers, Vol. 2, Issue 71 (June 1991)
WEST COAST CREDITS!
Writer: Roy and Dann Thomas
Penciler: David Ross and Tom Morgan
Inker: Danny Bulanadi, Ivy and Hudson
WEST COAST SUMMARY!
The team tries to figure out Dr. Demonicus' plan. Hawkeye and Spider-Woman find a clue that brings them to Hawaii and face-to-face with Pele and…Sunfire?
WEST COAST THOUGHTS!
The team gets the giant mutated toddler they fought last issue back to their compound and lock him up in a cell. However, his cries are so powerful, they actually throw the team around the room. Iron Man's magnetized boots allow him to remain unaffected, and poor Wasp almost crashes into a wall before Wonder Man safely catches her.
Wanda comes up with the idea of Tigra jumping into the cell with the toddler and purring in order to calm him down. She's reluctant to do so, but Iron Man literally throws her into the cell against her will. The toddler grabs her and holds her like a doll until her purrs finally get him to fall asleep. Wanda reveals an old teddy bear her children used to play with. Pym uses his Pym particles to enlarge the bear and they switch Tigra out with the bear.
Just to recap, the West Coast Avengers capture a giant-sized toddler, has Tigra cuddle with the toddler until he falls asleep, and then they switch her with a teddy bear.
Why didn't anyone ever take this book seriously again?
Thanks to Hawkeye's detective work (the second time he's managed to connect dots way before Hank Pym in the last few issues), he confirms that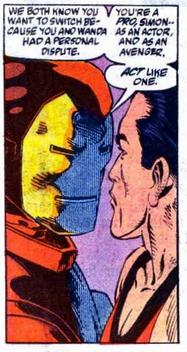 Dr. Demonicus is behind the toddler's startling transformation. The team jumps into action, quickly electing Iron Man as the team's chairman (keeping in mind that they do this not knowing who is under the helmet). He splits the team up to investigate leads in Australia and Japan. Wonder Man takes issue with being paired with Wanda, which leads to probably the coolest panel the book has had in years (see right).
Hawkeye gets left behind at the compound as a liaison with Spider-Woman. During this time, he receives two phone calls back-to-back. The first is from Dr. Jennie Falk from U.C.L.A. (you might remember her from West Coast Avengers Vol. 2, #67) who is calling about a dinner date. And the second is from a talent agency calling to represent Janet's screenplay. While all of this embarrassing character growth is happening, the mutated toddler sees some of the pictures Hawkeye brought back with him after playing detective. Because the toddler recognizes something in the photo that's not in Japan or Australia, Hawkeye decides to take Spider-Woman and go investigate what he saw in Hawaii. Hawkeye even makes a point that the mutated toddler who is capable of causing seriously bodily harm with his cries will be taken care of by the gardenersground crew.
Of interest, it's worth pointing out that Hawkeye has his flirt on with Spider-Woman. Considering that he's currently dating Spider-Woman today in the Avengers books, and it's a completely different woman under the mask, this does seem a little creepy. Has this been addressed at all?
It's during this part of the story that David Ross' pencils are replaced by Tom Morgan's work. We've seen Morgan on the book a couple of times before. The transition takes the book from the Milgrom-like consistency the book has steadily maintained to something more Liefeldian. It's not terrible, mind you, (actually, it's fun!) but it's certainly a noticeable difference.
It turns out that the pictures and clues Hawkeye found were deliberately left by Dr. Demonicus as a way to split the team up and to buy him more time to get his master plan in motion.
In Hawaii, Namor is getting a plaque from the U.S. Navy for his heroic efforts in World War II when he is suddenly attacked by Sunfire and Pele. They've come to drive all the Americans back to the mainland. Because Sunfire and Pele – Goddess of Fire – are both Japanese, the U.S. Navy takes this to be a continuation of the attack on Pearl Harbor…because, why not?
Hawkeye and Spider-Woman show up and kick off the issue's much-bigger-than-it-deserves-to-be fight, with Namor jumping in to save the day when he's needed. It turns out that Sunfire and Pele were mesmerized and forced to attack our heroes. Sunfire only remembers being knocked out from behind in Japan and then waking up in Namor's arms (who hasn't had that fantasy?), but he does remember one thing: July 18. He doesn't know what's supposed to happen then, but he knows that it's very important. But that's…tomorrow!
In San Diego, U.S. Agent gets a phone call from the Commission ("What commission?" U.S. Agent asks. And they respond, "The Commission."). One of their people just turned rogue and they need U.S. Agent to take care of it. The rogue agent is none other than Spider-Woman. They tell him that she was last seen at the West Coast compound. Without hesitation, U.S. Agent jumps on top of a taxi (see below) and begins his journey to squash a spider.
WEST BOAST OR ROAST?
Roast. Between the needless fight and the mutated toddler, there's not a lot to like here. The one panel I mentioned above is a breath of fresh air, but certainly not enough to save the issue.
WEST COAST SCENE (OF THE WEEK)!
I'm on a taxi!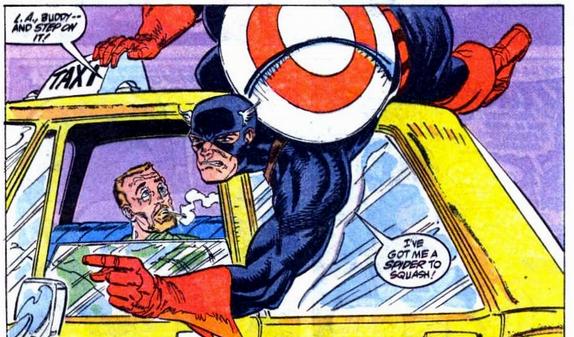 Previously on West Coast Wednesdays…
West Coast Avengers Vol. 1, #1
West Coast Avengers Vol. 1, #2
West Coast Avengers Vol. 1, #3
West Coast Avengers Vol. 1, #4
Avengers Vol. 1, #250
Iron Man Annual #7
West Coast Avenger Vol. 2, #1
The Vision and Scarlet Witch #1
West Coast Avengers Vol. 2, #2
The Vision and Scarlet Witch #2
West Coast Avengers Vol. 2, #3
West Coast Avengers Vol. 2, #4
West Coast Avengers Vol. 2, #5
West Coast Avengers Vol. 2, #6
West Coast Avengers Vol. 2, #7
West Coast Avengers Vol. 2, #8
West Coast Avengers Vol. 2, #9
West Coast Avengers Vol. 2, #10
West Coast Avengers Vol. 2, #11
West Coast Avengers Vol. 2, #12
West Coast Avengers Vol. 2, #13
Avengers Annual #15
West Coast Avengers Annual #1
West Coast Avengers Vol. 2, #14
West Coast Avengers Vol. 2, #15
West Coast Avengers Vol. 2, #16
West Coast Avengers Vol. 2, #17
West Coast Avengers Vol. 2, #18
West Coast Avengers Vol. 2, #19
West Coast Avengers Vol. 2, #20
West Coast Avengers Vol. 2, #21
West Coast Avengers Vol. 2, #22
West Coast Avengers Vol. 2, #23
West Coast Avengers Vol. 2, #24
West Coast Avengers Annual #2
Avengers Annual #16
Silver Surfer #3
West Coast Avengers Vol. 2, #25
West Coast Avengers Vol. 2, #26
West Coast Avengers Vol. 2, #27
West Coast Avengers Vol. 2, #28
West Coast Avengers Vol. 2, #29
West Coast Avengers Vol. 2, #30
West Coast Avengers Vol. 2, #31
West Coast Avengers Vol. 2, #32
West Coast Avengers Vol. 2, #33
West Coast Avengers Vol. 2, #34
West Coast Avengers Vol. 2, #35
West Coast Avengers Vol. 2, #36
West Coast Avengers Annual #3
West Coast Avengers Vol. 2, #37
West Coast Avengers Vol. 2, #38
West Coast Avengers Vol. 2, #39
West Coast Avengers Vol. 2, #40
West Coast Avengers Vol. 2, #41
West Coast Avengers Vol. 2, #42
West Coast Avengers Vol. 2, #43
West Coast Avengers Vol. 2, #44
West Coast Avengers Vol. 2, #45
West Coast Avengers Vol. 2, #46
West Coast Avengers Vol. 2, #47
West Coast Avengers Vol. 2, #48
West Coast Avengers Vol. 2, #49
West Coast Avengers Vol. 2, #50
West Coast Avengers Annual #4
West Coast Avengers Vol. 2, #51
West Coast Avengers Vol. 2, #52
West Coast Avengers Vol. 2, #53
Avengers Vol. 1, #312 
West Coast Avengers Vol. 2, #54
Avengers Vol. 1, #313 
West Coast Avengers Vol. 2, #55
West Coast Avengers Vol. 2, #56
West Coast Avengers Vol. 2, #57
West Coast Avengers Vol. 2, #58
West Coast Avengers Vol. 2, #59
West Coast Avengers Vol. 2, #60
West Coast Avengers Vol. 2, #61
West Coast Avengers Vol. 2, #62
West Coast Avengers Annual #5
West Coast Avengers Vol. 2, #63
West Coast Avengers Vol. 2, #64
West Coast Avengers Vol. 2, #65
Avengers Spotlight #38 
West Coast Avengers Vol. 2, #66
West Coast Avengers Vol. 2, #67
West Coast Avengers Vol. 2, #68
West Coast Avengers Vol. 2, #69
West Coast Avengers Vol. 2, #70