West Coast Wednesdays: West Coast Avengers Vol. 2, #72
West Coast Avengers, Vol. 2, Issue 72 (July 1991)
WEST COAST CREDITS!
Writer: Roy and Dann Thomas
Penciler: David Ross
Inker: Danny Bulanadi and Tim Dzon
WEST COAST SUMMARY!
The team is split up in three different continents and, unfortunately, Dr. Demonicus is one step ahead of all of them.
WEST COAST THOUGHTS!
Tigra, Wasp and Iron Man are in Japan to meet with Mr. Anami, the head of Hasanuma Electronics, to follow up on a lead. Before they can get any answers, the helicopter scene from Lethal Weapon makes a cameo in the book, and Mr. Anami is shot dead. Tigra jumps out of the window and attacks those in the helicopter. Naturally, the copter spins out of control and it's up to Iron Man to save the day. Because it would be awful if any of the female characters had an awesome moment that ran more than one panel.
Once on the ground, the team learns that the people on the copter are members of the Yakuza. Iron Man talks about how Tony Stark always suspected that Anami was linked with the Pacific Overlords, and why not the Yakuza? Tigra is curious to know how this Iron Man can be so certain about what Stark knows. At this, Iron Man unmasks himself to reveal that he's actually Stark. Wasp admits that she, Hank and Hawkeye had already suspected the truth, but Tigra is embarrassed and thinks he had been probably laughing at her the whole time.
THEY'RE ALL GONNA LAUGH AT YOU, TIGRA!
At his secret underwater base, Dr. Demonicus has a conversation with the recently awakened Living Lightning. Because he's the main supervillain, he sees this as an opportunity to reveal his origin story (In short: Overdosed on radiation, found Lifestone, mutated huge monsters, and then got caught! You know, typical teenage rebellion stuff!). We also finally discover who the unconscious man Jawbreaker was carrying around a couple of issues back was. Recently, a yacht carrying a young couple and their baby was caught in a storm. Dr. Demonicus rescued them and, as you do, transformed them all into super-powered servitors. We've already seen the wife as Pele (West Coast Avengers Vol. 2, #71), and the baby was transformed into the mutated toddler the team captured previously. The husband, called Taifu, breaks free of his constraints and attacks Dr. Demonicus. Because all of the power was used to hold Taifu hostage, the Living Lightning's restraints go offline and he's freed. He immediately turns into lightning and accidentally knocks Taifu out. Dr. Demonicus congratulates and welcomes him into his ranks.
Iron Man, Wasp and Tigra arrive at Kyoto, where one of the Hasanuma Electronics plants is located to search for more clues. Once there, they're attacked by Irezumi ("Which, in your language, means 'tattoo'!" he patiently explains to his enemies). His tattoos capture the essence of those at close range and then returns the essence back two to three times. Put simply, he makes short work out of Iron Man and Wasp, and would've done the same for Tigra, but she manages to get back to the quinjet and make an escape.
In Australia, we briefly check in with Hank, Scarlet Witch and Wonder Man, who are about to be attacked by Jawbreaker and Cybertooth.
And back in California, Spider-Woman and Hawkeye return to the compound. Hawkeye is caught off guard and knocked out by U.S. Agent, who is there to kill Spider-Woman for the Committee. He ends up punching her a couple of times and gets his hands around her throat, but when it comes time to kill her once and for all, he can't do it. He falls back on a couch and says he's never going to waste anyone ever again (though, punching women seems perfectly okay with him).
The issue ends with Spider-Woman telling him that he needs to listen to her side of the story.
WEST BOAST OR ROAST?
Roast. This book always works a little better when everyone splits up, but that's really not enough to help this issue.
WEST COAST SCENE (OF THE WEEK)!
"Not that I'm gonna learn much from that guy who I made fall to his death…"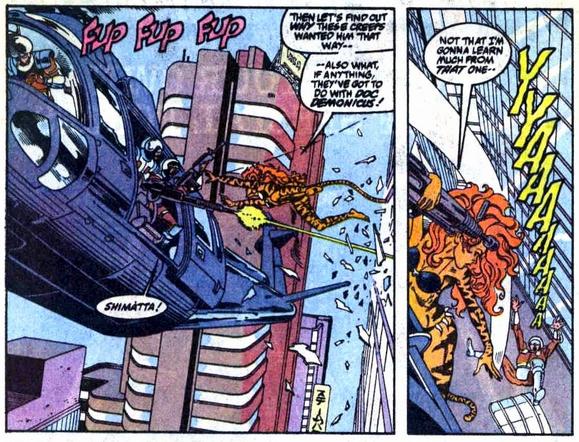 Previously on West Coast Wednesdays…
West Coast Avengers Vol. 1, #1
West Coast Avengers Vol. 1, #2
West Coast Avengers Vol. 1, #3
West Coast Avengers Vol. 1, #4
Avengers Vol. 1, #250
Iron Man Annual #7
West Coast Avenger Vol. 2, #1
The Vision and Scarlet Witch #1
West Coast Avengers Vol. 2, #2
The Vision and Scarlet Witch #2
West Coast Avengers Vol. 2, #3
West Coast Avengers Vol. 2, #4
West Coast Avengers Vol. 2, #5
West Coast Avengers Vol. 2, #6
West Coast Avengers Vol. 2, #7
West Coast Avengers Vol. 2, #8
West Coast Avengers Vol. 2, #9
West Coast Avengers Vol. 2, #10
West Coast Avengers Vol. 2, #11
West Coast Avengers Vol. 2, #12
West Coast Avengers Vol. 2, #13
Avengers Annual #15
West Coast Avengers Annual #1
West Coast Avengers Vol. 2, #14
West Coast Avengers Vol. 2, #15
West Coast Avengers Vol. 2, #16
West Coast Avengers Vol. 2, #17
West Coast Avengers Vol. 2, #18
West Coast Avengers Vol. 2, #19
West Coast Avengers Vol. 2, #20
West Coast Avengers Vol. 2, #21
West Coast Avengers Vol. 2, #22
West Coast Avengers Vol. 2, #23
West Coast Avengers Vol. 2, #24
West Coast Avengers Annual #2
Avengers Annual #16
Silver Surfer #3
West Coast Avengers Vol. 2, #25
West Coast Avengers Vol. 2, #26
West Coast Avengers Vol. 2, #27
West Coast Avengers Vol. 2, #28
West Coast Avengers Vol. 2, #29
West Coast Avengers Vol. 2, #30
West Coast Avengers Vol. 2, #31
West Coast Avengers Vol. 2, #32
West Coast Avengers Vol. 2, #33
West Coast Avengers Vol. 2, #34
West Coast Avengers Vol. 2, #35
West Coast Avengers Vol. 2, #36
West Coast Avengers Annual #3
West Coast Avengers Vol. 2, #37
West Coast Avengers Vol. 2, #38
West Coast Avengers Vol. 2, #39
West Coast Avengers Vol. 2, #40
West Coast Avengers Vol. 2, #41
West Coast Avengers Vol. 2, #42
West Coast Avengers Vol. 2, #43
West Coast Avengers Vol. 2, #44
West Coast Avengers Vol. 2, #45
West Coast Avengers Vol. 2, #46
West Coast Avengers Vol. 2, #47
West Coast Avengers Vol. 2, #48
West Coast Avengers Vol. 2, #49
West Coast Avengers Vol. 2, #50
West Coast Avengers Annual #4
West Coast Avengers Vol. 2, #51
West Coast Avengers Vol. 2, #52
West Coast Avengers Vol. 2, #53
Avengers Vol. 1, #312 
West Coast Avengers Vol. 2, #54
Avengers Vol. 1, #313 
West Coast Avengers Vol. 2, #55
West Coast Avengers Vol. 2, #56
West Coast Avengers Vol. 2, #57
West Coast Avengers Vol. 2, #58
West Coast Avengers Vol. 2, #59
West Coast Avengers Vol. 2, #60
West Coast Avengers Vol. 2, #61
West Coast Avengers Vol. 2, #62
West Coast Avengers Annual #5
West Coast Avengers Vol. 2, #63
West Coast Avengers Vol. 2, #64
West Coast Avengers Vol. 2, #65
Avengers Spotlight #38 
West Coast Avengers Vol. 2, #66
West Coast Avengers Vol. 2, #67
West Coast Avengers Vol. 2, #68
West Coast Avengers Vol. 2, #69
West Coast Avengers Vol. 2, #70
West Coast Avengers Vol. 2, #71