West Coast Wednesdays: West Coast Avengers Vol. 2, #73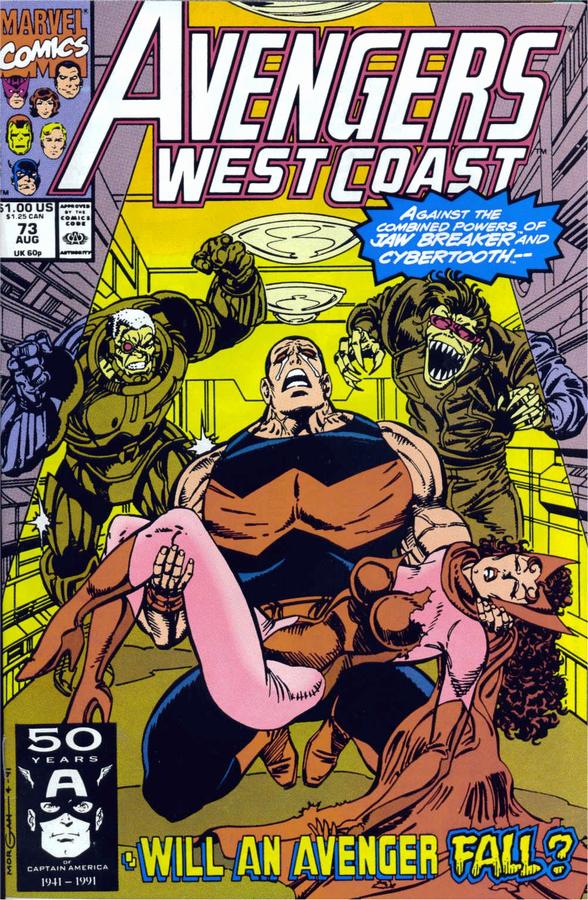 West Coast Avengers, Vol. 2, Issue 73 (August 1991)
WEST COAST CREDITS!
Writer: Roy and Dann Thomas
Penciler: David Ross and George Freeman
Inker:  Tim Dzon
WEST COAST SUMMARY!
Wonder Man, Scarlet Witch and Hank Pym arrive in Australia, but that's not a welcoming party waiting for them. Tigra crashes the quinjet. And Dr. Demonicus' plan finally becomes a reality.
WEST COAST THOUGHTS!
Tigra just barely managed to escape the fight with Dr. Demonicus' minions (West Coast Avengers Vol. 2, #72) and now she's flying the quinjet to safety while trying to remain conscious from the blood loss. After a few mishaps, she finally gets the quinjet on the ground in the middle of the jungle. Once out of the quinjet, she falls into water and is just about to drown when she's rescued by a strange arm.
Dr. Demonicus' plan is moving forward and even his workers are getting excited. The Living Lightning is the only one who's been kept in the dark over what is going on. Dr. Demonicus has given him a suit which allows him to retain his human form, but – as he discovers from Kuroko – the suit is also booby-trapped to transform him into a mass of formless electrons if he even thinks about causing any problems.
Scarlet Witch, Hank Pym and Wonder Man land in Australia. In direct contradiction to their last appearance in the previous issue, they're immediately surrounded by an Australian security force. Since the security force is clearly outmatched, their ultimate weapon is to overwhelm the team with flagrant Australian stereotypes. Wonder Man sees their stereotypes and raises one of their cars and throws it at them while Wanda uses her hex powers to dismantle their weapons. Pym shrinks Simon and Wanda down for them to escape and they immediately run to the factory they were sent to investigate.
Once inside, Wanda and Simon are confronted by Cybertooth and Jawbreaker. Wonder Man manages to make fairly short work of them, but he's paralyzed when they take Wanda hostage and threaten to kill her. Eventually, they are – along with Pym – captured.
At Dr. Demonicus' secret underwater lair, the whole team (Iron Man and Wasp included) are put into individual glass tubes, which is a favorite among supervillains. In fact, Ultron used it a few issues back too, and you'd figure that Pym would've created an anti-glass tube device to carry around with him by now. Dr. Demonicus thinks this is a good time to let everyone know that he recently got a unique form of cancer, and while it's currently in remission, it completely disfigured his face. He removes the mask to reveal a grotesque countenance that conveniently resembles the mask he wears.
And now we get to Dr. Demonicus' big plan. He's using magma to create an island-continent called Demonica. As the magma rises to the surface, the secret lair is thrust upward, causing the whole place to shake. Wanda is temporarily freed from her glass tube, but before she can use her powers to rescue the team, Kuroko knocks her out. Because a conscious Scarlet Witch would be too disorientating to regular readers.
The issue ends with the formation of Demonica, and Dr. Demonicus proclaiming that it will soon be the most powerful nation-state in the entire Pacific rim.
WEST BOAST OR ROAST?
Boast. This one works better than the last issue. The Tigra scenes at the beginning are actually well thought out (see below), and I'm surprised so many pages were given to that subplot (especially when there's no real payoff for it next issue).
WEST COAST SCENE (OF THE WEEK)!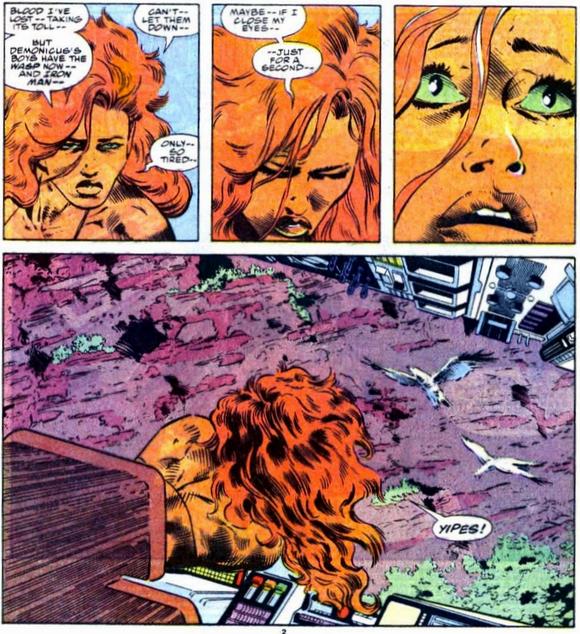 Previously on West Coast Wednesdays…
West Coast Avengers Vol. 1, #1
West Coast Avengers Vol. 1, #2
West Coast Avengers Vol. 1, #3
West Coast Avengers Vol. 1, #4
Avengers Vol. 1, #250
Iron Man Annual #7
West Coast Avenger Vol. 2, #1
The Vision and Scarlet Witch #1
West Coast Avengers Vol. 2, #2
The Vision and Scarlet Witch #2
West Coast Avengers Vol. 2, #3
West Coast Avengers Vol. 2, #4
West Coast Avengers Vol. 2, #5
West Coast Avengers Vol. 2, #6
West Coast Avengers Vol. 2, #7
West Coast Avengers Vol. 2, #8
West Coast Avengers Vol. 2, #9
West Coast Avengers Vol. 2, #10
West Coast Avengers Vol. 2, #11
West Coast Avengers Vol. 2, #12
West Coast Avengers Vol. 2, #13
Avengers Annual #15
West Coast Avengers Annual #1
West Coast Avengers Vol. 2, #14
West Coast Avengers Vol. 2, #15
West Coast Avengers Vol. 2, #16
West Coast Avengers Vol. 2, #17
West Coast Avengers Vol. 2, #18
West Coast Avengers Vol. 2, #19
West Coast Avengers Vol. 2, #20
West Coast Avengers Vol. 2, #21
West Coast Avengers Vol. 2, #22
West Coast Avengers Vol. 2, #23
West Coast Avengers Vol. 2, #24
West Coast Avengers Annual #2
Avengers Annual #16
Silver Surfer #3
West Coast Avengers Vol. 2, #25
West Coast Avengers Vol. 2, #26
West Coast Avengers Vol. 2, #27
West Coast Avengers Vol. 2, #28
West Coast Avengers Vol. 2, #29
West Coast Avengers Vol. 2, #30
West Coast Avengers Vol. 2, #31
West Coast Avengers Vol. 2, #32
West Coast Avengers Vol. 2, #33
West Coast Avengers Vol. 2, #34
West Coast Avengers Vol. 2, #35
West Coast Avengers Vol. 2, #36
West Coast Avengers Annual #3
West Coast Avengers Vol. 2, #37
West Coast Avengers Vol. 2, #38
West Coast Avengers Vol. 2, #39
West Coast Avengers Vol. 2, #40
West Coast Avengers Vol. 2, #41
West Coast Avengers Vol. 2, #42
West Coast Avengers Vol. 2, #43
West Coast Avengers Vol. 2, #44
West Coast Avengers Vol. 2, #45
West Coast Avengers Vol. 2, #46
West Coast Avengers Vol. 2, #47
West Coast Avengers Vol. 2, #48
West Coast Avengers Vol. 2, #49
West Coast Avengers Vol. 2, #50
West Coast Avengers Annual #4
West Coast Avengers Vol. 2, #51
West Coast Avengers Vol. 2, #52
West Coast Avengers Vol. 2, #53
Avengers Vol. 1, #312 
West Coast Avengers Vol. 2, #54
Avengers Vol. 1, #313 
West Coast Avengers Vol. 2, #55
West Coast Avengers Vol. 2, #56
West Coast Avengers Vol. 2, #57
West Coast Avengers Vol. 2, #58
West Coast Avengers Vol. 2, #59
West Coast Avengers Vol. 2, #60
West Coast Avengers Vol. 2, #61
West Coast Avengers Vol. 2, #62
West Coast Avengers Annual #5
West Coast Avengers Vol. 2, #63
West Coast Avengers Vol. 2, #64
West Coast Avengers Vol. 2, #65
Avengers Spotlight #38 
West Coast Avengers Vol. 2, #66
West Coast Avengers Vol. 2, #67
West Coast Avengers Vol. 2, #68
West Coast Avengers Vol. 2, #69
West Coast Avengers Vol. 2, #70
West Coast Avengers Vol. 2, #71
West Coast Avengers Vol. 2, #72