West Coast Wednesdays: West Coast Avengers Vol. 2, #74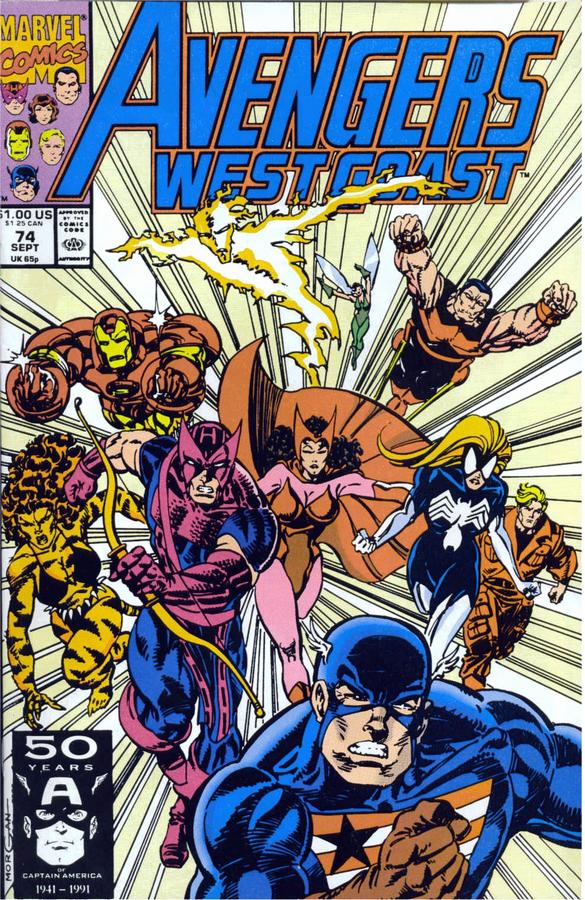 West Coast Avengers, Vol. 2, Issue 74 (September 1991)
WEST COAST CREDITS!
Writer: Roy and Dann Thomas
Penciler: David Ross
Inker:  Tim Dzon
WEST COAST SUMMARY!
Demonica has surfaced! Now it's up to Hawkeye, Spider-Woman and U.S. Agent to save the day. But is the team prepared for The Change?
WEST COAST THOUGHTS!
Starting right where we left off last issue (West Coast Avengers Vol. 2, #73), Dr. Demonicus orders the execution of Scarlet Witch and Pele. Immediately his crew starts bickering about who gets to kill them as the team is forced to watch helplessly. The Living Lightning steps in and stops them from hurting the women, claiming that while he agreed to join the Pacific Overlords, he didn't agree to murder helpless women.
Just then, Hawkeye, Spider-Woman, U.S. Agent and Sunfire come diving out of the quinjet to save the day. However, things turn pretty bleak with the Pacific Overlords taking them down one at a time. Dr. Demonicus tries to take Scarlet Witch hostage, but once again the Living Lightning steps in, telling him that he's not putting innocent women in danger. Dr. Demonicus takes out the device and threatens to deactivate the Living Lightning's suit, but because he's too busy explaining rather than actually doing, the Living Lightning simply destroys the deactivator with his powers at the blink of an eye.
With that distraction, a now conscious Scarlet Witch is able to focus and use her hex powers to free the rest of the team from the glass tubes. With the team at full strength, they're able to take down the Pacific Overlords. Dr. Demonicus tells his right-hand man Kain to defeat the enemies, but he says it's hopeless. "We must," he says, " attempt the Change!"
And with that, he begins growing into a giant synthetic creature with studs growing out of his that – as the team learns when they attack him – allow him to control anything mechanical in his vicinity.
Changed Kain silently takes down the big players on the team. Wasp flies up and enters his ear and stings him from within. This stuns Changed Kain and falls to the ground unconscious (usually this role is played by Scarlet Witch, so this is a refreshing change!).
Finally, they have Dr. Demonicus, but he has one trick left up his sleeve. He reveals a conveniently placed giant TV screen which shows a non-disfigured version of him at the U.N. getting Demonica to be accepted as one of its members. It's amazing how I can accept mutants, monsters, Gods and everything else fantastical in the Marvel universe, but I'm forced to call bullshit at a crazy efficient U.N. that accepts a new nation within minutes after it surfaces above water.
The Dr. Demonicus at the U.N. is a genetically altered lackey that's meant to look like the real deal. Also in attendance is Kenjiro Sasaki, the mutated toddler that was locked away at the compound. His parents, who are on Demonica, are relieved to see their son back to normal (Dr. Demonicus insists that it was all meant to be temporary), while no one on the team questions how Kenjiro escaped the compound.
Because Demonica is now a sovereign nation, the team realizes that they have no jurisdiction there, and they are forced to leave.
Tigra radios the team on the quinjet and lets everyone know that she was rescued by Australian Aboriginies…and that she'd like to stay and hang out with them for a while. She then nominates Spider-Woman to take her place on the team, which everyone agrees with. U.S. Agent is added to the team ("I'm a regular or I'm nothing!" he demands) to take Pym's place. And Wasp suggests that the Living Lightning take her place.
And we now have a brand new West Coast Avengers: Hawkeye, Wonder Man, Scarlet Witch, Spider-Woman, Iron Man, U.S. Agent and the Living Lightning. This is probably the most dramatic change on the team since the book started.
WEST BOAST OR ROAST?
Boast. This one is so ridiculously stupid, you really can't help but love it.
WEST COAST SCENE (OF THE WEEK)!
Oops, they accidentally made Iron Man lame and Wonder Man cool on this page.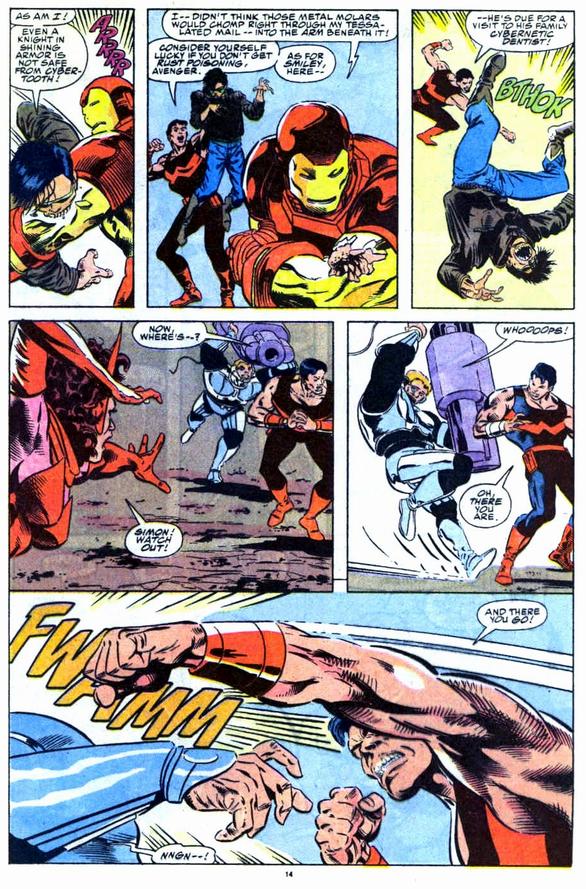 Previously on West Coast Wednesdays…
West Coast Avengers Vol. 1, #1
West Coast Avengers Vol. 1, #2
West Coast Avengers Vol. 1, #3
West Coast Avengers Vol. 1, #4
Avengers Vol. 1, #250
Iron Man Annual #7
West Coast Avenger Vol. 2, #1
The Vision and Scarlet Witch #1
West Coast Avengers Vol. 2, #2
The Vision and Scarlet Witch #2
West Coast Avengers Vol. 2, #3
West Coast Avengers Vol. 2, #4
West Coast Avengers Vol. 2, #5
West Coast Avengers Vol. 2, #6
West Coast Avengers Vol. 2, #7
West Coast Avengers Vol. 2, #8
West Coast Avengers Vol. 2, #9
West Coast Avengers Vol. 2, #10
West Coast Avengers Vol. 2, #11
West Coast Avengers Vol. 2, #12
West Coast Avengers Vol. 2, #13
Avengers Annual #15
West Coast Avengers Annual #1
West Coast Avengers Vol. 2, #14
West Coast Avengers Vol. 2, #15
West Coast Avengers Vol. 2, #16
West Coast Avengers Vol. 2, #17
West Coast Avengers Vol. 2, #18
West Coast Avengers Vol. 2, #19
West Coast Avengers Vol. 2, #20
West Coast Avengers Vol. 2, #21
West Coast Avengers Vol. 2, #22
West Coast Avengers Vol. 2, #23
West Coast Avengers Vol. 2, #24
West Coast Avengers Annual #2
Avengers Annual #16
Silver Surfer #3
West Coast Avengers Vol. 2, #25
West Coast Avengers Vol. 2, #26
West Coast Avengers Vol. 2, #27
West Coast Avengers Vol. 2, #28
West Coast Avengers Vol. 2, #29
West Coast Avengers Vol. 2, #30
West Coast Avengers Vol. 2, #31
West Coast Avengers Vol. 2, #32
West Coast Avengers Vol. 2, #33
West Coast Avengers Vol. 2, #34
West Coast Avengers Vol. 2, #35
West Coast Avengers Vol. 2, #36
West Coast Avengers Annual #3
West Coast Avengers Vol. 2, #37
West Coast Avengers Vol. 2, #38
West Coast Avengers Vol. 2, #39
West Coast Avengers Vol. 2, #40
West Coast Avengers Vol. 2, #41
West Coast Avengers Vol. 2, #42
West Coast Avengers Vol. 2, #43
West Coast Avengers Vol. 2, #44
West Coast Avengers Vol. 2, #45
West Coast Avengers Vol. 2, #46
West Coast Avengers Vol. 2, #47
West Coast Avengers Vol. 2, #48
West Coast Avengers Vol. 2, #49
West Coast Avengers Vol. 2, #50
West Coast Avengers Annual #4
West Coast Avengers Vol. 2, #51
West Coast Avengers Vol. 2, #52
West Coast Avengers Vol. 2, #53
Avengers Vol. 1, #312 
West Coast Avengers Vol. 2, #54
Avengers Vol. 1, #313 
West Coast Avengers Vol. 2, #55
West Coast Avengers Vol. 2, #56
West Coast Avengers Vol. 2, #57
West Coast Avengers Vol. 2, #58
West Coast Avengers Vol. 2, #59
West Coast Avengers Vol. 2, #60
West Coast Avengers Vol. 2, #61
West Coast Avengers Vol. 2, #62
West Coast Avengers Annual #5
West Coast Avengers Vol. 2, #63
West Coast Avengers Vol. 2, #64
West Coast Avengers Vol. 2, #65
Avengers Spotlight #38 
West Coast Avengers Vol. 2, #66
West Coast Avengers Vol. 2, #67
West Coast Avengers Vol. 2, #68
West Coast Avengers Vol. 2, #69
West Coast Avengers Vol. 2, #70
West Coast Avengers Vol. 2, #71
West Coast Avengers Vol. 2, #72
West Coast Avengers Vol. 2, #73