West Coast Wednesdays: West Coast Avengers Vol. 2, #75
West Coast Avengers, Vol. 2, Issue 75 (October 1991)
WEST COAST CREDITS!
Writer: Roy and Dann Thomas
Penciler: Herb Trimpe
Inker:  Herb Trimpe and Charles Barnett
WEST COAST SUMMARY!
A night out with the Fantastic Four at the Sword and Sorcery World theme park turns stupiddeadly.
WEST COAST THOUGHTS!
The Sword and Sorcery World theme park is a week away from opening and the West Coast Avengers – along with the Fantastic Four (by the way, this is Thing's first appearance in the book since he ran away after joining the group for one issue back in West Coast Avengers #10). The Fantastic Four bring along Franklin, and Spider-Woman brings her daughter Rachel.
In fact, Rachel doesn't know that Spider-Woman is her mother. She was dropped off at the compound for the team to babysit, because that's what the team does when there are no bad guys to fight. A few minutes after being dropped off, Spider-Woman made an appearance and vowed to help watch Rachel while they were at Sword and Sorcery World.
The kids want to ride the Arkon vs. The Dragon rollercoaster by themselves. The ride goes out of control and it starts to go faster and faster. The heroes are unable to stop the ride because compared to Galactus, stopping a rollercoaster is clearly a problem for the Fantastic Four. By the time the ride finally stops, the heroes discover to their horror that the children have disappeared. Susan says, "It's as if they were transported to another world!"
Clearly.
The heroes realize that the only way to find the children is to follow their path. The heroes – except U.S. Agent – jump on the rollercoaster. The Living Lightning uses his powers to get the ride to go as fast as it did before when the children disappeared. And eventually, they all vanish, leaving U.S. Agent wondering what happened to his colleagues.
Half of the heroes end up in the space/time continuum of the Sisterhood, a dimension totally ruled by women. They discover that it was Thundra who brought them there – and the children before them. However, while Franklin made it, Thundra admits that Rachel was transported to another dimension, the depraved world of Arkon the Magnificent. What was Thundra's goal? Well, she just wanted Thing to come so she could ask him to be her husband and emperor-consort. Ben refuses, as he had done before.
The other half of the team arrives in Arkon's dimension with their collective will power wiped clean (because, well, why not?). Rachel is scared and wants to go home, and she is kept under the care of Mr. Shigaru while Arkon spends a lot of time explaining nonsense. Basically, Arkon is using the brainwashed heroes as part of his full-scale assault on the Sisterhood.
The 75th issue of the West Coast Avengers has the team becoming pawns in a war between a dimension controlled by men with a dimension controlled by women. This is how you celebrate anniversaries, folks.
And so we have an army of women fighting an army of men, with the heroes fighting one another. All of the usual nonsense comes next. Fights. Hero against hero. A child telling his brainwashed mother to snap out of it just in time to save the day.
Eventually it's Arkon fighting Thundra one on one. The fight between them is particularly brutal until they both realize that they don't hate each other, but actually love each other. Their punches finally give way to some heavy P.D.A. while the heroes watch. Arkon makes Thundra his empress.
The team is transported back to Sword and Sorcery World where Spider-Woman makes the decision to tell Rachel that she's her mother. And for a story loaded with a lot of awful nonsense,  Roy and Dann Thomas finally decide to make a smart choice and have Rachel admit that she knew all along because she's not blind and/or stupid.
WEST BOAST OR ROAST?
Roast. Awful. Awful. Awful. The writing is painful. Herb Trimpe's art is not easy on the eyes. And I'm pretty sure there's a gender studies paper just waiting to be written about this issue and it won't be pretty. So Thundra just needed to be dominated by another man all along…?
WEST COAST SCENE (OF THE WEEK)!
Reed Richards is so smart he knows when two people are about to get it on!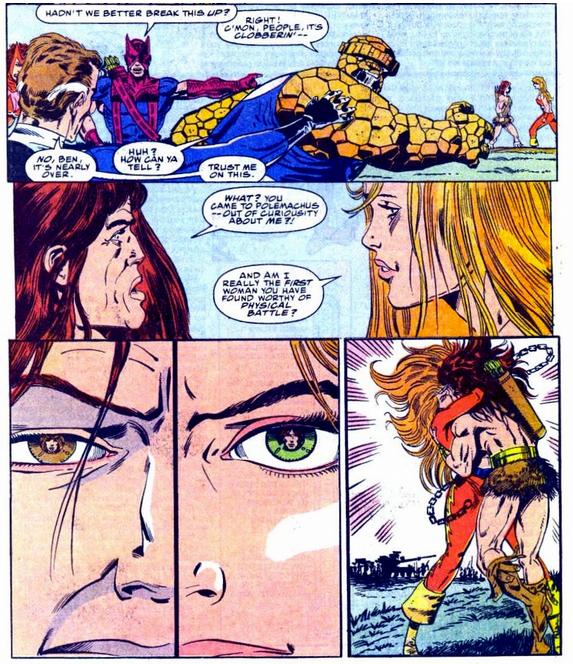 Previously on West Coast Wednesdays…
West Coast Avengers Vol. 1, #1
West Coast Avengers Vol. 1, #2
West Coast Avengers Vol. 1, #3
West Coast Avengers Vol. 1, #4
Avengers Vol. 1, #250
Iron Man Annual #7
West Coast Avenger Vol. 2, #1
The Vision and Scarlet Witch #1
West Coast Avengers Vol. 2, #2
The Vision and Scarlet Witch #2
West Coast Avengers Vol. 2, #3
West Coast Avengers Vol. 2, #4
West Coast Avengers Vol. 2, #5
West Coast Avengers Vol. 2, #6
West Coast Avengers Vol. 2, #7
West Coast Avengers Vol. 2, #8
West Coast Avengers Vol. 2, #9
West Coast Avengers Vol. 2, #10
West Coast Avengers Vol. 2, #11
West Coast Avengers Vol. 2, #12
West Coast Avengers Vol. 2, #13
Avengers Annual #15
West Coast Avengers Annual #1
West Coast Avengers Vol. 2, #14
West Coast Avengers Vol. 2, #15
West Coast Avengers Vol. 2, #16
West Coast Avengers Vol. 2, #17
West Coast Avengers Vol. 2, #18
West Coast Avengers Vol. 2, #19
West Coast Avengers Vol. 2, #20
West Coast Avengers Vol. 2, #21
West Coast Avengers Vol. 2, #22
West Coast Avengers Vol. 2, #23
West Coast Avengers Vol. 2, #24
West Coast Avengers Annual #2
Avengers Annual #16
Silver Surfer #3
West Coast Avengers Vol. 2, #25
West Coast Avengers Vol. 2, #26
West Coast Avengers Vol. 2, #27
West Coast Avengers Vol. 2, #28
West Coast Avengers Vol. 2, #29
West Coast Avengers Vol. 2, #30
West Coast Avengers Vol. 2, #31
West Coast Avengers Vol. 2, #32
West Coast Avengers Vol. 2, #33
West Coast Avengers Vol. 2, #34
West Coast Avengers Vol. 2, #35
West Coast Avengers Vol. 2, #36
West Coast Avengers Annual #3
West Coast Avengers Vol. 2, #37
West Coast Avengers Vol. 2, #38
West Coast Avengers Vol. 2, #39
West Coast Avengers Vol. 2, #40
West Coast Avengers Vol. 2, #41
West Coast Avengers Vol. 2, #42
West Coast Avengers Vol. 2, #43
West Coast Avengers Vol. 2, #44
West Coast Avengers Vol. 2, #45
West Coast Avengers Vol. 2, #46
West Coast Avengers Vol. 2, #47
West Coast Avengers Vol. 2, #48
West Coast Avengers Vol. 2, #49
West Coast Avengers Vol. 2, #50
West Coast Avengers Annual #4
West Coast Avengers Vol. 2, #51
West Coast Avengers Vol. 2, #52
West Coast Avengers Vol. 2, #53
Avengers Vol. 1, #312 
West Coast Avengers Vol. 2, #54
Avengers Vol. 1, #313 
West Coast Avengers Vol. 2, #55
West Coast Avengers Vol. 2, #56
West Coast Avengers Vol. 2, #57
West Coast Avengers Vol. 2, #58
West Coast Avengers Vol. 2, #59
West Coast Avengers Vol. 2, #60
West Coast Avengers Vol. 2, #61
West Coast Avengers Vol. 2, #62
West Coast Avengers Annual #5
West Coast Avengers Vol. 2, #63
West Coast Avengers Vol. 2, #64
West Coast Avengers Vol. 2, #65
Avengers Spotlight #38 
West Coast Avengers Vol. 2, #66
West Coast Avengers Vol. 2, #67
West Coast Avengers Vol. 2, #68
West Coast Avengers Vol. 2, #69
West Coast Avengers Vol. 2, #70
West Coast Avengers Vol. 2, #71
West Coast Avengers Vol. 2, #72
West Coast Avengers Vol. 2, #73
West Coast Avengers Vol. 2, #74
West Coast Avengers Annual #6