West Coast Wednesdays: West Coast Avengers Vol. 2, #76
West Coast Avengers, Vol. 2, Issue 76 (November 1991)
WEST COAST CREDITS!
Writer: Roy and Dann Thomas
Penciler: David Ross
Inker:  Tim Dzon
WEST COAST SUMMARY!
The Night Shift return with their mysterious new leader: Hangman.
WEST COAST THOUGHTS!
Wonder Man takes Spider-Woman and the Living Lightning to the set of "The Demon that Devoured Hollywood." Since the majority of the movie has been in the can for several years after the star, Jason Roland, disappeared, the studio is now busy trying to finish the movie with its newest star, Wes Nelson.
As they're filming another scene, a noose appears and tries to hang Nelson. The Living Lightning breaks the rope before it can hurt the actor. From above, the Hangman tells everyone that the set is now closed. Wonder Man and the Living Lightning fly up to confront him when the Brothers Grimm from Night Shift (you remember them, right? From West Coast Avengers Vol. 2, #40!) appear out of nowhere and attack our heroes with acid-filled eggs and terrible rhymes. While all of this is happening, Gypsy Moth tries to kidnap Nelson, but Spider-Woman uses her webs to stop her. Not expecting the West Coast Avengers to be there, the villains all flee.
They do, however, leave a note demanding that they receive 40% of the profits if they want to finish making this movie or the main actor dies. Nelson freaks out and quits. Wonder Man talks to the director and says he can take over Nelson's part and even do his own stunts. The director hires him immediately.
Hangman calls a meeting with the Night Shift, who aren't exactly pleased to have him as their new leader. Misfit steps up to take Hangman down, but proves to be powerless against him. Once Hangman shows his dominance, he uses his rope and lifts it into the air where it disappears into a strange portal. He tells the team to grab the rope and they are lifted into the portal where they will be doing…the ceremony.
Wonder Man asks for the team to help him with security while filming "The Demon that Devoured Hollywood" but most of the team is against it. Spider-Woman suggests investigating the disappearance of Jason Roland, thinking there might be a connection to what's happening now. Hawkeye agrees to help her investigate. Mockingbird calls Hawkeye because she's on her way to California and wants to have a talk with him about their separation. Hawkeye tells her that he'll be working all night on Avengers' business, going as far as to lie to her about who he's working with. When he hangs up, U.S. Agent volunteers to join Spider-Woman and him with their investigation.
The three visit Stella, an actress who was having an affair with Roland back when he disappeared. As they're asking her questions, Hangman and the Night Shift appear. Hawkeye and Spider-Woman are taken out fairly quickly, so it's up to U.S. Agent to save the day. However, he discovers that they're a lot stronger than previously advertised, and he's eventually overcome when Misfit knocks him out.
When the heroes wake up, they're restrained on a large circle. The Night Shift is surrounding them and doing some kind of chant. A portal opens up above them and then a giant hand comes reaching down for our heroes.
Uh oh.
WEST BOAST OR ROAST?
Boast. This isn't great, but it's okay. I'm a little nervous about this being a 4 part story though.
WEST COAST SCENE (OF THE WEEK)!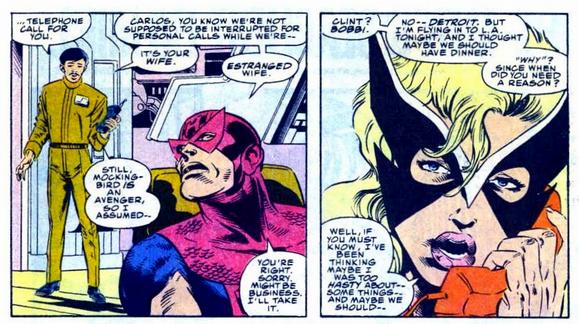 Previously on West Coast Wednesdays…
West Coast Avengers Vol. 1, #1
West Coast Avengers Vol. 1, #2
West Coast Avengers Vol. 1, #3
West Coast Avengers Vol. 1, #4
Avengers Vol. 1, #250
Iron Man Annual #7
West Coast Avenger Vol. 2, #1
The Vision and Scarlet Witch #1
West Coast Avengers Vol. 2, #2
The Vision and Scarlet Witch #2
West Coast Avengers Vol. 2, #3
West Coast Avengers Vol. 2, #4
West Coast Avengers Vol. 2, #5
West Coast Avengers Vol. 2, #6
West Coast Avengers Vol. 2, #7
West Coast Avengers Vol. 2, #8
West Coast Avengers Vol. 2, #9
West Coast Avengers Vol. 2, #10
West Coast Avengers Vol. 2, #11
West Coast Avengers Vol. 2, #12
West Coast Avengers Vol. 2, #13
Avengers Annual #15
West Coast Avengers Annual #1
West Coast Avengers Vol. 2, #14
West Coast Avengers Vol. 2, #15
West Coast Avengers Vol. 2, #16
West Coast Avengers Vol. 2, #17
West Coast Avengers Vol. 2, #18
West Coast Avengers Vol. 2, #19
West Coast Avengers Vol. 2, #20
West Coast Avengers Vol. 2, #21
West Coast Avengers Vol. 2, #22
West Coast Avengers Vol. 2, #23
West Coast Avengers Vol. 2, #24
West Coast Avengers Annual #2
Avengers Annual #16
Silver Surfer #3
West Coast Avengers Vol. 2, #25
West Coast Avengers Vol. 2, #26
West Coast Avengers Vol. 2, #27
West Coast Avengers Vol. 2, #28
West Coast Avengers Vol. 2, #29
West Coast Avengers Vol. 2, #30
West Coast Avengers Vol. 2, #31
West Coast Avengers Vol. 2, #32
West Coast Avengers Vol. 2, #33
West Coast Avengers Vol. 2, #34
West Coast Avengers Vol. 2, #35
West Coast Avengers Vol. 2, #36
West Coast Avengers Annual #3
West Coast Avengers Vol. 2, #37
West Coast Avengers Vol. 2, #38
West Coast Avengers Vol. 2, #39
West Coast Avengers Vol. 2, #40
West Coast Avengers Vol. 2, #41
West Coast Avengers Vol. 2, #42
West Coast Avengers Vol. 2, #43
West Coast Avengers Vol. 2, #44
West Coast Avengers Vol. 2, #45
West Coast Avengers Vol. 2, #46
West Coast Avengers Vol. 2, #47
West Coast Avengers Vol. 2, #48
West Coast Avengers Vol. 2, #49
West Coast Avengers Vol. 2, #50
West Coast Avengers Annual #4
West Coast Avengers Vol. 2, #51
West Coast Avengers Vol. 2, #52
West Coast Avengers Vol. 2, #53
Avengers Vol. 1, #312 
West Coast Avengers Vol. 2, #54
Avengers Vol. 1, #313 
West Coast Avengers Vol. 2, #55
West Coast Avengers Vol. 2, #56
West Coast Avengers Vol. 2, #57
West Coast Avengers Vol. 2, #58
West Coast Avengers Vol. 2, #59
West Coast Avengers Vol. 2, #60
West Coast Avengers Vol. 2, #61
West Coast Avengers Vol. 2, #62
West Coast Avengers Annual #5
West Coast Avengers Vol. 2, #63
West Coast Avengers Vol. 2, #64
West Coast Avengers Vol. 2, #65
Avengers Spotlight #38 
West Coast Avengers Vol. 2, #66
West Coast Avengers Vol. 2, #67
West Coast Avengers Vol. 2, #68
West Coast Avengers Vol. 2, #69
West Coast Avengers Vol. 2, #70
West Coast Avengers Vol. 2, #71
West Coast Avengers Vol. 2, #72
West Coast Avengers Vol. 2, #73
West Coast Avengers Vol. 2, #74
West Coast Avengers Annual #6
West Coast Avengers Vol. 2, #75