West Coast Wednesdays: West Coast Avengers Vol. 2, #77
West Coast Avengers, Vol. 2, Issue 77 (December 1991)
WEST COAST CREDITS!
Writer: Roy and Dann Thomas
Penciler: David Ross
Inker:  Tim Dzon
WEST COAST SUMMARY!
Iron Man and the Living Lightning arrive in time to save Hawkeye, Spider-Woman and U.S. Agent. And Wonder Man is kidnapped by the Night Shift and given an offer he might not be able to refuse…
WEST COAST THOUGHTS!
Iron Man and the Living Lightning arrange for Digger to escape from prison in hopes that he'll unwillingly lead them to Night Shift's Tower of Shadows. And within a matter of minutes after fleeing prison, he walks right to it. Keeping in mind, the Tower of Shadows is a giant mountain with a haunted house sitting on top of it – something Iron Man should've found by simply opening his eyes.
Once there, Iron Man and the Living Lightning stumble onto Hawkeye, Spider-Woman and U.S. Agent as they're about to be grabbed by Satannish the Supreme (now we know who the giant hand from last issue belonged to – sorry, goatse fans!). Iron Man and the Living Lightning attack Satannish the Supreme who is annoyed by all the interference. He tells Hangman that if he values the powers he has, then he better dispose of the heroes before he's summoned again. Satannish also says that Hangman's soul belongs to him, but Hangman corrects him by saying that he's only optioned it. Man, Hangman is so Hollywood! Satannish the Supreme disappears.
With Hawkeye, Spider-Woman and U.S. Agent free, Night Shift attack our heroes. But before the heroes can take down Night Shift, they disappear,  along with the whole Tower of Shadows. With Night Shift's secret lair gone from right under their feet, our heroes are in free fall. Hawkeye catches Spider-Woman, uses a suction arrow and shoots it at Iron Man, and then U.S. Agent grabs the line. Once on the ground, the team decides to visit Wonder Man at the movie set to make sure he's okay.
At the movie set, Wonder Man is doing well playing the part of the monster previously played by Jason Roland and Wes Nelson. However, he's concerned that the director wanted him more for protection than acting. Scarlet Witch, who is there to protect everyone, is asleep by the door, as she finds the process of movie making to be rather boring. Wonder Man and Scarlet Witch decide to have lunch together. Felicia Fawn, the actress working with Simon, decides to join them. However, before they start eating, everyone but Wonder Man is trapped in a suspended state.
Wonder Man suspects that Night Shift is behind this and calls them out. They appear on cue, but Wonder Man isn't prepared for the new powered-up version of the group and is taken down. Scarlet Witch comes out of her trance, but the Night Shift teleports Wonder Man away before she can use her powers to save him.
Wonder Man is confronted by Hangman, who unmasks himself to reveal that he's Jason Roland (this is perhaps one of the most unsurprising twists in comic book history). He optioned his soul to Satannish in exchange for movie stardom, and when he tried to renege on the deal, the demon outfit he wore in the movie became his real skin.  Years later, he approached Satannish again who decided to give him a second chance and reverted Roland back to his human form. Now he needs Wonder Man to help him direct and finish making "Demon".
Roll with it, people.
Scarlet Witch is back at the compound telling the team what happened to Wonder Man. Apparently, the team never went to the movie set, but instead just returned back to their base. Between U.S. Agent's sexist comments and Hawkeye's theory that these demons are more extraterrestrial than religious, Scarlet Witch is having a hard time telling her story.
Consuela the maid comes in and tells Senor Iron Man that they need to turn on the television rapido. Hangman is threatening to kill the announcer of "Show-Biz News" if anyone interferes with him filming "The Night Shift Takes Hollywood" which will star Night Shift and, of  course, Wonder Man who will also serve as technical adviser. When Hangman asks Wonder Man why he's helping them, he says that he's now a real live movie star thanks to this movie.
The issue ends with the team wondering aloud if Wonder Man is serious or if this is part of an elaborate plan to eventually betray Night Shift. Sadly, his teammates aren't convinced either way.
WEST BOAST OR ROAST?
Roast. I can't believe we're only halfway through this story.
WEST COAST SCENE (OF THE WEEK)!
That's one way to use a suction arrow…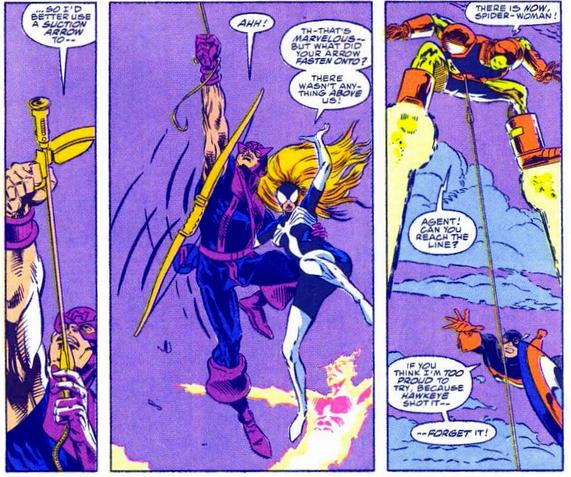 Previously on West Coast Wednesdays…
West Coast Avengers Vol. 1, #1
West Coast Avengers Vol. 1, #2
West Coast Avengers Vol. 1, #3
West Coast Avengers Vol. 1, #4
Avengers Vol. 1, #250
Iron Man Annual #7
West Coast Avenger Vol. 2, #1
The Vision and Scarlet Witch #1
West Coast Avengers Vol. 2, #2
The Vision and Scarlet Witch #2
West Coast Avengers Vol. 2, #3
West Coast Avengers Vol. 2, #4
West Coast Avengers Vol. 2, #5
West Coast Avengers Vol. 2, #6
West Coast Avengers Vol. 2, #7
West Coast Avengers Vol. 2, #8
West Coast Avengers Vol. 2, #9
West Coast Avengers Vol. 2, #10
West Coast Avengers Vol. 2, #11
West Coast Avengers Vol. 2, #12
West Coast Avengers Vol. 2, #13
Avengers Annual #15
West Coast Avengers Annual #1
West Coast Avengers Vol. 2, #14
West Coast Avengers Vol. 2, #15
West Coast Avengers Vol. 2, #16
West Coast Avengers Vol. 2, #17
West Coast Avengers Vol. 2, #18
West Coast Avengers Vol. 2, #19
West Coast Avengers Vol. 2, #20
West Coast Avengers Vol. 2, #21
West Coast Avengers Vol. 2, #22
West Coast Avengers Vol. 2, #23
West Coast Avengers Vol. 2, #24
West Coast Avengers Annual #2
Avengers Annual #16
Silver Surfer #3
West Coast Avengers Vol. 2, #25
West Coast Avengers Vol. 2, #26
West Coast Avengers Vol. 2, #27
West Coast Avengers Vol. 2, #28
West Coast Avengers Vol. 2, #29
West Coast Avengers Vol. 2, #30
West Coast Avengers Vol. 2, #31
West Coast Avengers Vol. 2, #32
West Coast Avengers Vol. 2, #33
West Coast Avengers Vol. 2, #34
West Coast Avengers Vol. 2, #35
West Coast Avengers Vol. 2, #36
West Coast Avengers Annual #3
West Coast Avengers Vol. 2, #37
West Coast Avengers Vol. 2, #38
West Coast Avengers Vol. 2, #39
West Coast Avengers Vol. 2, #40
West Coast Avengers Vol. 2, #41
West Coast Avengers Vol. 2, #42
West Coast Avengers Vol. 2, #43
West Coast Avengers Vol. 2, #44
West Coast Avengers Vol. 2, #45
West Coast Avengers Vol. 2, #46
West Coast Avengers Vol. 2, #47
West Coast Avengers Vol. 2, #48
West Coast Avengers Vol. 2, #49
West Coast Avengers Vol. 2, #50
West Coast Avengers Annual #4
West Coast Avengers Vol. 2, #51
West Coast Avengers Vol. 2, #52
West Coast Avengers Vol. 2, #53
Avengers Vol. 1, #312 
West Coast Avengers Vol. 2, #54
Avengers Vol. 1, #313 
West Coast Avengers Vol. 2, #55
West Coast Avengers Vol. 2, #56
West Coast Avengers Vol. 2, #57
West Coast Avengers Vol. 2, #58
West Coast Avengers Vol. 2, #59
West Coast Avengers Vol. 2, #60
West Coast Avengers Vol. 2, #61
West Coast Avengers Vol. 2, #62
West Coast Avengers Annual #5
West Coast Avengers Vol. 2, #63
West Coast Avengers Vol. 2, #64
West Coast Avengers Vol. 2, #65
Avengers Spotlight #38 
West Coast Avengers Vol. 2, #66
West Coast Avengers Vol. 2, #67
West Coast Avengers Vol. 2, #68
West Coast Avengers Vol. 2, #69
West Coast Avengers Vol. 2, #70
West Coast Avengers Vol. 2, #71
West Coast Avengers Vol. 2, #72
West Coast Avengers Vol. 2, #73
West Coast Avengers Vol. 2, #74
West Coast Avengers Annual #6
West Coast Avengers Vol. 2, #75
West Coast Avengers Vol. 2, #76