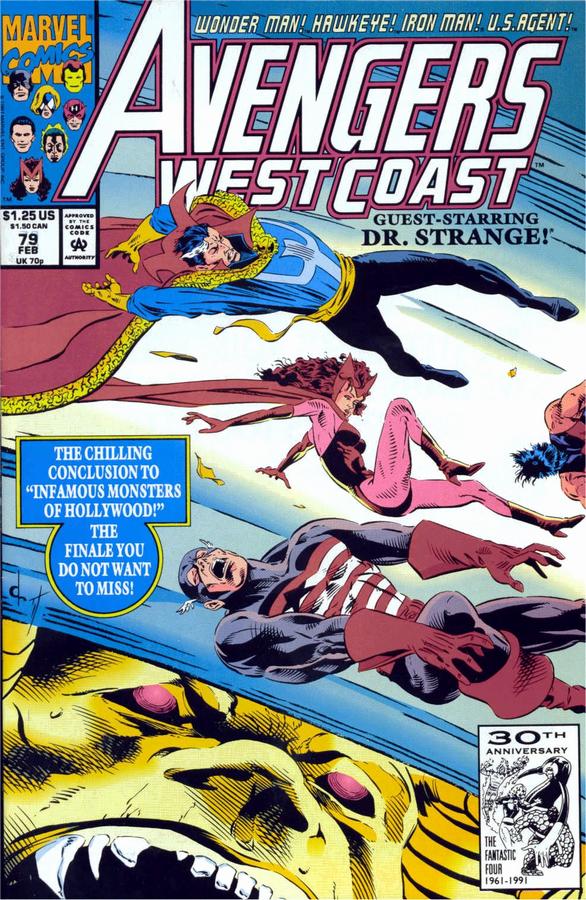 West Coast Avengers, Vol. 2, Issue 79 (February 1992)
WEST COAST CREDITS!
Writer: Roy and Dann Thomas
Penciler: David Ross
Inker:  Tim Dzon
WEST COAST SUMMARY!
Dr. Strange joins forces with the West Coast Avengers to not only put an end to Hangman and the Night Shift, but stop Satannish from absorbing millions of souls.
WEST COAST THOUGHTS!
Well, the final part of "Infamous Monsters of Hollywood" goes big, I can say that much.
The Night Shift materializes – along with their Tower of Shadows – at Griffith Park in anticipation to their dramatic showdown with the West Coast Avengers. However, before the heroes show up, the kidnapped movie crew finally fight back with rocks, fire extinguishers and hair spray. Surprisingly, these items appear to be formidable weapons against the villains. In fact, I'd say they're more effective than anything Iron Man has cooked up in this story. Sadly, the revolt is short lived, largely because the TV news crew who've arrived to cover the showdown between the Night Shift and the West Coast Avengers insist on being neutral and won't help them out (this is back in the days of journalistic objectivity). Just as the Night Shift is about to kill one of them, the West Coast Avengers arrive!
The Night Shift free U.S. Agent and Wonder Man to be fair and the real fight begins while the whole world – including President Bush – watches it all unfold live. Why this particular fight grips the world is beyond me, as I'm sure any other hero in the Marvel universe is wrapped up in a better fight at the exact same time. I mean, if it came down to watching the West Coast Avengers fight the Night Shift on NBC or the Fantastic Four tackle Galactus on FOX, I don't think there's any contest.
You have to wonder though, considering all of the epic things that happen in the Marvel universe, are people constantly glued to their TVs? Or is it such a normal thing that people are bored half the time?
"The Watcher just showed up, honey, so this might be serious."
"He showed up? Again? Sigh."
The team rediscover that the Night Shift are far more powerful than they were before, as well as ruthless. The heroes are way over their heads here, even more so than normal. By the time Satannish the Supreme appears through a dimensional doorway, even Spider-Woman states the obvious, "Does this mean we're going to be fighting out of our weight-class again?"
Yes it does, Spider-Woman.
When Scarlet Witch, who survived a fall to her death courtesy of the Brothers Grimm, realizes who the true threat is, she decides to use her dormant magical powers to conjure Dr. Strange. He appears just in the nick of time too, as Satannish hasn't fully materialized yet.
The Hangman's old flame Stella arrives. She unmasks him and realizes that he hasn't aged a day since she last saw him. She wonders aloud what he had to trade for that – his soul? He hits her hard enough to throw her across the way, killing her instantly. Not really, it just looks that way.
Dr. Strange confronts Satannish, threatening to use his own powers against him. Using Scarlet Witch to help with the probabilities, he brings forth the half-souls of the members of the Night Shift, who realize what they had given up in exchange for their new powers. They turn against Hangman and join forces with the heroes to help bring down Satannish, who was planning to not only absorb their souls, but all of the souls of the people watching this live on TV.
Iron Man and the Living Lightning manage to foul up the TV transmission, cutting off Satannish from the viewers at home. Weakened and defeated, Satannish leaves, but not before taking Hangman's soul, leaving behind a shell of a man; kind of like how Fabio felt whenever he filmed a I Can't Believe It's Not Butter commercial.
Or how the reader feels when they finish this issue.
WEST BOAST OR ROAST?
Roast. The last part goes epic, but it's not enough to save this story. Especially when this could've been done in two issues at the most.
WEST COAST SCENE (OF THE WEEK)!
Even President Bush can't save this book…

Previously on West Coast Wednesdays…
West Coast Avengers Vol. 1, #1
West Coast Avengers Vol. 1, #2
West Coast Avengers Vol. 1, #3
West Coast Avengers Vol. 1, #4
Avengers Vol. 1, #250
Iron Man Annual #7
West Coast Avenger Vol. 2, #1
The Vision and Scarlet Witch #1
West Coast Avengers Vol. 2, #2
The Vision and Scarlet Witch #2
West Coast Avengers Vol. 2, #3
West Coast Avengers Vol. 2, #4
West Coast Avengers Vol. 2, #5
West Coast Avengers Vol. 2, #6
West Coast Avengers Vol. 2, #7
West Coast Avengers Vol. 2, #8
West Coast Avengers Vol. 2, #9
West Coast Avengers Vol. 2, #10
West Coast Avengers Vol. 2, #11
West Coast Avengers Vol. 2, #12
West Coast Avengers Vol. 2, #13
Avengers Annual #15
West Coast Avengers Annual #1
West Coast Avengers Vol. 2, #14
West Coast Avengers Vol. 2, #15
West Coast Avengers Vol. 2, #16
West Coast Avengers Vol. 2, #17
West Coast Avengers Vol. 2, #18
West Coast Avengers Vol. 2, #19
West Coast Avengers Vol. 2, #20
West Coast Avengers Vol. 2, #21
West Coast Avengers Vol. 2, #22
West Coast Avengers Vol. 2, #23
West Coast Avengers Vol. 2, #24
West Coast Avengers Annual #2
Avengers Annual #16
Silver Surfer #3
West Coast Avengers Vol. 2, #25
West Coast Avengers Vol. 2, #26
West Coast Avengers Vol. 2, #27
West Coast Avengers Vol. 2, #28
West Coast Avengers Vol. 2, #29
West Coast Avengers Vol. 2, #30
West Coast Avengers Vol. 2, #31
West Coast Avengers Vol. 2, #32
West Coast Avengers Vol. 2, #33
West Coast Avengers Vol. 2, #34
West Coast Avengers Vol. 2, #35
West Coast Avengers Vol. 2, #36
West Coast Avengers Annual #3
West Coast Avengers Vol. 2, #37
West Coast Avengers Vol. 2, #38
West Coast Avengers Vol. 2, #39
West Coast Avengers Vol. 2, #40
West Coast Avengers Vol. 2, #41
West Coast Avengers Vol. 2, #42
West Coast Avengers Vol. 2, #43
West Coast Avengers Vol. 2, #44
West Coast Avengers Vol. 2, #45
West Coast Avengers Vol. 2, #46
West Coast Avengers Vol. 2, #47
West Coast Avengers Vol. 2, #48
West Coast Avengers Vol. 2, #49
West Coast Avengers Vol. 2, #50
West Coast Avengers Annual #4
West Coast Avengers Vol. 2, #51
West Coast Avengers Vol. 2, #52
West Coast Avengers Vol. 2, #53
Avengers Vol. 1, #312 
West Coast Avengers Vol. 2, #54
Avengers Vol. 1, #313 
West Coast Avengers Vol. 2, #55
West Coast Avengers Vol. 2, #56
West Coast Avengers Vol. 2, #57
West Coast Avengers Vol. 2, #58
West Coast Avengers Vol. 2, #59
West Coast Avengers Vol. 2, #60
West Coast Avengers Vol. 2, #61
West Coast Avengers Vol. 2, #62
West Coast Avengers Annual #5
West Coast Avengers Vol. 2, #63
West Coast Avengers Vol. 2, #64
West Coast Avengers Vol. 2, #65
Avengers Spotlight #38 
West Coast Avengers Vol. 2, #66
West Coast Avengers Vol. 2, #67
West Coast Avengers Vol. 2, #68
West Coast Avengers Vol. 2, #69
West Coast Avengers Vol. 2, #70
West Coast Avengers Vol. 2, #71
West Coast Avengers Vol. 2, #72
West Coast Avengers Vol. 2, #73
West Coast Avengers Vol. 2, #74
West Coastnnual #6
West Coast Avengers Vol. 2, #75
West Coast Avengers Vol. 2, #76
West Coast Avengers Vol. 2, #77
West Coast Avengers Vol. 2, #78