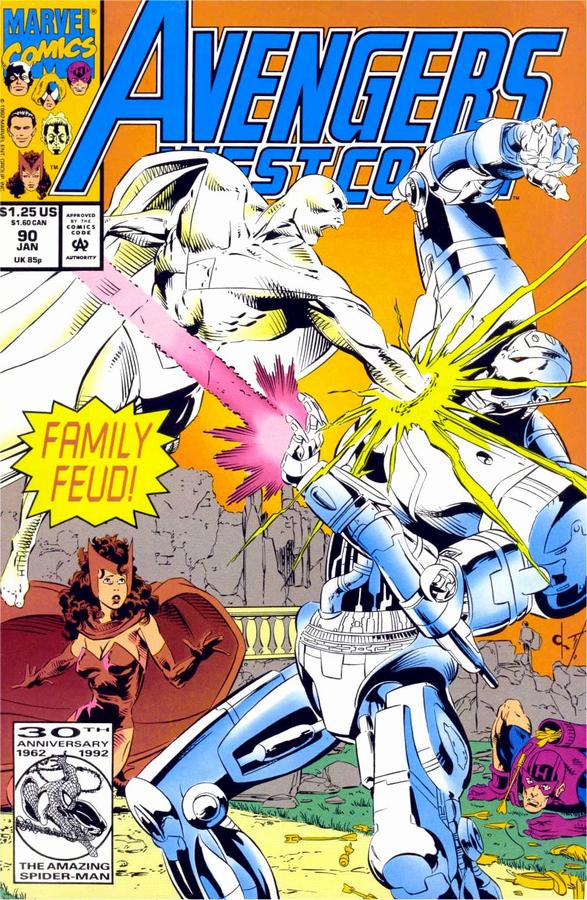 West Coast Avengers, Vol. 2, Issue 90 (January 1993)
WEST COAST CREDITS!
Writer: Roy and Dann Thomas
Penciler: David Ross
Inker:  Tim Dzon
WEST COAST SUMMARY!
Ultron's attack on the compound is cut short thanks to the intervention of the Vision. However, the team can't possibly imagine the horror that awaits them when Ultron's ultimate plan is revealed…
WEST COAST THOUGHTS!
I'm not too sure what's happening to this book because it appears to be getting good. In fact, the promise of those few amazing pages in West Coast Avengers #88 is starting to reveal itself here. Maybe it's because the team is once again fighting an Avengers East level foe, as poorly defined in West Coast Avengers Annual #7, or maybe the Thomas's finally realized the book's true potential.
We begin where we left off with the Vision stepping between Hawkeye and Scarlet Witch to confront Ultron. Naturally, Ultron wants the Vision to become his ally, as the latter was created by the former. The Vision wants nothing to do with him. The Vision manages to hold his own quite well against the villainous robot, but eventually Ultron gets the upper hand and drops a wall on both the Vision and Scarlet Witch. After dealing with these obstacles, Ultron finally gets what he came for: the parts of Ultron's previous incarnations, which were conveniently kept at the compound thanks to Hank Pym.
Stupid Pym!
Mockingbird, U.S. Agent, Spider-Woman and Wonder Man return just as Ultron is leaving. U.S. Agent, Spider-Woman and Wonder Man jump out of the quinjet to attack, but Ultron simply dodges them and heads straight for the quinjet. Mockingbird, who was piloting the quinjet, is taken hostage by Ultron.
The Vision tries to locate Ultron, but it's going to take some time. A panicked Hawkeye doesn't have the patience to deal with an emotionless Vision, and in a rare moment of compassion, he confesses to Scarlet Witch that he loves Mockingbird, always had.
In a lab in Death Valley, Pym is doing research in biochemistry when Ultron comes crashing in with his previous spare parts and his hostages (both Mockingbird and Dr. Myron Maclain, from last issue). The robot demands that Pym make him an adamantium mate.
Sigh, don't we all want an adamantium mate?
When the team realizes where Ultron is, they decide to be heroes for once. And this is where it gets interesting. Instead of just telling you, I'll just show you: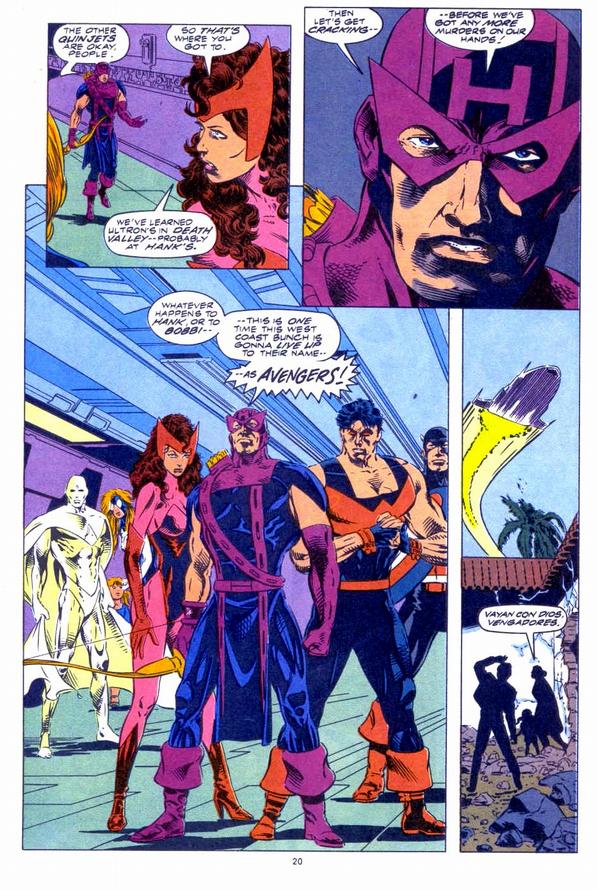 The moment Hawkeye realizes that the West Coast Avengers can be just as cool as the Avengers. Man, his wife should've been taken hostage years ago!
The team arrives in Death Valley only to be confronted by a small army of old, broken-down Ultrons. U.S. Agent pushes Hawkeye aside to get into the fight, but Hawkeye immediately swallows a test tube and become…GOLIATH! Interestingly enough, to pull this off, Hawkeye had to wear the Goliath uniform underneath his regular uniform, which is just, you know, weird. Anyway, with Clint all giant-like and in a mood for vengeance, it feels like they have the upper hand in this battle.
Sadly that isn't the case, as Ultron comes out and introduces everyone to his unfortunately named robot bride, War Toy, who we all used to know as Mockingbird.
"You turned into Goliath, Hawkeye! Well, I stole your wife! YOUR MOVE!"
WEST BOAST OR ROAST?
Boast. Now this is more like it.
WEST COAST SCENE (OF THE WEEK)!
Even in death, Carlos gets no respect…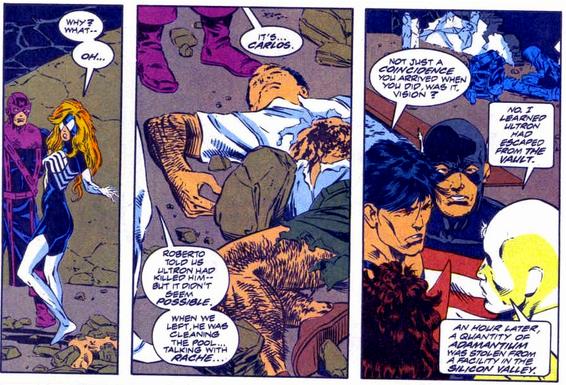 Previously on West Coast Wednesdays…
West Coast Avengers Vol. 1, #1
West Coast Avengers Vol. 1, #2
West Coast Avengers Vol. 1, #3
West Coast Avengers Vol. 1, #4
Avengers Vol. 1, #250
Iron Man Annual #7
West Coast Avenger Vol. 2, #1
The Vision and Scarlet Witch #1
West Coast Avengers Vol. 2, #2
The Vision and Scarlet Witch #2
West Coast Avengers Vol. 2, #3
West Coast Avengers Vol. 2, #4
West Coast Avengers Vol. 2, #5
West Coast Avengers Vol. 2, #6
West Coast Avengers Vol. 2, #7
West Coast Avengers Vol. 2, #8
West Coast Avengers Vol. 2, #9
West Coast Avengers Vol. 2, #10
West Coast Avengers Vol. 2, #11
West Coast Avengers Vol. 2, #12
West Coast Avengers Vol. 2, #13
Avengers Annual #15
West Coast Avengers Annual #1
West Coast Avengers Vol. 2, #14
West Coast Avengers Vol. 2, #15
West Coast Avengers Vol. 2, #16
West Coast Avengers Vol. 2, #17
West Coast Avengers Vol. 2, #18
West Coast Avengers Vol. 2, #19
West Coast Avengers Vol. 2, #20
West Coast Avengers Vol. 2, #21
West Coast Avengers Vol. 2, #22
West Coast Avengers Vol. 2, #23
West Coast Avengers Vol. 2, #24
West Coast Avengers Annual #2
Avengers Annual #16
Silver Surfer #3
West Coast Avengers Vol. 2, #25
West Coast Avengers Vol. 2, #26
West Coast Avengers Vol. 2, #27
West Coast Avengers Vol. 2, #28
West Coast Avengers Vol. 2, #29
West Coast Avengers Vol. 2, #30
West Coast Avengers Vol. 2, #31
West Coast Avengers Vol. 2, #32
West Coast Avengers Vol. 2, #33
West Coast Avengers Vol. 2, #34
West Coast Avengers Vol. 2, #35
West Coast Avengers Vol. 2, #36
West Coast Avengers Annual #3
West Coast Avengers Vol. 2, #37
West Coast Avengers Vol. 2, #38
West Coast Avengers Vol. 2, #39
West Coast Avengers Vol. 2, #40
West Coast Avengers Vol. 2, #41
West Coast Avengers Vol. 2, #42
West Coast Avengers Vol. 2, #43
West Coast Avengers Vol. 2, #44
West Coast Avengers Vol. 2, #45
West Coast Avengers Vol. 2, #46
West Coast Avengers Vol. 2, #47
West Coast Avengers Vol. 2, #48
West Coast Avengers Vol. 2, #49
West Coast Avengers Vol. 2, #50
West Coast Avengers Annual #4
West Coast Avengers Vol. 2, #51
West Coast Avengers Vol. 2, #52
West Coast Avengers Vol. 2, #53
Avengers Vol. 1, #312 
West Coast Avengers Vol. 2, #54
Avengers Vol. 1, #313 
West Coast Avengers Vol. 2, #55
West Coast Avengers Vol. 2, #56
West Coast Avengers Vol. 2, #57
West Coast Avengers Vol. 2, #58
West Coast Avengers Vol. 2, #59
West Coast Avengers Vol. 2, #60
West Coast Avengers Vol. 2, #61
West Coast Avengers Vol. 2, #62
West Coast Avengers Annual #5
West Coast Avengers Vol. 2, #63
West Coast Avengers Vol. 2, #64
West Coast Avengers Vol. 2, #65
Avengers Spotlight #38 
West Coast Avengers Vol. 2, #66
West Coast Avengers Vol. 2, #67
West Coast Avengers Vol. 2, #68
West Coast Avengers Vol. 2, #69
West Coast Avengers Vol. 2, #70
West Coast Avengers Vol. 2, #71
West Coast Avengers Vol. 2, #72
West Coast Avengers Vol. 2, #73
West Coast Avengers Vol. 2, #74
West Coast Avengers Annual #6
West Coast Avengers Vol. 2, #75
West Coast Avengers Vol. 2, #76
West Coast Avengers Vol. 2, #77
West Coast Avengers Vol. 2, #78
West Coast Avengers Vol. 2, #79
West Coast Avengers Vol. 2, #80
West Coast Avengers Vol. 2, #81
West Coast Avengers Vol. 2, #82
West Coast Avengers Vol. 2, #83
West Coast Avengers Vol. 2, #84
West Coast Avengers Vol. 2, #85
West Coast Avengers Vol. 2, #86
West Coast Avengers Annual #7
West Coast Avengers Vol. 2, #87
West Coast Avengers Vol. 2, #88
West Coast Avengers Vol. 2, #89