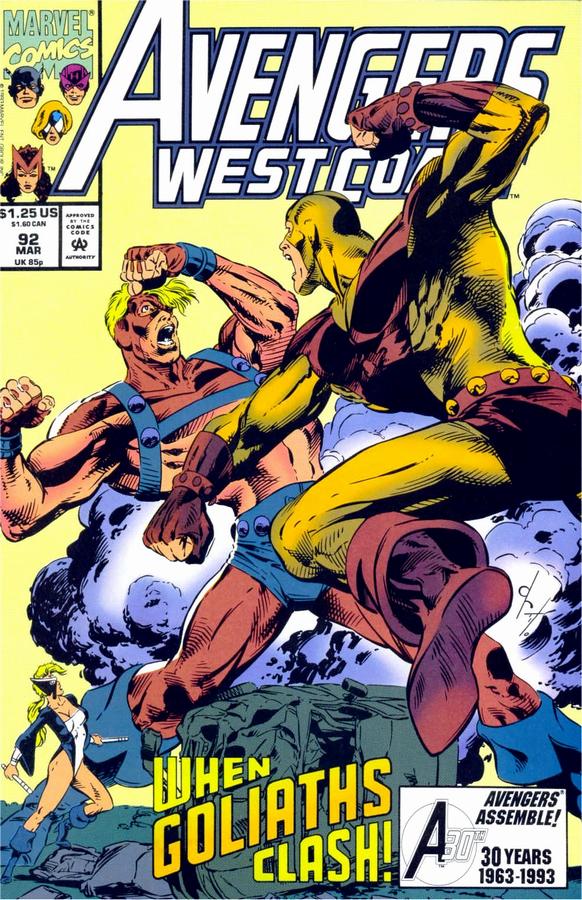 West Coast Avengers, Vol. 2, Issue 92 (March 1993)
WEST COAST CREDITS!
Writer: Roy and Dann Thomas
Penciler: David Ross
Inker:  Tim Dzon
WEST COAST SUMMARY!
As the team picks up the pieces from their battle with Ultron, Goliath sees an opportunity to get some revenge.
WEST COAST THOUGHTS!
Even though this picks right up after their fight with Ultron, a lot has happened. We've missed Carlos' funeral already, and more importantly, Wonder Man has quit the team thanks to events that happened in his title (for those reaching for their longboxes, that would be Wonder Man #17 and #18). From what I can gather, Simon went crazy and beat up on Spider-Woman and U.S. Agent, and then quit the team.
Goliath and U.S. Agent are cleaning up the serious damage on the compound from Ultron's attack and without even trying, they're already at each other's throats and about to start swinging. Mockingbird steps in and asks Clint if he really wants to spend the afternoon fighting with U.S. Agent or go inside and have superhero sex. They head inside, leaving a disgruntled U.S. Agent to clean up alone. While silly on the surface (honestly, John Byrne was the only one who could make the fights between U.S. Agent and Hawkeye work without it feeling forced), this scene is a nice reminder of the change in Clint and Bobbi's relationship.
Spider-Woman and Scarlet Witch are moving Consuela and Rachel to Newport Beach. Spider-Woman wants her daughter to be safe and Consuela doesn't feel it's safe at the compound anymore after Carlos' death. The Living Lightning stops in and wonders if he should be back on the team now that both Iron Man and Wonder Man are out of the picture, but Wanda tells him that he needs to get his education first.
Meanwhile, a television news reporter has sneaked into a jail to do an interview with the villain Goliath, who has been incarcerated since Giant-Man put him there (Marvel Comics Presents #119). And even though he's supposedly drugged and unable to change size, at the mention of "Wonder Man" Goliath goes crazy and breaks out of jail like a poor man's Green Giant.
Clint and Bobbi are back at the compound giving each other massages and taking responsibility for what had kept them apart for all this time. When Bobbi hears a sound, they suit up and discover Kuroko of the Pacific Overlords wandering around. She's badly beaten and claims it was Doctor Demonicus, but before she can give anymore info, she passes out. Once Kuroko is put in bed, a giant hand comes crashing through the window, grabbing Clint.
Goliath wants to know where Wonder Man is. "I asked you a question, little man!" screams Goliath. Clint doesn't like to be called "little man" and starts growing, announcing that he's also Goliath. Goliath isn't pleased that someone stole his name and decides to kill Clint first. And now the stage is set for this issue's big fight between two giant men in Los Angeles.
Unsurprisingly, it's Mockingbird who saves the day by firing one of Hawkeye's electro-arrows at Goliath's head, which she modified to absorb electrons and cancel out Goliath's power. With Goliath weakened, Clint goes for the knock out punch.
Back at the compound, everyone has returned to find Kuroko conscious and warning the team that Doctor Demonicus has gone insane and means to destroy the world.
WEST BOAST OR ROAST?
Boast. Though it's a step down from last issue, I'm still onboard.
WEST COAST SCENE (OF THE WEEK)!
With Wonder Man gone, U.S. Agent turns on the mope…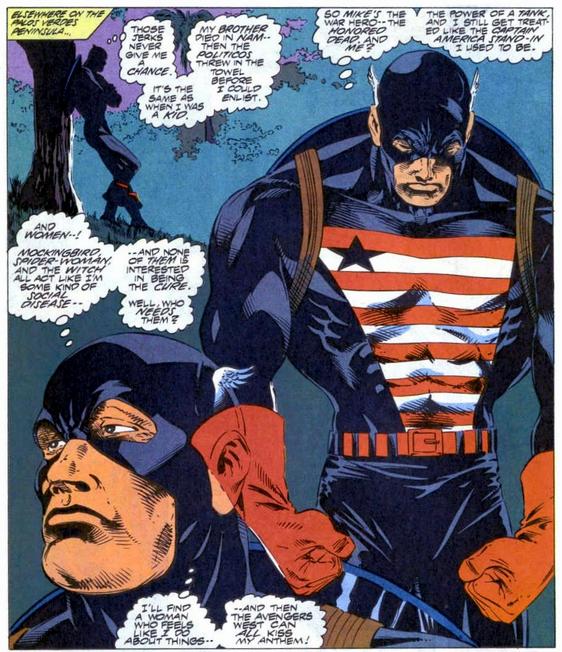 Previously on West Coast Wednesdays…
West Coast Avengers Vol. 1, #1
West Coast Avengers Vol. 1, #2
West Coast Avengers Vol. 1, #3
West Coast Avengers Vol. 1, #4
Avengers Vol. 1, #250
Iron Man Annual #7
West Coast Avenger Vol. 2, #1
The Vision and Scarlet Witch #1
West Coast Avengers Vol. 2, #2
The Vision and Scarlet Witch #2
West Coast Avengers Vol. 2, #3
West Coast Avengers Vol. 2, #4
West Coast Avengers Vol. 2, #5
West Coast Avengers Vol. 2, #6
West Coast Avengers Vol. 2, #7
West Coast Avengers Vol. 2, #8
West Coast Avengers Vol. 2, #9
West Coast Avengers Vol. 2, #10
West Coast Avengers Vol. 2, #11
West Coast Avengers Vol. 2, #12
West Coast Avengers Vol. 2, #13
Avengers Annual #15
West Coast Avengers Annual #1
West Coast Avengers Vol. 2, #14
West Coast Avengers Vol. 2, #15
West Coast Avengers Vol. 2, #16
West Coast Avengers Vol. 2, #17
West Coast Avengers Vol. 2, #18
West Coast Avengers Vol. 2, #19
West Coast Avengers Vol. 2, #20
West Coast Avengers Vol. 2, #21
West Coast Avengers Vol. 2, #22
West Coast Avengers Vol. 2, #23
West Coast Avengers Vol. 2, #24
West Coast Avengers Annual #2
Avengers Annual #16
Silver Surfer #3
West Coast Avengers Vol. 2, #25
West Coast Avengers Vol. 2, #26
West Coast Avengers Vol. 2, #27
West Coast Avengers Vol. 2, #28
West Coast Avengers Vol. 2, #29
West Coast Avengers Vol. 2, #30
West Coast Avengers Vol. 2, #31
West Coast Avengers Vol. 2, #32
West Coast Avengers Vol. 2, #33
West Coast Avengers Vol. 2, #34
West Coast Avengers Vol. 2, #35
West Coast Avengers Vol. 2, #36
West Coast Avengers Annual #3
West Coast Avengers Vol. 2, #37
West Coast Avengers Vol. 2, #38
West Coast Avengers Vol. 2, #39
West Coast Avengers Vol. 2, #40
West Coast Avengers Vol. 2, #41
West Coast Avengers Vol. 2, #42
West Coast Avengers Vol. 2, #43
West Coast Avengers Vol. 2, #44
West Coast Avengers Vol. 2, #45
West Coast Avengers Vol. 2, #46
West Coast Avengers Vol. 2, #47
West Coast Avengers Vol. 2, #48
West Coast Avengers Vol. 2, #49
West Coast Avengers Vol. 2, #50
West Coast Avengers Annual #4
West Coast Avengers Vol. 2, #51
West Coast Avengers Vol. 2, #52
West Coast Avengers Vol. 2, #53
Avengers Vol. 1, #312 
West Coast Avengers Vol. 2, #54
Avengers Vol. 1, #313 
West Coast Avengers Vol. 2, #55
West Coast Avengers Vol. 2, #56
West Coast Avengers Vol. 2, #57
West Coast Avengers Vol. 2, #58
West Coast Avengers Vol. 2, #59
West Coast Avengers Vol. 2, #60
West Coast Avengers Vol. 2, #61
West Coast Avengers Vol. 2, #62
West Coast Avengers Annual #5
West Coast Avengers Vol. 2, #63
West Coast Avengers Vol. 2, #64
West Coast Avengers Vol. 2, #65
Avengers Spotlight #38 
West Coast Avengers Vol. 2, #66
West Coast Avengers Vol. 2, #67
West Coast Avengers Vol. 2, #68
West Coast Avengers Vol. 2, #69
West Coast Avengers Vol. 2, #70
West Coast Avengers Vol. 2, #71
West Coast Avengers Vol. 2, #72
West Coast Avengers Vol. 2, #73
West Coast Avengers Vol. 2, #74
West Coast Avengers Annual #6
West Coast Avengers Vol. 2, #75
West Coast Avengers Vol. 2, #76
West Coast Avengers Vol. 2, #77
West Coast Avengers Vol. 2, #78
West Coast Avengers Vol. 2, #79
West Coast Avengers Vol. 2, #80
West Coast Avengers Vol. 2, #81
West Coast Avengers Vol. 2, #82
West Coast Avengers Vol. 2, #83
West Coast Avengers Vol. 2, #84
West Coast Avengers Vol. 2, #85
West Coast Avengers Vol. 2, #86
West Coast Avengers Annual #7
West Coast Avengers Vol. 2, #87
West Coast Avengers Vol. 2, #88
West Coast Avengers Vol. 2, #89
West Coast Avengers Vol. 2, #90
West Coast Avengers Vol. 2, #91