West Coast Avengers, Vol. 2, Issue 94 (May 1993)
WEST COAST CREDITS!
Writer: Roy and Dann Thomas
Penciler and Co-Plotter: David Ross
Inker:  Tim Dzon
WEST COAST SUMMARY!
The team goes to Demonica and things don't go as smoothly as they hoped because this is part two of a three-parter. Also: War Machine!
WEST COAST THOUGHTS!
It's worth noting that penciler David Ross is co-plotting this issue. I should also point out that Ross has been on the title since West Coast Avengers #71 and will be here until the end (excluding two issues) making his run a full 30 issues if we count Annual #8 – which I'll be getting to soon enough. Al Milgrom drew 42 issues of the title (counting two annuals), which puts Ross at second place. Considering that Ross came late to the party, that's not too shabby at all.
U.S. Agent, Mockingbird and Goliath are at the west coast headquarters of Stark Enterprises fighting Battledroids. I wish I could say they were there to help out their old pal Iron Man, but in reality, they're there to steal a quinjet. While they're fighting away, War Machine comes in and helps them out. He wants to join the team as he just quit working for Stark. He's especially annoyed by the fact that Stark conned him – like everyone else – into thinking that he was dead. As much as they want him on the team, they still want to know who's behind the mask (just as they did in West Coast Avengers #89). With that, War Machine reveals himself to be Jim Rhodes (who you might remember as being Iron Man when the team first formed way back in West Coast Avengers Vol. 1, #1). Once everyone knows who is who, War Machine is accepted in the team and then he goes and steals a quinjet for them.
We get a brief look at Tony Stark when someone informs him that one of the quinjets was stolen. He tells him not to alert the police, and to send the team a second quinjet with a note on it that says he's sorry. What he's sorry for exactly is unclear.
Last issue Doctor Demonicus ordered his Overlords to kidnap a plane (yes, a plane!) that flew into Demonica's airspace. Doctor Demonicus is on the runway to greet the passengers who have been nominated to become the country's first tourists. He tells everyone that he insists they see all the country's sights. "And that could take — years!" he shouts.
The U.N. asks the team to become the official U.N. delegation to Demonica after Doctor Demonicus tells the world that there's a 500 mile no-fly zone in every direction surrounding his island country. Our heroes waste no time and head to Demonica. Once they're close, they're attacked by a swarm of the dragon-like creatures that attacked Kuroko last issue. Once on the ground, they confront Doctor Demonicus who tells them that Demonica is now a theocracy and all the promises previously made to the U.N. are void. In fact, Doctor Demonicus is not only president-for-life, he's also the country's high priest. Scarlet Witch agrees to leave, but only if they can see that the hostages are safe.
Naturally, Doctor Demonicus disagrees and orders his Overlords to kick them out. And so we have the issue's big fight which goes on for a few pages longer than it needs to. The fight ends when Doctor Demonicus threatens to shoot the hostages. He orders everyone to leave except for Mockingbird and U.S. Agent. Everyone agrees to leave except for Goliath, who won't leave without his wife. War Machine knocks Goliath out to get him to leave peacefully, thus sparing the hostages lives.
Doctor Demonicus takes U.S. Agent and Mockingbird to the mysterious cave with the strange altar. Doctor Demonicus summons Raksasa, a demon from dimensions deep. The appearance of this creature helps to explain Doctor Demonicus' demon swarm and exactly who he is high priest for. While everyone is expositioning, Mockingbird manages to knock out Klaw and free U.S. Agent. They both begin to kick demon butt with Doctor Demonicus promising Raksasa that they will never leave the cave alive.
The issue ends with the quinjet landing in Hawaii to refuel. Goliath is ready to return to Demonica to save his wife, but before a decision can be made, the demon swarm can be seen heading their way.
WEST BOAST OR ROAST?
Roast. Leave it to the Pacific Overlords to stink up the book.
WEST COAST SCENE (OF THE WEEK)!
He's not real big on wasting woman, unreconstructed commie or not!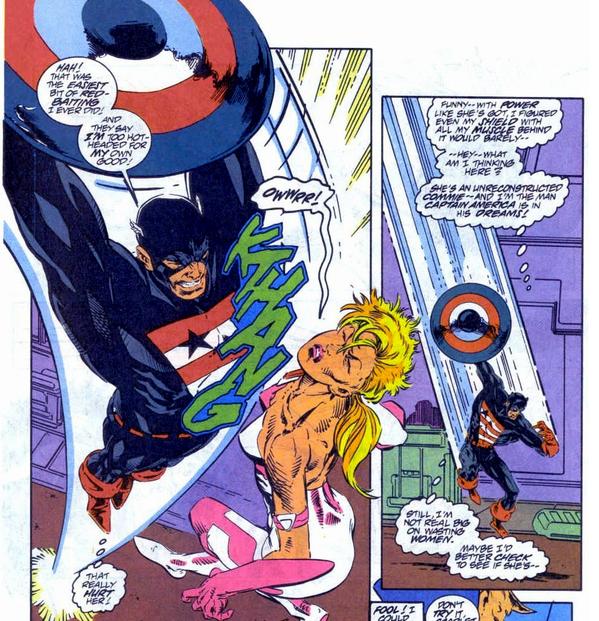 Previously on West Coast Wednesdays…
West Coast Avengers Vol. 1, #1
West Coast Avengers Vol. 1, #2
West Coast Avengers Vol. 1, #3
West Coast Avengers Vol. 1, #4
Avengers Vol. 1, #250
Iron Man Annual #7
West Coast Avenger Vol. 2, #1
The Vision and Scarlet Witch #1
West Coast Avengers Vol. 2, #2
The Vision and Scarlet Witch #2
West Coast Avengers Vol. 2, #3
West Coast Avengers Vol. 2, #4
West Coast Avengers Vol. 2, #5
West Coast Avengers Vol. 2, #6
West Coast Avengers Vol. 2, #7
West Coast Avengers Vol. 2, #8
West Coast Avengers Vol. 2, #9
West Coast Avengers Vol. 2, #10
West Coast Avengers Vol. 2, #11
West Coast Avengers Vol. 2, #12
West Coast Avengers Vol. 2, #13
Avengers Annual #15
West Coast Avengers Annual #1
West Coast Avengers Vol. 2, #14
West Coast Avengers Vol. 2, #15
West Coast Avengers Vol. 2, #16
West Coast Avengers Vol. 2, #17
West Coast Avengers Vol. 2, #18
West Coast Avengers Vol. 2, #19
West Coast Avengers Vol. 2, #20
West Coast Avengers Vol. 2, #21
West Coast Avengers Vol. 2, #22
West Coast Avengers Vol. 2, #23
West Coast Avengers Vol. 2, #24
West Coast Avengers Annual #2
Avengers Annual #16
Silver Surfer #3
West Coast Avengers Vol. 2, #25
West Coast Avengers Vol. 2, #26
West Coast Avengers Vol. 2, #27
West Coast Avengers Vol. 2, #28
West Coast Avengers Vol. 2, #29
West Coast Avengers Vol. 2, #30
West Coast Avengers Vol. 2, #31
West Coast Avengers Vol. 2, #32
West Coast Avengers Vol. 2, #33
West Coast Avengers Vol. 2, #34
West Coast Avengers Vol. 2, #35
West Coast Avengers Vol. 2, #36
West Coast Avengers Annual #3
West Coast Avengers Vol. 2, #37
West Coast Avengers Vol. 2, #38
West Coast Avengers Vol. 2, #39
West Coast Avengers Vol. 2, #40
West Coast Avengers Vol. 2, #41
West Coast Avengers Vol. 2, #42
West Coast Avengers Vol. 2, #43
West Coast Avengers Vol. 2, #44
West Coast Avengers Vol. 2, #45
West Coast Avengers Vol. 2, #46
West Coast Avengers Vol. 2, #47
West Coast Avengers Vol. 2, #48
West Coast Avengers Vol. 2, #49
West Coast Avengers Vol. 2, #50
West Coast Avengers Annual #4
West Coast Avengers Vol. 2, #51
West Coast Avengers Vol. 2, #52
West Coast Avengers Vol. 2, #53
Avengers Vol. 1, #312 
West Coast Avengers Vol. 2, #54
Avengers Vol. 1, #313 
West Coast Avengers Vol. 2, #55
West Coast Avengers Vol. 2, #56
West Coast Avengers Vol. 2, #57
West Coast Avengers Vol. 2, #58
West Coast Avengers Vol. 2, #59
West Coast Avengers Vol. 2, #60
West Coast Avengers Vol. 2, #61
West Coast Avengers Vol. 2, #62
West Coast Avengers Annual #5
West Coast Avengers Vol. 2, #63
West Coast Avengers Vol. 2, #64
West Coast Avengers Vol. 2, #65
Avengers Spotlight #38 
West Coast Avengers Vol. 2, #66
West Coast Avengers Vol. 2, #67
West Coast Avengers Vol. 2, #68
West Coast Avengers Vol. 2, #69
West Coast Avengers Vol. 2, #70
West Coast Avengers Vol. 2, #71
West Coast Avengers Vol. 2, #72
West Coast Avengers Vol. 2, #73
West Coast Avengers Vol. 2, #74
West Coast Avengers Annual #6
West Coast Avengers Vol. 2, #75
West Coast Avengers Vol. 2, #76
West Coast Avengers Vol. 2, #77
West Coast Avengers Vol. 2, #78
West Coast Avengers Vol. 2, #79
West Coast Avengers Vol. 2, #80
West Coast Avengers Vol. 2, #81
West Coast Avengers Vol. 2, #82
West Coast Avengers Vol. 2, #83
West Coast Avengers Vol. 2, #84
West Coast Avengers Vol. 2, #85
West Coast Avengers Vol. 2, #86
West Coast Avengers Annual #7
West Coast Avengers Vol. 2, #87
West Coast Avengers Vol. 2, #88
West Coast Avengers Vol. 2, #89
West Coast Avengers Vol. 2, #90
West Coast Avengers Vol. 2, #91
West Coast Avengers Vol. 2, #92
West Coast Avengers Vol. 2, #93