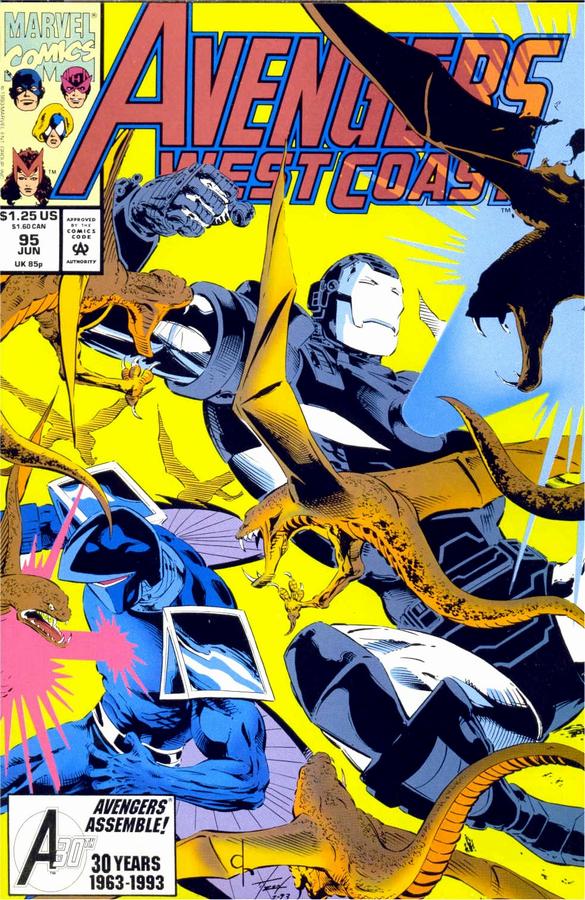 West Coast Avengers, Vol. 2, Issue 95 (June 1993)
WEST COAST CREDITS!
Writer: Roy and Dann Thomas
Penciler and Co-plotter: David Ross
Inker:  Tim Dzon
WEST COAST SUMMARY!
It's the final battle against Doctor Demonicus and Demonica will never be the same!
WEST COAST THOUGHTS!
David Ross is once again co-plotting. I only point this out because it makes it really difficult to know who to blame.
When we left off last time, U.S. Agent and Mockingbird were attempting to escape from Doctor Demonicus' cave where a ritual was about to take place that would bring a horrifying demon called Raksasa into our dimension. U.S. Agent manages to get out of the cave, but he's chased through the streets of Demonica by the Morningstar. Just when it looks like she has the upperhand, it turns out that she wants to join forces with everyone's favorite carbon copy of Captain America. You see, even though she's the bad guy, even she realizes what a bad idea summoning Raksasa really is for everyone on Earth. While all of this is going down, Mockingbird is taken out of the fight back in the cave.
Meanwhile, in Hawaii, the rest of the team along with Darkstar are dealing with the demon swarm's attack. The creatures are deadly, as shown by the way they killed a pilot (see below). Goliath grows thinking that the bigger he is, the harder it will be for the swarm to hurt him, but he underestimates how many there are. Scarlet Witch saves him and he takes refuge behind Spider-Woman's psi-webs. And let's be honest, if Spider-Woman is the one protecting you, then you're in serious trouble.
Back in the cave, Doctor Demonicus continues the summoning ritual. Morningstar returns claiming that U.S. Agent has been eliminated. While everyone is paying attention to Doctor Demonicus, she attempts to recruit Klaw to her cause. When suddenly, U.S. Agent drops down from apparently no where and kicked Doctor Demonicus in the head. Of course, Morningstar and U.S. Agent had a plan, but he jumped the gun. And here we are in the book's traditional fight mode. The biggest twist is that Klaw has joined the good guys. Kain then takes control of Klaw's vibranium claw, forcing U.S. Agent to direct it towards the ground to save everyone's lives. However, because of this, the whole island begins to shake and crumble.
All our heroes (and villains) are on the run in Demonica as the entire country is falling apart. At the last moment of the summoning, U.S. Agent uses his shield to knock out Doctor Demonicus, forcing Raksasa to remain in his own dimension and losing his foothold over his demon swarm which begins to tear itself to shreds.
The heroes find the hostages and load them back into their plane. And it takes off, but not a moment too soon as the runway literally tears itself apart just as the plane leaves the ground.
In the cave, the Overlords surround a fallen Doctor Demonicus, who apologizes to everyone for having been seduced by the power of Raksasa. Because of this tragic mistake, he has doomed them and his empire. Just as he asks them for forgiveness, the cave consumes them as Demonica falls back into the ocean.
The issue ends with Morningstar telling the team that she won't be coming with them, right before planting a kiss on U.S. Agent's mouth. OH MY GOD! U.S. AGENT KISSED A COMMUNIST!
Sigh.
WEST BOAST OR ROAST?
Roast. Can Ultron come back now?
WEST COAST SCENE (OF THE WEEK)!
I like to think that this happened to every pilot who ejected in a G.I. Joe cartoon: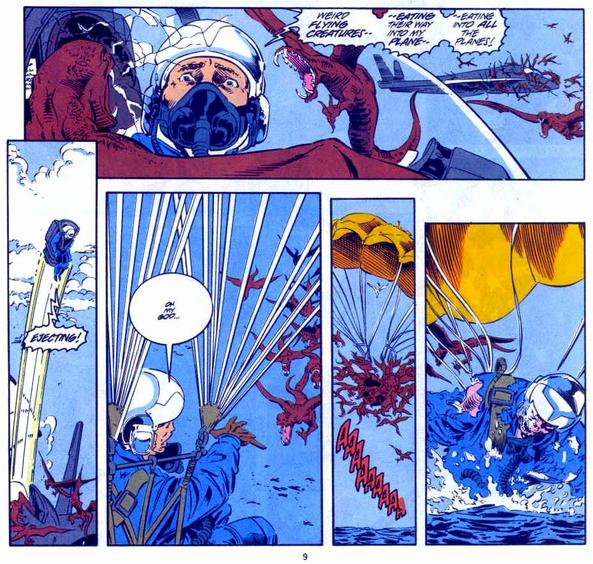 Previously on West Coast Wednesdays…
West Coast Avengers Vol. 1, #1
West Coast Avengers Vol. 1, #2
West Coast Avengers Vol. 1, #3
West Coast Avengers Vol. 1, #4
Avengers Vol. 1, #250
Iron Man Annual #7
West Coast Avenger Vol. 2, #1
The Vision and Scarlet Witch #1
West Coast Avengers Vol. 2, #2
The Vision and Scarlet Witch #2
West Coast Avengers Vol. 2, #3
West Coast Avengers Vol. 2, #4
West Coast Avengers Vol. 2, #5
West Coast Avengers Vol. 2, #6
West Coast Avengers Vol. 2, #7
West Coast Avengers Vol. 2, #8
West Coast Avengers Vol. 2, #9
West Coast Avengers Vol. 2, #10
West Coast Avengers Vol. 2, #11
West Coast Avengers Vol. 2, #12
West Coast Avengers Vol. 2, #13
Avengers Annual #15
West Coast Avengers Annual #1
West Coast Avengers Vol. 2, #14
West Coast Avengers Vol. 2, #15
West Coast Avengers Vol. 2, #16
West Coast Avengers Vol. 2, #17
West Coast Avengers Vol. 2, #18
West Coast Avengers Vol. 2, #19
West Coast Avengers Vol. 2, #20
West Coast Avengers Vol. 2, #21
West Coast Avengers Vol. 2, #22
West Coast Avengers Vol. 2, #23
West Coast Avengers Vol. 2, #24
West Coast Avengers Annual #2
Avengers Annual #16
Silver Surfer #3
West Coast Avengers Vol. 2, #25
West Coast Avengers Vol. 2, #26
West Coast Avengers Vol. 2, #27
West Coast Avengers Vol. 2, #28
West Coast Avengers Vol. 2, #29
West Coast Avengers Vol. 2, #30
West Coast Avengers Vol. 2, #31
West Coast Avengers Vol. 2, #32
West Coast Avengers Vol. 2, #33
West Coast Avengers Vol. 2, #34
West Coast Avengers Vol. 2, #35
West Coast Avengers Vol. 2, #36
West Coast Avengers Annual #3
West Coast Avengers Vol. 2, #37
West Coast Avengers Vol. 2, #38
West Coast Avengers Vol. 2, #39
West Coast Avengers Vol. 2, #40
West Coast Avengers Vol. 2, #41
West Coast Avengers Vol. 2, #42
West Coast Avengers Vol. 2, #43
West Coast Avengers Vol. 2, #44
West Coast Avengers Vol. 2, #45
West Coast Avengers Vol. 2, #46
West Coast Avengers Vol. 2, #47
West Coast Avengers Vol. 2, #48
West Coast Avengers Vol. 2, #49
West Coast Avengers Vol. 2, #50
West Coast Avengers Annual #4
West Coast Avengers Vol. 2, #51
West Coast Avengers Vol. 2, #52
West Coast Avengers Vol. 2, #53
Avengers Vol. 1, #312 
West Coast Avengers Vol. 2, #54
Avengers Vol. 1, #313 
West Coast Avengers Vol. 2, #55
West Coast Avengers Vol. 2, #56
West Coast Avengers Vol. 2, #57
West Coast Avengers Vol. 2, #58
West Coast Avengers Vol. 2, #59
West Coast Avengers Vol. 2, #60
West Coast Avengers Vol. 2, #61
West Coast Avengers Vol. 2, #62
West Coast Avengers Annual #5
West Coast Avengers Vol. 2, #63
West Coast Avengers Vol. 2, #64
West Coast Avengers Vol. 2, #65
Avengers Spotlight #38 
West Coast Avengers Vol. 2, #66
West Coast Avengers Vol. 2, #67
West Coast Avengers Vol. 2, #68
West Coast Avengers Vol. 2, #69
West Coast Avengers Vol. 2, #70
West Coast Avengers Vol. 2, #71
West Coast Avengers Vol. 2, #72
West Coast Avengers Vol. 2, #73
West Coast Avengers Vol. 2, #74
West Coast Avengers Annual #6
West Coast Avengers Vol. 2, #75
West Coast Avengers Vol. 2, #76
West Coast Avengers Vol. 2, #77
West Coast Avengers Vol. 2, #78
West Coast Avengers Vol. 2, #79
West Coast Avengers Vol. 2, #80
West Coast Avengers Vol. 2, #81
West Coast Avengers Vol. 2, #82
West Coast Avengers Vol. 2, #83
West Coast Avengers Vol. 2, #84
West Coast Avengers Vol. 2, #85
West Coast Avengers Vol. 2, #86
West Coast Avengers Annual #7
West Coast Avengers Vol. 2, #87
West Coast Avengers Vol. 2, #88
West Coast Avengers Vol. 2, #89
West Coast Avengers Vol. 2, #90
West Coast Avengers Vol. 2, #91
West Coast Avengers Vol. 2, #92
West Coast Avengers Vol. 2, #93
West Coast Avengers Vol. 2, #94