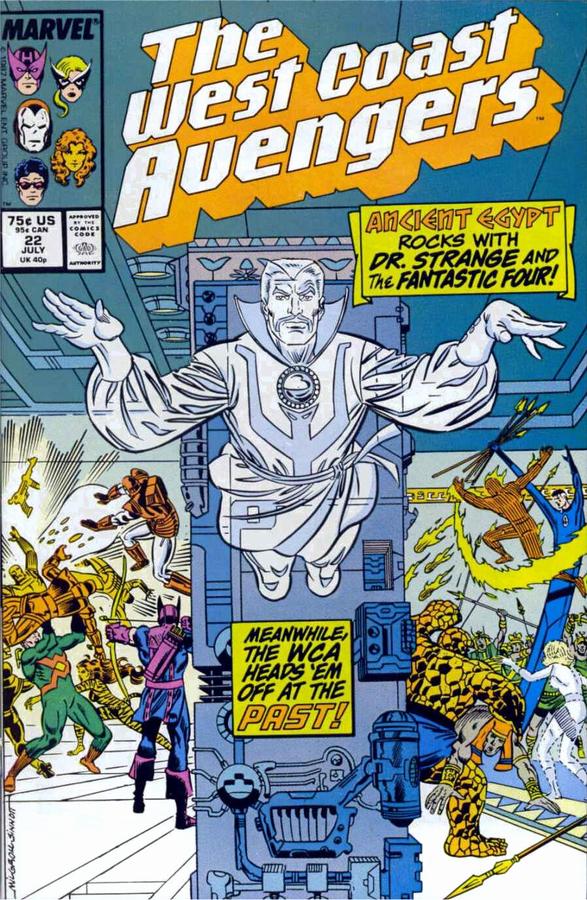 West Coast Avengers, Vol. 2, Issue 22 (July 1987)
WEST COAST CREDITS!
Writer: Steve Englehart
Layouts: Al Milgrom
Finishes: Kim DeMulder
WEST COAST SUMMARY!
The story splits again, this time from five to six as we follow 1) Hawkeye, Tigra, Wonder Man and Iron Man in 2940 B.C.; 2) Mockingbird with Two-Gun and the Rawhide Kid in the 18th century; 3) Moon Knight in 1987; 4) Hank Pym and Espirita in 1987; 5) Isabel, now in 82 years old, in 1917; and 6) the Fantastic Four ten years ago.
WEST COAST THOUGHTS!
Part 6 of the West Coast Avengers "greatest adventure" continues with lots of jumping around through time.
Before I get into this issue, it needs to be noted that Joe Sinnott isn't inking this one; instead it's Kim DeMulder. While it doesn't seem to be a huge change in style initially, on closer inspection the faces are much more expressive and the action sequences appear to be a tad more fluid than what we've seen before. Not sure if DeMulder stays or not, but this is a nice change of pace.
The issue kicks off with Mockingbird, Two-Gun and the Rawhide Kid finally confronting the Phantom Rider. After a fight that goes on much longer than it should, Mockingbird gets on a horse to chase down the Phantom Rider to end this once and for all.
The team in 2940 B.C. make their way into the Sphinx and immediately discover an unconscious Dr. Strange being carried away by robots. This is when the story gets all Back to the Future 2, where the team's adventures are now happening simultaneously with previous adventures from other books, such as Dr. Strange #53 and Fantastic Four #19. I'm an absolute sucker for this kind of stuff, so I'm completely down with this part of the story.
Moon Knight finally meets up with Pym, and after the obligatory fight, reveals that Espirita had never once opened her copy of the Bible! YES! I was right all along! By the way, I love how Hawkeye had Khonshu send a message to Moon Knight to let Pym know that he sent a message in a Bible. He removes Hawkeye's message from the book and Pym springs into action by calling the Fantastic Four to borrow their time machine. But Dominus already beat Pym to the punch and destroyed it.
[Insert dramatic music here!]
WEST BOAST OR ROAST?
Boast. Back to the Future 2-like, bitches!
WEST COAST SCENE (OF THE WEEK)!
Two lame heroes converge in a wood, and I –
I rooted for the one with the ascot,
And that had made all the difference.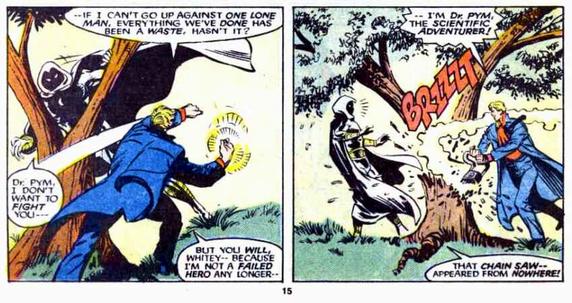 Previously on West Coast Wednesdays…
The Vision and Scarlet Witch #1
The Vision and Scarlet Witch #2
West Coast Avenger Vol. 2, #10
West Coast Avenger Vol. 2, #11
West Coast Avenger Vol. 2, #12
West Coast Avenger Vol. 2, #13
West Coast Avenger Vol. 2, #14
West Coast Avenger Vol. 2, #15
West Coast Avenger Vol. 2, #16
West Coast Avenger Vol. 2, #17
West Coast Avenger Vol. 2, #18
West Coast Avenger Vol. 2, #19
West Coast Avenger Vol. 2, #20